WWTM is heading out on vacation from 8/17-9/3!  Still want a fix? Check the Facebook Page or Twitter during the break...ya never know when I'll feel the urge!  There will not be any e-mail blasts until Tuesday 9/3. Don't worry we still have this week!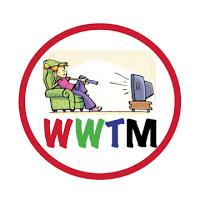 The answer to 
Monday's Trivia Question
:  Michael C. Hall also played David Fisher on Six Feet Under.
FIRST FIVE: Michael O'Dea, Kelly Rogers, Sue McNamara, Bill McLaughlin, & Monica Caraffa 
Honorable Mention: Francesca Sullivan
Friday's Cable Top 5
Gold Rush South America-Discovery 1.0/2.4
NFL Pre-Season-NFL .8/1.8
Great White Gauntlet-Discovery .7/1.7
WWE Friday Night Smackdown-Syfy .7/2.4
American Dad-Adult Swim .7/1.5
Sunday's Broadcast Top 5
Big Brother-CBS 2.2/7.2
Unforgettable-CBS 1.3/6.9
60 Minutes-CBS 1.2/8.2
Whodunnit-ABC 1.1/3.2
Secret Millionaire-ABC 1.0/4.5
Interesting that the Teen Choice Awards was 7th place ratings wise but look at the social!
Sunday's Broadcast Trendrr Top 5
Teen Choice Awards-FOX 6,011,140  (Wow! I didn't even watch!)
Big Brother-CBS 94,800
Whodunnit-ABC 38,418
Family Guy-FOX 28,292
Crossing Lines-NBC 19,810
Sunday's Cable Top 5
NA
Sunday's Cable Trendrr Top 5
Breaking Bad-AMC 1,176,133
True Blood-HBO 123,193
MLB Baseball-TBS 102,141
Total Diva's-E! 67,920
Dexter-Showtime 59,223
Below Deck
The charter for the week was cancelled due to the guests insufficient funds, so the crew ended up with three days off.  Captain Lee, the most intense man in America, and a guy that apparently NEVER wants to have any fun ever,  wanted to use the time to run fire drills. The first drill didn't go so well and the Captain came down pretty hard on Aleks and the crew. The second drill went much better, but Captain Lee didn't see it that way and still reamed everyone which pissed them all off. So they went out to dinner and got out of control. Eddie, the cutest boy on the boat, was mortified by how embarrassing the crew was so he left them to their own insanity. Kat seems to really have a major problem. Not sure if it's the drinking or the pills or what but she's always a mess. She 
still wanted to switch rooms with Ben because she hates Adrienne, but when he finally agreed, Kat was pissed off because Adrienne closed the deal and not her. Pretty sure that Kat and Ben hooked up, but neither one of them's talking. At the end of the episode, Kat disobeyed Captain Lee and left the boat even though he cancelled shore leave for the night. Captain Lee is really tough for a guy who gets to sail a 20 million dollar yacht all over the Caribbean. I wonder if he has a family? A wife or some kids maybe?  Okay I need to ask...I know a lot of my readers are friends from my old agency life.  Anyone know a guy 
named Alan Clack? If you do, don't you think that CJ is his doppelganger?  I checked and they aren't related, but damn they look exactly alike? Anyone out there know who I'm talking about? Anyone? Anyone? Beuler? 
Get Out Alive with Bear Grylls
OMG enough with Louis's Bow. She's In the middle of nowhere, surviving the elements, eating disgusting bugs and worms and this chick is wearing a huge purple bow on an odd part of her head. It's just so bizarre. Also bizarre, the 
P&G reward box that had shampoo, conditioner and a computer for Jim and Austin to check in at home with. Funny, I didn't know P&G sold computers. That was weird.  Not exactly an organic integration at all, but I'm sure that Jim and Austin could care less who gave them the computer.  Carl and Royce were sent packing and quite frankly that was a shock, but at least they got a bunch of BG wear to take home with them. Hats, shirts, jackets, pants, backpacks and socks. What more could anyone want? Maybe a sandwich? 
Newsroom
Baba Booey! Mother*fers...I understood that part of Sunday night's Newsroom. I also understood that Will's Dad passed away and he waited too long to call him and he's going to freak out about it at some point. I understood that Maggie totally screwed up the George Zimmerman/Trayvon Martin 911 call because she's still messed up from Africa.  I understood that Sloan posed for some sexy pics, her ex-boyfriend posted them, Don talked her off the ledge, she went to his office kicked him in the b*lls, and punched him in the face right in front of his co-workers. Awesome! I sort of got the Charlie thing with the guy who confirmed Genoa...sort of. I think the Twitter thing and the kid who wanted to come out on News Night were sort of throw aways but since nothing Aaron Sorkin ever writes is a throw away, I'm guessing there was more to it. Again, I feel like I need to watch Newsroom one more time to really let it all marinate and to be able to appreciate how good it all is, but I can't this week, so I'm just going with it. Also, note to the hairstylist on the show, can you please do something with MacKenzie's hair? She always looks like it could use a brushing or some product or something. If she's wearing $1200 shoes, I'd think she'd be rocking a better hairstyle. 
Real Housewives of NJ
A drama free episode of Real Housewives of NJ? Yes! Believe it! I saw it with my own two eyes. It was nice to see everyone together, eating, zumba-ing, laughing, fake kissing, etc. It was also really nice to see Ashlee, Jaqueline's daughter who's been out in LA for a couple seasons. She seems to have gotten her sh*t together and looked beautiful. She was sporting a great big bun and dark red lipstick and actually worrying about her Mommy for a change. I think we should all be a little bit worried about Jaqueline. This week, she flew to LA to get a bunch of cosmetic surgery done. Tummy Tuck, neck lift and I'm betting some other stuff too.  I personally didn't think she needed anything, but I support anyone who wants to feel good about themselves and Jaqueline's in need of a bit of a pick me up with all she's going through. Didn't need to see the skin the doctor cut off her though, that was completely unnecessary. It even had the fat attached to it...ewwwww! I loved Joe Gorga and Gia spending time together, hated Joe Giudice talking Autism with Chris, and am awaiting Caroline's nervous breakdown at any minute. Did you see how upset she got at Greg's goodbye dinner? Is it all menopause oriented? Is that what I have to look forward to? To be honest, I forgot all about Greg and I really like him, but I didn't miss him when he wasn't on camera, so I guess I won't miss him while he's in San Francisco either. How funny was it that Teresa didn't know what a sociopath was and then the ultra awkward moment when she looked it up and read the definition.  Between her stupidity and her husband's inappropriateness, I actually do see how they are together. They're the perfect couple when you think about it.  Okay, lastly...Greg mentioned a "Cancer Hang". Have any of you ever heard of that before? I hadn't, and I admit, I did laugh. I know...not cool at all. 
Eat, Drink, Love
I SO wish you guys could hear me imitate the sound of some of the girls voices in Eat, Drink, Love.  Three of them have THE MOST ANNOYING sounding voices ever. They are also 30 year old adults that use the word "like" more than my 13 year old niece. I love restaurants and food and really thought I'd LOVE this show, but the annoying factor is tough to get over. Of course there's gossip, backstabbing, drama and all the stuff I normally love in a reality show, but I don't know if I can get past the annoying shrill of these women's voices. Let's face it, with the current Sunday slate as amazing as it already is, and the Fall TV season just around the corner, I'm really not looking for another show to add to my repertoire unless it's top notch and unfortunately this one isn't.  Sorry Bravo, they can't all be awesome.  
News & Information:
-Breaking Bad set all kinds of records Sunday night. I knew it would. 5.9 million people watched the premiere. This was the most viewers of any BB episode to date. It was also an increase of 102% versus last Summer's premiere.  There were 3.6 million A18-49 and 760,000 tweets with 11,799 tweets per minute at some points.  Pretty crazy stuff. Lots of people jumped on the BB bandwagon over the past year. Isn't binge viewing a beautiful thing?  Now for all of you looking for something new to binge view,

Orange is the New Black is my reco.  
-As one of Uber's newest fans, I was excited to see them partnering up with Bravo and the guys from Million Dollar Listing Los Angeles.  Starting yesterday through tomorrow, to celebrate the shows 6th season premiere, Uber is tweeting out a notification for free rides.  Users must tweet with @Uber, @Bravotv and #MDLLA for the chance to claim a code.  Winners will get a unique promo code to claim their free ride. All fans that participate are automatically entered to win 100 free Uber rides and a trip for 2 to Los Angeles.  Since driving is one of the worst things about LA, I'd say that's a great prize.
-At some point, I had planned on binge viewing The Borgia's, but now that I know that the finale that never happened will be an e-book instead of an actual filmed finale, I'm out. For all you Borgia fans, if you even care at this point, the finale/e-book will be available this week. I'd love to know how many people actually download it. Let me know if you're one of them. 
Tuesday's Trivia Question: Each week on Mork & Mindy, Mork filed his observations with his boss back home. Name him. 
WWTM-Kristy
Like me on Facebook at Watching Way Too Much
Follow me on Twitter at watchingwaytoomuch@tvnme
http://watchingwaytoomuch.com
kristy@watchingwaytoomuch.com