Posted by Sophie Westrope on February 1, 2013 · 3 Comments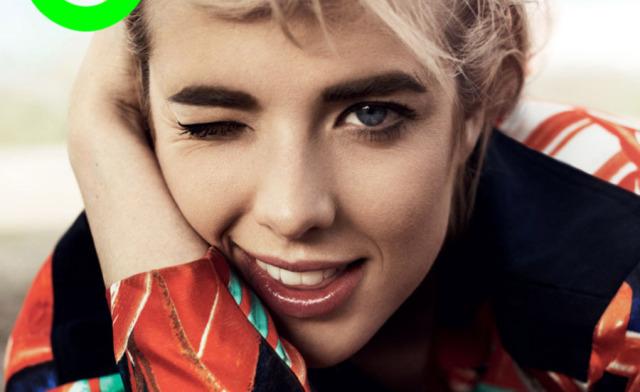 WHEN looked at from afar, the sweeping generalisations associated with androgyny conjure up an image of a female model sprawled across the glossy pages of Vogue, dressed in a sharp suit with a cigar hanging from her lip as she smoothes her slicked back hair. At a quick glance the average viewer simply sees some tailored suits that are so 'in' this season but the reality lies deeper within. Androgyny goes further than a woman purely emulating a male stance for the sake of an editorial spread; it is in fact an innovative way of complicating and challenging the binary system of gender norms.
There has long existed a fashion stereotype linking the roots of androgyny to lesbians. In the cold hard nineties it was the 'power lesbian' that dominated the catwalk, sidewalk and popped up in every television show imaginable. Think Miranda, pre-Steve Brady, for the entirety of the first three series of Sex and the City and you've got it.
When the show first hit television screens courtesy of HBO in 1998, the gay community cheered, not-so-secretly hoping that Miranda (played by one Cynthia Nixon) would turn out to be a lesbian; the flame-haired, career-driven lawyer who dressed almost exclusively in power suits with ties. She seemed to, to the gay audience, often be on the brink of coming out. Viewers were bitterly disappointed when, after dabbling in a faux-lady loving relationship for the sake of a promotion opportunity, it was made clear by an actual lesbian that Miss Hobbes was in fact incredibly straight. It would seem that the costume department intended to create a gender paradox within these four liberated ladies and the redhead took the role of the suited and booted pseudo-Dyke.
Before this the 70s lesbian feminists had thrown away the old subcultures of femme and butch, dismissing their restricted natures as politically incorrect. Lesbians of this era saw these stereotypes as mere compliance with patriarchal standards; the need to exist as an explicit form ticking certain boxes to exist amongst a heteronormative culture. The butch/femme ideals were no longer needed as protection from society's backlash, the power lesbian was here to stay. And thus came the ideal that androgyny was the new lesbian identity.
This androgyny soon manifested itself in various ways in fashion. Initially it was introduced to create a soft femininity for men but the gay and lesbian community discarded this and replaced it with a masculinity for all. Androgyny was a rejection of fashion forced identity created with feminism. It created an ambiguous silhouette that showed off nothing but clean lines and a regular human body. The favoured suits and flat shoes were a clear distinction that this look was not about dressing for men. It took the feminine ideals and trampled all over them. In the 80s and 90s this look meant baggy trousers to conceal the curvaceous woman's backside with unshaved legs beneath them and nothing but brogues on their feet. The makeup shied away from the typical 'beauty' norms of society and left a fresh minimal look with perhaps a powerful when feeling adventurous or daring. It was a self-conscious f*ck you to heteropatriarchy and its constructed feminine ideals.
Androgyny was rife with slim, almost skeletal models gracing the covers of magazines, albeit straight waifs adorned in queer codes of dress. Hailed as 'lesbian chic', androgynous fashion arrived and conquered. Ellen Degeneres epitomises the androgyny style with her specially designed two piece suits and cropped hair, she can be seen as the visual representation of the dictionary definition.
While subcultural lesbian style has come on leaps and bounds there still lies a great deal of androgyny at its core. Many elements of this fashion are filtering through in modern day culture; the most recent being the hipster, individuals whose style principles are based on a sense of ironic nostalgia for past eras of style that they missed. It has become a running joke within the current social climate that it's become tough to distinguish who is a hipster and who is in fact a genuine queer. The fluidity of sexuality in motion currently can't help either.
The fashion industry has begun to take elements of lesbian subcultural style and incorporate in their seasonal collections. Models are masquerading on the catwalk as a new army of assembled 'designer dykes'. Take Agyness Deyn (shown above): her peroxide blonde crop and athletic body were initially conceived as lesbian symbols, however her gender-bending look is now seen as a fashionable commodity; something to be hailed for going against the grain of 'sexy' models and making it acceptable to dress for style reasons, not as a reflection of gender or sexuality. Practically crowned the Androgyny Queen, Deyn played up her style with the stereotypical queer codes of dress; Doc Martens, rolled up baggy Levi's, a checked shirt and a bare face. Aware of exactly what her punk-esque style connotes, it's been refreshing to see a straight woman existing within fashion that was not your typical beauty but held her own with whatever she felt like wearing.
Like a modern-day Calamity Jane, worldwide renowned singer Alecia Beth Moore or P!nk as she is better known, is seen as an 'honorary lesbian', a title she even proudly penned herself. Fitting into the butch dyke subcultural style, she parades between a choice of style and a lack of sexual expression. As a straight female, she does not fit into the 'norm' criterion of femininity and dressing for men's attraction. Not one to define herself, P!nk is a hands-on, loud mouthed and unapologetic ball buster who jumps around on stage with her tattoos and toned muscle-bound physique and has spent the last twelve years in combat trousers and crop tops that bare her six-pack abs. Her short messy hair and sneer are nods towards the Butch look but of course, just like Deyn this lady shows that heterosexuality and homosexuality do not need to be defined in terms of dress.
Our culture pigeon-holes any woman unwilling to play up her 'girly' features and refuses to be seen as typically sexy as a 'tomboy'. Some believe that androgyny is a negative representation of the female form as it plays with gender codes. Fashion is not about wearing what shows off your assets most, it's all about freedom of expression through dress. It's about experimenting with different styles and androgyny experiments with gender and sexuality and the image of the self. The same way SATC's Miranda's cropped hair and tailored suits made her the lesbian icon in a hit TV show, the choice of clothing donned by other females in popular culture such as Grace Jones and Sinead O'Connor fool around with sexual politics.
While androgyny is clearly not only confined to lesbian style it brings up the question of 'do you dress like a dyke?' There are undoubtedly individual garments which bear close association with lesbianism but does it have its own 'uniform'? While androgynous catwalk fashion styles women in tailored trousers and slick suit jackets, modern-day lesbian dress is more of a nod towards 90s grunge, with low slung hipster 'boyfriend' jeans and the staple white T-shirt and flat tennis shoes. This casual look is mostly identified as 'butch' but is more about comfort and a conscious decision to dress with effortless abandon. While some lesbians agree that their clothing is an expression of their sexuality, as well as a way of communication and identification among their peers in the gay community, this epicene is such natural 'cool' that it's no wonder many straight women favour it over the patriarchal expectations of femininity.
While it's become more of a conventional fashion trend, this androgynous glamour is still identified worldwide as the sexiest way to be a lesbian as well as the easiest lesbian aesthetic for the mainstream to grasp. However, it can be argued that while androgyny becoming a fashion trend that keeps on delivering year after year is wonderful news for queer subcultural visibility, it also diminishes the stylised sexuality it harnesses for those lesbians who use their dress to express their own identity. It could be assumed to be making a mockery of other peoples' style safety nets per se. And this idea of it being a trend implies that lesbian codes of dress are new and invented by the fashion industry themselves instead of trickling down through history as the queer way of expression through clothing.
It is important to understand that mainstream ideas of a typical lesbian's appearance what a lesbian are not the only option and to try not to let these influence society's ways of identifying those gay individuals. And while a specific kind of lesbian can enjoy appreciation from high fashion, those not included under this increasingly normative style have their own valid practices of presenting their sexualities through fashion too. Let's not forget that femmes are just as gay as an androgynous dyke in skinny jeans and a leather jacket. We can appreciate that lesbian chic is back in Vogue but let's not abandon those whom 'chic' does not include.
[This post was written for a 'Fashion and Difference' university assignment]