Being a massive movie fan, my tastes are not limited to a particular genre, I like all kinds of movie, but I always feel uncomfortable watching a musical. But I must remark, "Les Miserable" is a film for all, you don't have to be a musical fan to like it. It has a great star cast with superstars like Russell Crowe, Hugh Jackman, Anne Hathaway, Amanda Seyfried and Helena Bonham Carter.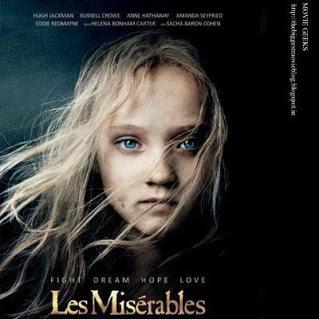 This great film is based on an even greater book written by Victor Hugo in 1862. I have started to love Tom Hooper's style of film making after this film and "King's Speech" like I love Tarantino's style.
The two main characters, Russell Crowe as Inspector Javert and Hugh Jackman as Prisoner Jean Valjean in this film are presented right from the opening scene in a post-revolutionary France and then the rest two and half hours is something you will never forget in years to come.
The acting is great by Russell Crowe, Anne Hathaway and especially Hugh Jackman. Anne Hathaway has worked hard for her role as Fantine losing 19 pounds of her weight and most of her hairs.
This film may not be a box-office star but is surely going to win some great awards including a 
couple of Oscars.
Movie Geeks Ratings: 8/10
Cast: Hugh Jackman, Anne Hathaway, Russell Crowe, Amanda Seyfried.
Directed by: Tom Hooper.
-------------------------
Author
: Amrit Rukhaiyaar