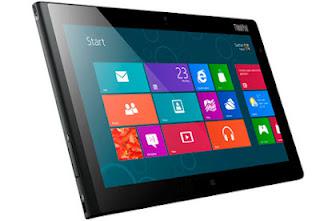 Lenovo has just launched a new tablet called the ThinkPad Tablet 2. This tablet computers using Microsoft's latest operating system, namely Windows 8. Unlike Surface tablet that uses an ARM processor, the ThinkPad Tablet 2 uses an Intel Clover Trail.
Intel Clover Trail is a continuation of the Intel Atom chip, which brings energy efficiency and portability, and reduce the need for additional cooling. This processor can perform all activities in Windows RT, run all Windows applications and of course Windows 7 with Office Pro 8 full version.
Lenovo ThinkPad Tablet 2 has a screen measuring 10.1-inch IPS 1366 x 768, a battery capable of supporting up to 10 hours, Wi-Fi, 3G/4G network options, micro HDMI, USB 2.0, micro SD, 2MP camera front and rear 8MP, and a thickness of 9.8 mm. Not to forget the digital pen, NFC technology, the keyboard dock, and fingerprint reader was implanted.
In hardware, this tablet does have the capability and full feature. Unfortunately, Lenovo does not mention the price for these tablets. As an illustration, the Microsoft Surface membandrol Pro - with Intel Core, not Clover Trail - the price of 'equivalent' Ultrabook. We wait for his presence at the end of Oktboer later, when Windows 8 and Tablet 2 slide.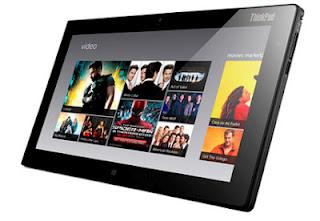 origin source Engadget, Mashable