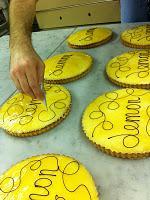 Lemon Tart...
... has long been a favorite of mine.. & funnily enough, I just can't get enough of it.  I have scoured the London restaurant scene for the best of the best..
I've driven Vincenzo mad about my favourites & hassled him enough to modify our almost perfect lemon tart to create what I consider to be THE PERFECT lemon tart... if you like it caramelised like I do... just pop it under the grill for a couple of mind with a sprinkle of icing sugar on top.. we find this brings out the flavor of the lemons even more than before...
(that rhymed!)
Someone who knows all about rhyming is the greatest Italian poet in history, Dante Alighieri, creator of the Divine Comedy.. .... anyway... where is this going??  
Whilst perusing the latest photos of the wonderful & everly sweeter by the day Vincenzo.. I noticed what a striking resemblance the great caker has to the great Italian 'Poeta' himself! Minus the leafy head dress and histrorical hoodie...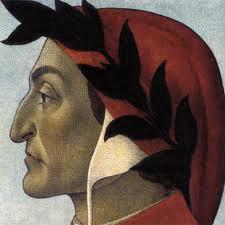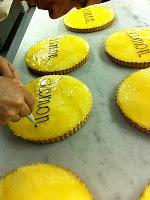 Moving swiftly onto the receipe...
For the sweet pastry
250 g
plain flour
200 g
unsalted butter
, cut into dice
100 g
icing sugar
, sifted
pinch of sea salt
2
egg yolks
1 drop
vanilla extract

, optional
For the lemon custard  filling
7
eggs
+ 7
egg yolks
320 ml freshly squeezed
lemon juice
zest of 5
lemons
375 g
caster sugar
320 g
unsalted butter
To serve
50 g
icing sugar
crème fraîche

 (optional)
For the sweet pastry .. needs a bit of time, if you're pushed for time buy a best quality read made shortcrust pastry.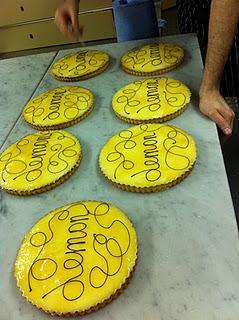 1. Sift the flour into a bowl and add the diced butter. Mix with your fingertips until you achieve a sandy texture. Do not overwork.

2. Sift in the icing sugar, add salt and mix with the fingertips.

3. Add the egg yolks and mix well using a fork, until the the mixture comes together as a dough.

4. Add the extract, if using, and knead 2-3 times.

5. Wrap in cling film and put in the fridge for 1 hour.

6. Preheat oven to 150C/gas mark 2. Line an 8 1/2 inch flan ring.

7. Grate the pastry into the case and press it down to form a base. Blind bake for 15 minutes or until golden.

For the filling.. this is simple
1. In a pan over low heat, cook the eggs, yolks, lemon, sugar and zest until it starts to thicken. Slowly beat in the butter.

2. Pour the mix into the case and leave to set at room temperature.

3. Sprinkle with sifted icing sugar and glaze under a grill. Serve with the creme fraiche, or a trickle of cream if you prefer


Yummy!