I think the local Indonesian confectioner's sugar is not as finely grained as the rest of the world out there. Because each time i made the American Buttercream, which only involved beating the butter and sugar together, it comes out gritty.
My favourite buttercream to date is the Meringue buttercream. Sure, it is dreary and tiresome as it involves heating and beating egg whites before you add the butter in, but it's really worth the effort in my case.
But what's most frustrating is when i laboured over the said buttercream, fastidiously pipped them over the cupcakes,only to have them scrapped aside.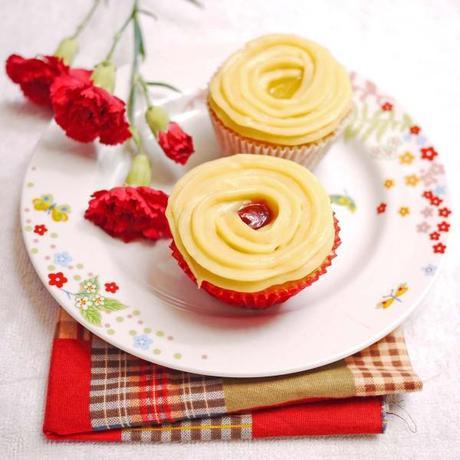 Because that's what always happens around this health conscious household.
Ditto for frostings which involve whipped cream.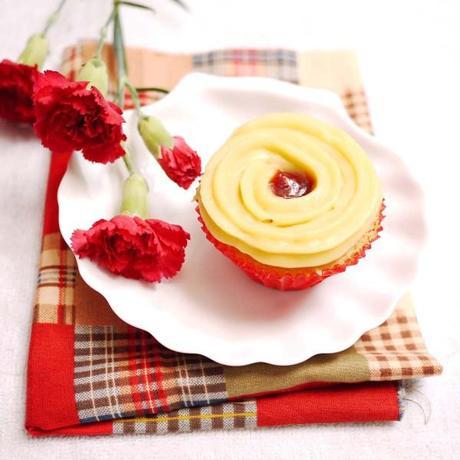 So i have decided to go on the safe road and used pastry cream for today's cupcake frosting. If they had no qualms eating it as fillings for my Boston Cream Donuts, this pastry cream is pretty much insured from getting the brush off.
Using Martha Stewart's pastry cream recipe, this pastry cream doesn't even contain butter. And considering that i am using it as a frosting, this is as good as it gets. I dont think you can get any healthier than that.
Or any more boring.
So i've decided to jazz it up a bit.
And started off with a lemon cupcake.
With an apple corer, i decided to take a bit of the middle off,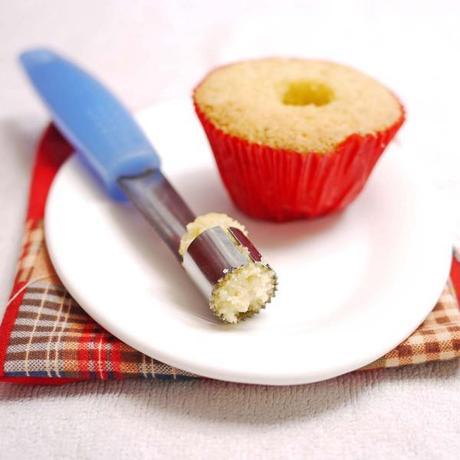 And piped a perimeter of the pastry cream around it. A note when cooking this pastry cream though. To get that pippable consistency, i cooked the pastry cream way more than what the recipe suggested. At the end of the cooking, you should get a thick, gloopy mixture that sits (and not dissolve) when you let it fall back into your pan from your spoon.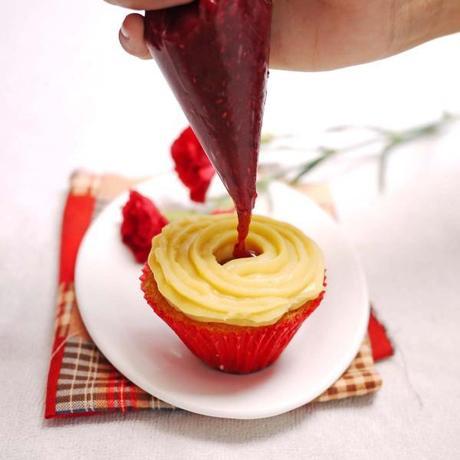 Then i filled up the cavity I created from the apple corer with raspberry curd.
Raspberry curd. Sure, it might have a bit of butter, but definitely way lesser compared to a full fledged buttercream.
Besides, raspberries are fruits. They fall into the bottom of the food pyramid, which mandates that everyone eats more of. Which is why i created the cavity in the first place. And made sure that i filled it all the way up.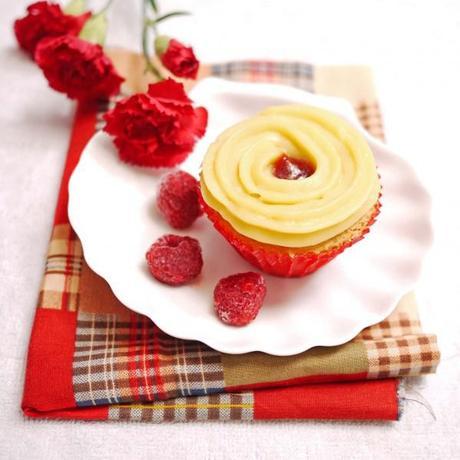 Lemon Cupcakes, pastry cream and raspberry curd.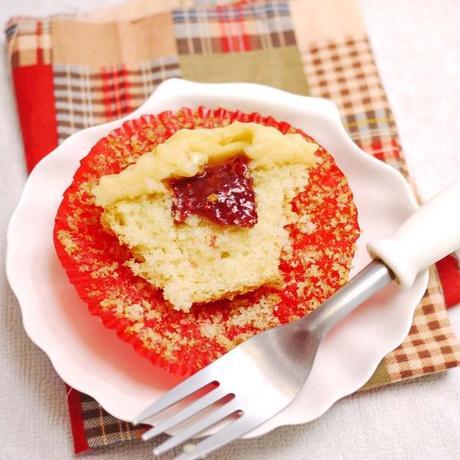 That's like sunshine on mah plate!
Of course, if for some reasons, you happen to squeeze waaaaay too many lemons for your cupcakes and have waaaaay more lemon juice sparing around, you could also make these lemon curd versions.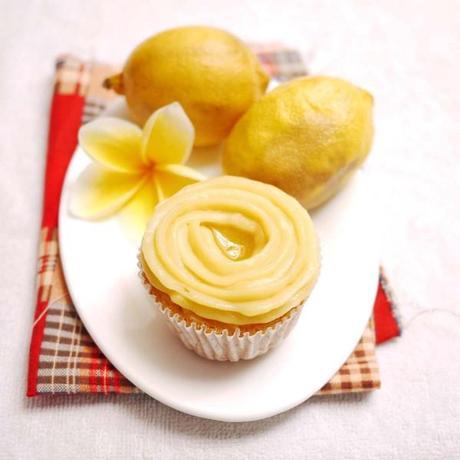 Like so!
Lemon Cupcakes with Pastry Cream and Raspberry (or Lemon) Curd
Lemon Cupcakes from Dash of Sass
For the cake:
2 1/2 cups cake flour
2 teaspoons baking powder
1/2 teaspoon baking soda
1/2 teaspoon salt
1 cup (2 sticks) butter, room temperature
1 1/2 cups sugar
2 whole eggs
3 egg yolks
2 teaspoons vanilla extract
3 teaspoons lemon zest
1/4 cup fresh lemon juice
1/2 cup sour cream
Directions:
- Preheat oven to 350 degrees. Butter and flour two muffin pans or line with paper liners. Set prepared pan aside.
- In a medium-sized bowl, stir together the flour, baking powder, baking soda and salt. Set aside.
- In the bowl of an electric mixer, beat butter on medium speed until smooth and creamy. Add sugar. Beat until light and fluffy, approximately 3 minutes.
- Beat in the whole eggs and egg yolks, one at a time, beating until fully combined before adding the next one. Wipe down the sides of the bowl between each addition.
- Once all eggs and yolks are combined, add the vanilla and lemon zest. Stir to combine.
- Add the lemon juice. Mix on low speed to combine.
- With the mixer still on low, mix in the dry ingredients in three separate additions. Between each addition of dry ingredients, add half of the sour cream. Wipe down the sides of the bowl between additions. Stir until fully combined.
- Fill each prepared muffin tin 1/2 way with lemon cake batter. Bake for 18 to 20 minutes, or until a toothpick inserted in the cake comes out clean.  Rotate the pans halfway through to ensure even baking.
- Remove cupcakes to a wire cooling rack. Let cool to room temperature before serving.
Pastry Cream from Martha Stewart
Raspberry Curd from Annie's eats
For the raspberry curd:
8 tbsp. unsalted butter
1 pint ripe raspberries or 1 12-oz. package frozen raspberries, thawed
5 large egg yolks, lightly beaten
3/4 cup sugar
Pinch of salt
2-3 tsp. fresh lemon juice
To make the raspberry curd, melt the butter in a large saucepan over medium heat.  Add the raspberries, egg yolks, sugar and salt, and cook, mashing the berries.  Stir frequently at first and then constantly at the end, until thickened, about 10 minutes.  Pour the mixture through a coarse strainer set over a bowl, pressing hard on the solids to extract as much liquid as possible.  Cool to room temperature; the curd will continue to thicken as it cools.  Stir in lemon juice to taste.  Cover and refrigerate until ready to serve.
Lemon Curd from Martha Stewart