09/13/2011 – by Cynthia Wright
Leila Lopes, 25 of Angola was just as stunned as the rest of the world, after she won the coveted Miss Universe crown last night. The competition was broadcast from São Paulo, Brazil and showcased a lovely array of international, surgically enhanced beauties. Perhaps, that is what caused the proudly natural Lopes to stand out.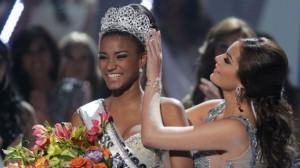 While the crowd was heavily endorsing the Latin women – Lopes soon put on the same pedestal as her Brazilian-born opponent. During the competition, the Portuguese-speaking beauty seemed to be the entire package, showcasing that she is beautiful inside and out.
Which was reiterated later during the interview portion of the contest, when she was asked whether she would change anything about her physical appearance.
"Thank God I'm very satisfied with the way God created me and I wouldn't change a thing," Lopes said. "I consider myself a woman endowed with inner beauty. I have acquired many wonderful principles from my family and I intend to follow these for the rest of my life."
Lopes is the first winner from Angola and one of the precious few black women to ever win the crown.