Heldentenor cancels due to illness, replacement announced.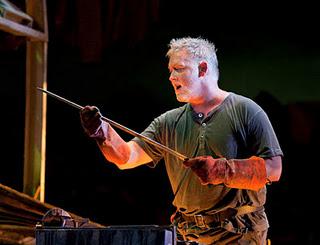 Enter the Dragon: Jay Hunter Morris as Siegfried at the San Francisco Opera.
Photo by Cory Weaver © 2011 San Francisco Opera.
New York, meet Jay Hunter Morris. 
The Metropolitan Opera announced tonight that Mr. Morris, an up-and-coming heldentenor will be singing the title role in the Oct. 27th premiere of the company's new production of Siegfried.
Mr. Morris replaces Gary Lehman, who cancelled due to illness. Mr. Lehman's blonde-wigged profile has dominated much of the company's promotional material for the production. As of this writing, Mr. Lehman is expected to sing the part later in the run, including the Met Live in HD telecast scheduled for Nov. 5, and in the Spring performances that are part of the complete Ring.
Mr. Lehman was originally added to the Ring cast last year as a replacement for Ben Heppner. Mr. Heppner, who had sung every major Wagner role except Siegfried, was originally under contract to pair with Deborah Voigt's Brunnhilde. He has since announced that he has withdrawn the role from his repertory.
What's interesting about this cancellation and casting change is that Jonas Kaufmann is in town for a recital at the Met on Oct. 30. Mr. Kaufmann made a stir as Siegmund, the hero of Die Walküre, the previous opera in the Ring. The tenor has sung other Wagner roles such as Lohengrin, but has yet to tackle Siegfried. 
The role of Siegfried is the summit of the German tenor repertory. The character wrestles a bear, beats up a dwarf, forges a sword, kills a dragon, kills the dwarf, beats up Wotan and then sings a 37-minute long duet with the soprano after having been onstage for about four hours. The role is so demanding that on occasion, each of the three acts have been taken by a different heldentenor.
This is the second Met production this month to lose its leading man for the premiere. Earlier this month, Peter Mattei replaced Mariusz Kwiecien in Don Giovanni after the Polish baritone suffered a back injury in rehearsal. Mr. Kwiecien is due to return Oct. 25. Both productions are conducted by new Met principal conductor Fabio Luisi, himself a replacement for injured music director James Levine.
Watch for the Superconductor review of the Oct 27 performance of Siegfried.