***This is a sponsored post. I am receiving compensation in exchange for an honest review of the event. All opinions are 100% my own.***
LEGO KidsFest is coming to the Suburban Collection Showplace in Novi, Michigan and I am so excited to be able to share some of the details with you as well as a chance to win FREE TICKETS!
I'm not sure that many toys can rival LEGO® bricks. Children can not only express their creativity and imagination but learn skills as basic as colors and counting and as complex as engineering. Little ones build fine motor skills by building with LEGO® bricks and for older children the sky is the limit. It is totally worth the risk of the middle-of-the-night risk of stepping on one of those bricks.

Here are the details:
LEGO KidsFest is returning to the Suburban Collection Showplace in Novi, MI, April 25 – 27, 2014! LEGO KidsFest brings all of the creative hands-on, minds-on fun of LEGO building and experiences together in one activity- and entertainment-packed family event for children of all ages and builders of all skills and interests.
WIN FREE TICKETS!
One of MY followers will win (2) tickets to for the opening night session on Friday, April 25,  2014   (4-8:30pm).  I encourage you to LIKE and Follow LEGOKidsFest on Facebook, Twitter and/or Instagram for all the latest ticketing updates as this event has been selling out in prior cities.    Must be 18 to enter, 1 entry per day allowed, random drawing by USFG on Wednesday March 26!
CLICK HERE TO REGISTER TO WIN TICKETS!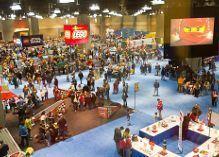 For the complete details, please visit the LEGO KidsFest website.  I hope to see you there!
Are you, too, seeking to save the earth, promote world peace and raise productive citizens without expending too much effort?
Why not follow Lazy Hippie Mama  by email, Facebook, Google+, Twitter or Instagram to get all the updates?
If we work on our goals together, they may be a little easier to achieve!