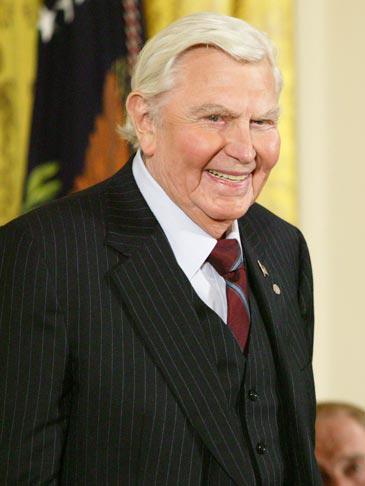 Andy Griffith, one of Hollywood's most adorable actor, director, comedian, producer, writer and singer passed away Tuesday morning (July 3) at about 7 a.m. at his home in Dare County, North Carolina, USA.
Bill Friday, former UNC President and a close friend of the actor broke the news of his departure to WITN News.
Andy's actual name was Andrew Samuel Griffith and was born on June 1st, 1926 in Mount Airy, North Carolina. He made his film debut in 'A Face in the Crowd' (1957) and made his first appearance on television in 1955 in the teleplay No Time for Sergeants on The United States Steel Hour.
The versatile actor starred as Sheriff Andy Taylor alongside Don Knotts and Ron Howard in The Andy Griffith Show which aired on CBS television from 1960 – 1968. In the year 1972, he started his own production company named Andy Griffith Enterprises.
Andy Griffith married Barbara Bray Edwards from 1949 – 1972 and then the Greek actress Solica Cassuto from 1973 – 1981 before marrying Cindi Knight in 1983. Indeed! A big loss for Hollywood. May His Soul Rest In Peace!