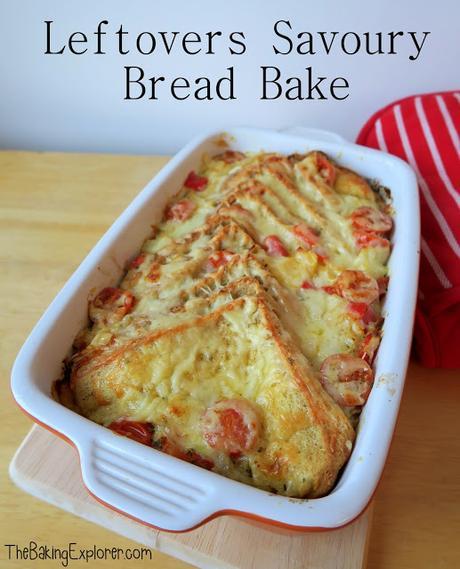 I am always looking for ways to use up leftovers as food waste is something I really can't stand. Did you know that we throw away 7 million tonnes of food every year? Reducing food waste not only helps the environment, but it helps your bank account too! We're so lucky to have access to piles of food whenever we need it that most people forget it isn't like that everywhere in the world. So, I think it's really important to try not to waste any of it.
Joseph Joseph
and Love Food Hate Waste have joined forces against food waste this month and in order to help with their campaign I've created this savoury version of a bread pudding, which you can fill and flavor with a variety of leftovers. It will also easily feed a family of four.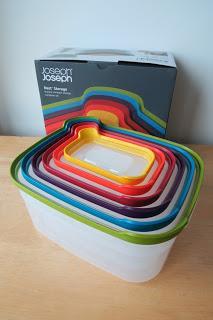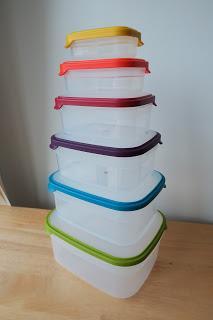 I love Joseph Joseph's Nest Storage Set for storing leftovers in. They are space saving in your cupboard when they are not filled with leftovers as they all stack into each other. They come in sizes perfect for taking your lunch into work, storing cupcakes and biscuits or of course any leftovers in the fridge! Plus they're color coded so you can quickly match up the tubs to their lids.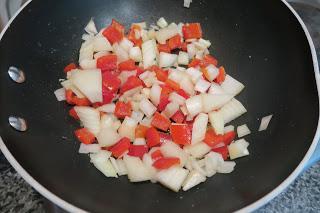 The leftovers I had in my fridge were half an onion, a red pepper and about 8 cherry tomatoes. You could also put other veg in this like mushrooms, leeks, courgettes or aubergine. And if you're a meat eater, any leftover meat like chicken, chorizo or ham would work well. I pre-cooked my onion and pepper in some olive oil and garlic. I'd advise pre-cooking any veg you decide to use.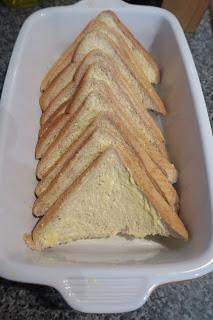 I sliced 5 slices of bread into diagonals, buttered each one, and arranged them neatly in my dish. I used my Berndes 27x18cm dish. The crust of the loaf is perfect for this recipe and often gets leftover.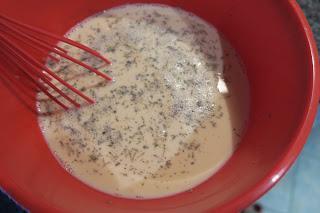 I whisked up 4 eggs, 500ml semi skimmed milk and 50ml double cream. If you don't want to add the cream, just replace it with more milk. I also added 1 tsp mixed herbs and 1 tsp salt. You can add your favorite spices or herbs to flavor this to your taste.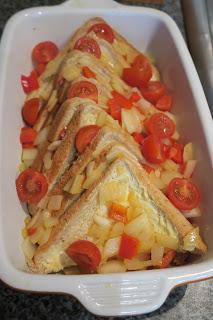 I spooned the cooked veg in between and around the slices of bread, I then added the cherry tomatoes which I sliced in half.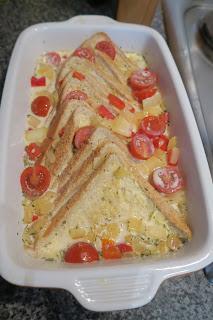 I poured the egg mixture into the dish and left it to soak into the bread for 5 minutes.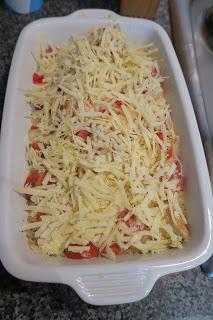 Finally I sprinkled over 75g mature cheddar, and popped it into the oven on 180C/160C Fan/350F/ Gas Mark for 40 minutes.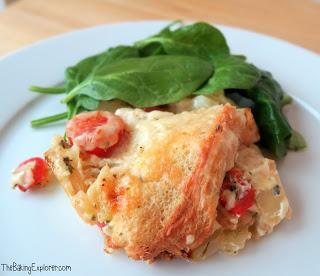 I left it for 10 minutes or so, as it sets better together, a bit like a lasagne. Then I dug in! This bake is great served with salad, fresh spinach or any green veg like broccoli.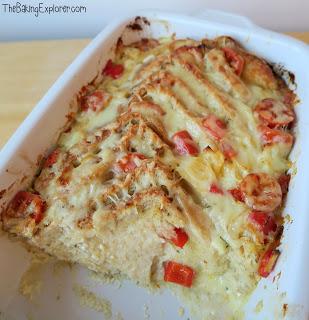 It was so yummy! I loved the soft eggy bread and vegetables, but then the crispy cheesey topping was equally as satisfying. This is a fabulous way to use up lots of different types of leftovers and feed hungry family and friends! For more ideas on using up leftover bread, check out Love Food Hate Waste's dedicated Use Your Loaf page.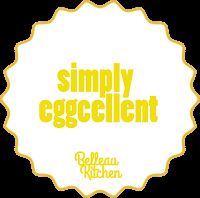 I'm entering this bake into
Simply Eggcellent
, hosted by Belleau Kitchen. This month's theme is anything goes!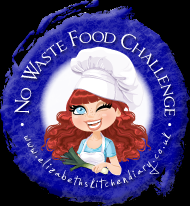 And into the
No Waste Food Challenge
hosted by Elizabeth's Kitchen Diary.
And this month's Credit Crunch Munch hosted by Fuss Free Flavours and Fab Food 4 All.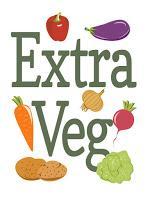 And
Extra Veg
hosted by Utterly Scrummy and Fuss Free Flavours.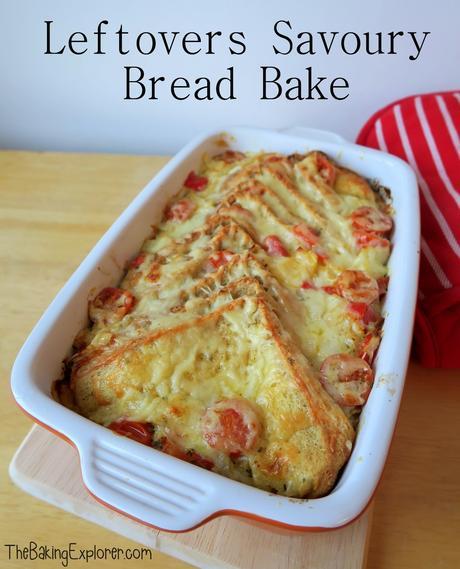 Leftovers Savoury Bread Bake
February-15-2016
Ingredients
1/2 an

Onion

8

Cherry tomatos

1 tbsp

Olive oil

2 cloves of

Garlic

1

Red pepper

5 slices of

Bread

Butter

4

Eggs

500ml

Semi skimmed milk

50ml

Double cream

1 tsp

Mixed herbs

1 tsp

Salt

75g

Mature cheddar
Instructions
Dice up then fry the onion, garlic and pepper in the olive oil
Slice the into diagonals, butter each piece, and arrange them neatly in a 27x18cm dish
Whisk up the eggs, milk and double cream. Add the mixed herbs and salt
Spoon the cooked veg in between and around the slices of bread, then slice the cherry tomatoes in half and add them too
Pour the egg mixture into the dish and leave it to soak into the bread for 5 minutes
Sprinkle over the mature cheddar, and pop it into the oven on 180C/160C Fan/350F/ Gas Mark for 40 minutes