Mmmmm. It's still cold out so which means I just want soup for lunch every day! I was going to make butternut squash soup (which is amazing and can be found here), but I fancied trying something different. And I'm pleased to tell you that I have better pictures this time around! Pictures make all the difference to a post, dont you think?
You'll need
3 leeks              salt and pepper
1 large onion         2 tbsp nutmeg
4 large potatoes   150ml single cream
1.2 litres stock      butter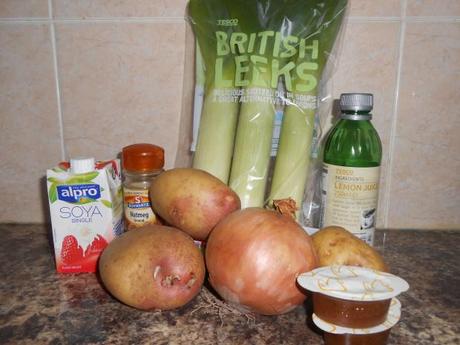 Right then, off we go! First we need to cut the top and bottom off (leave a little green at the top), slice them and them give them a quick rinse just incase theres any dirt hiding away in there. Then slice your onion, melt a little butter in your pan, throw them both in and give it a stir.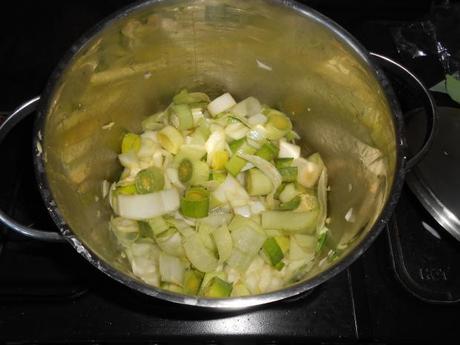 If you put a lid on the pan it should take about 10 minutes for the leeks to go soft, as long as they're over a medium heat. Whilst that's happening you should really be peeling and slicing your potatoes… we don't have time for daydreaming at this point, sorry.
When the leeks are nice and squidgy add in your potatoes, nutmeg and stock. I used chicken stock to give it a bit more flavor but I'm sure vegetable stock would work just as well. You can also use fresh/homemade stock or cubes/weird jelly pots like I did.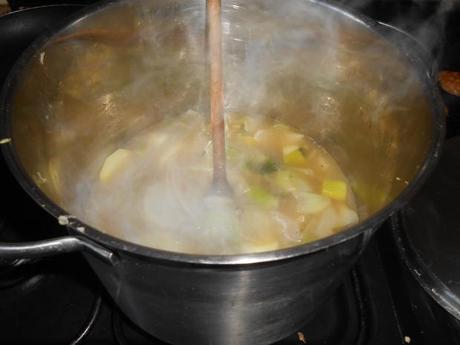 Bring everything to the boil and then turn it down, put the lid on and leave it for another 10 minutes. Now is day dreaming time, but don't drift too far – when the 10/15/oops 20 minutes is up you need to hunt down that hand blender that's been jostled to the back of the cupboard and puree the soup for a few minutes until everything's smooth.
Then we need to get it back on a medium heat and stir until it boils again. Then we can take it off and add in our cream, salt and pepper. I didn't want to use normal cream so I grabbed some soya, or you could use coconut milk like I did in the other soup recipe. You can also add the salt and pepper in when you add the stock if you wish but I was always taught it was better to taste the finished product and then add seasoning – you can add but you can't take away folks!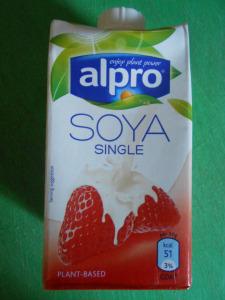 That's it, we're done! Now you can either serve immediately or bung it in the fridge. I was quite hungry by the time I'd finished my batch so I left a portion out, poured a little more cream on top and dived (dove?) in!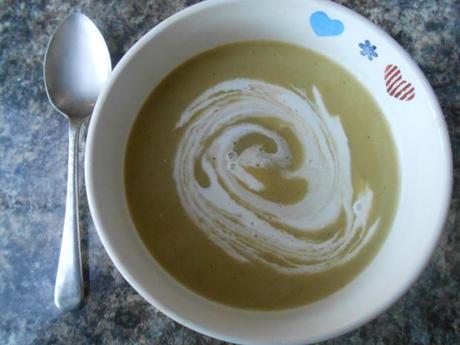 This recipe doesn't have as big a yeild as the butternut squash one – but it still gives approximatley 4/5 portions! Honestly I don't think I'll ever buy soup again, I've really enjoyed the past two I've made and you get more for your money when you do it yourself!
What's your favorite flavor soup? Let me know!