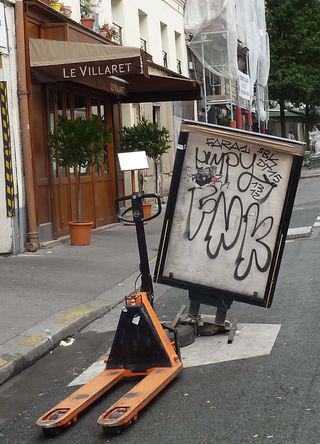 So there are several backstories here which, if, you're bored by them, you can skip to the next paragraph.  1. We stopped coming here (I figure in 2004) because of inconsistency and Colette's "canary in the mine" sense, and 2. We had booked at Galopin and they were firmly closed on a Tuesday mind you and 3. They had funky graffiti outside announcing that Grumpy was a Fink or somesuch.
In any case, here we were at Le Villaret after a long absence and they greeted our friends (whose name we had booked in 25 minutes before) like long-lost relatives.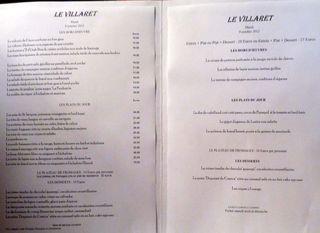 We took one look at the menu and swooned.  Game, game and game = set and match.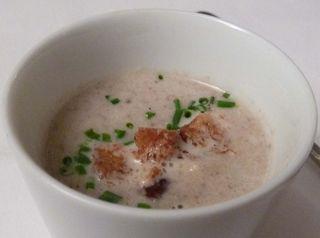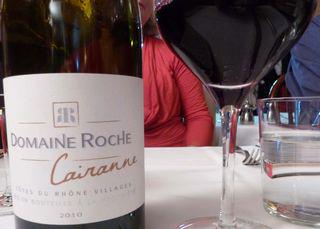 We started off with a superb amuse gueule of mushroom soup (the description hardly does justice to its lusciousness), great bread and some Domaine Roche Cairanne.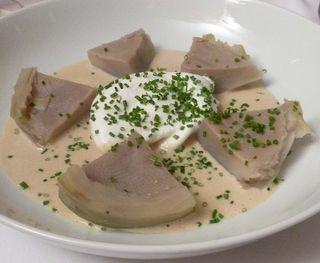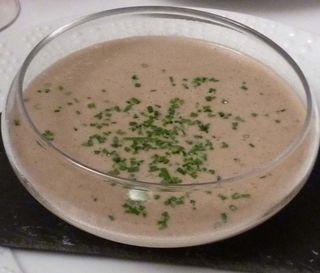 Then it was off to the races with some cepes and foie gras soup and artichokes and (yes, once again, foie gras) - both superb.  Colette asked, "What did I not like about this place, my pet?"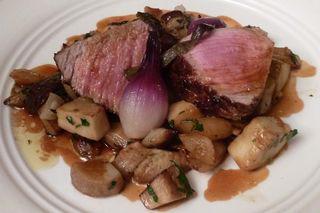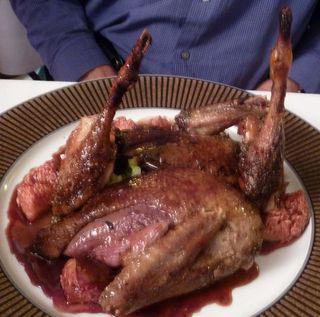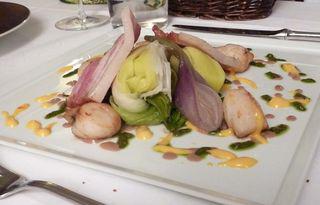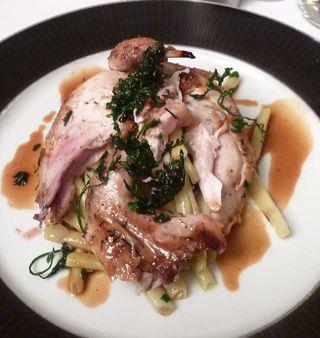 Then came in the heavy artillery: noix de veau with cepes (that's why she ordered it) and salsifis; Colette had the scallops with leeks; the sculptor had an enormous wild duck with green cabbage, looking so great sitting there with his/her legs up; and i had the partridge with butter beans - lemme tell you, we were 4 happy campers.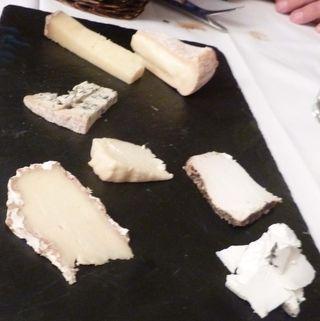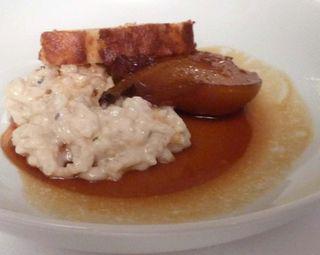 Then we terminated with a large display of cheese (no longer kept in their old bird-cage thingy) and a poached Comice pear with rice pudding and caramel sauce (Colette was out of the mine headed towards heaven).
Our bill with two bottles of wine, all that stuff ordered a la carte, no bottled water, two glasses of Pouilly Fuisse for Colette and two coffees was 238 E.