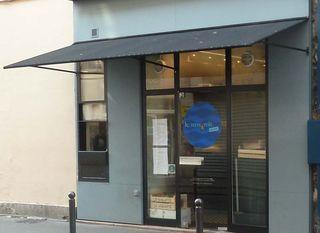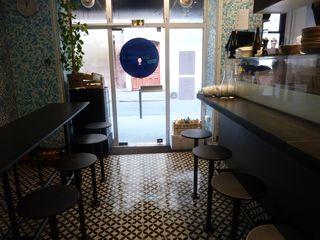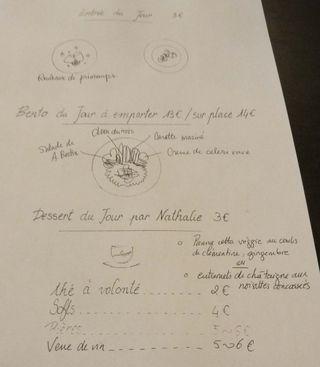 1.0 Le Verre Vole Sur Mer, 53, rue de Lancry in the 10th, 01.48.03.21.38 (but no reservations), Metro: Jacques Bonsergent, closed Mondays and Tuesdays, took some rough reviews from my friends Meg Zimbeck (http://parisbymouth.com/le-verre-vole-sur-mer/) and Aaron Ayscouth (http://notdrinkingpoison.blogspot.fr/2014/11/le-verre-vole-sur-mer-75010.html) for their meal at night in November, but I figured by now the Verre Vole brand would have taken heed and so I gave it a try at lunch with a Parisian friend I've known here since 1953.  The fascade is that by-now boring gunmetal grey, the seating all backless stools at a common table and comptoir and the menu hand-drawn like a kid's kindergarten menu.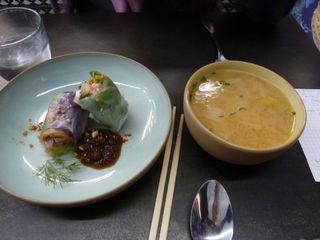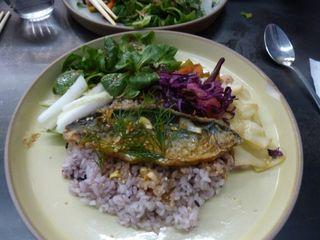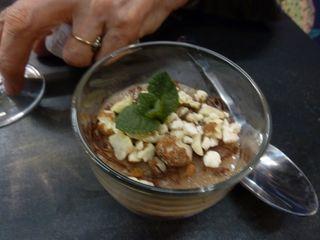 There are two firsts; an absolutely boring soup that had never seen miso or spices in its life and two semi-interesting spring rolls - the high point of the meal - you can stop reading now.  Then came what were called bentos, but if you know bentos you expect some marinated, pickled vegetables - Oh no, not here, just unexciting carrots, cabbage and salad - some nice rice - tasteless, and some interesting protein - well, the mackerel was smoked like Japanese eel, I'll give them that.  Then there were two desserts, a "veggie" [sic](huh?) panna cotta and an entremet of chestnuts and nuts - have you ever had tasteless chestnuts?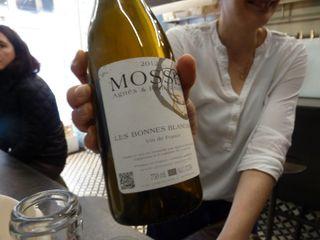 Our bill, with several glasses of wine (they had bottles but they wouldn't serve them, just by the glass thank you - strange!), no bottled water and no coffee (they directed us to a place across the Canal St. Martin if we wanted some), was 59 E.
Go?  This is the week of "Ni, Ni" = neither Socialist nor Le Pen, referring to the election down South, and this place qualifies as "Ni, Ni" = neither French nor Japanese.  A truly weird experience.  dB level = 71.7