5.2 Le Laffitte, 43, rue Laffitte in the 9th, 01.42.80.07.66, closed weekends, was proposed to me by a geographobic/ombrephobic (that is, she hates dining outside her quartier or in dark restos) pal.  She said "there's often a big line waiting to get in."  Sure, I thought, just like "J'ose" where the PSalistes, including Segolene who took her daughter to a place characterized as "le purgatoire, le paradis et l´enfer" fled to avoid being photo'd with DSK Saturday.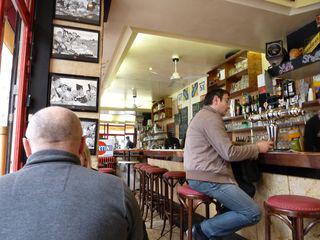 But this is hardly the same thing; it's a quick-in-and-out place to be sure, but just culinary/business-wise.  I went early to make sure we got a table and the place was nigh empty but waves of salarymen flooded it at two points making her observation spot-on.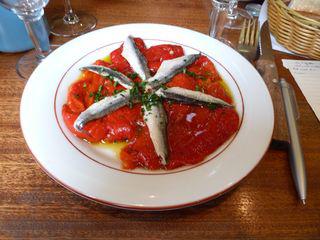 Perusing the chalkboard, I was convinced it was a Metro/crappy food place until I realized that the folks next to us had waited quite a bit for their plates - that's not Metro/sous-vide stuff thought I.  So emboldened, instead of ordering safely (Margaret) some charcuterie, terrines or salads, I/we went with the peppers with sardines and lovely olive oil, which we shared.  First rate.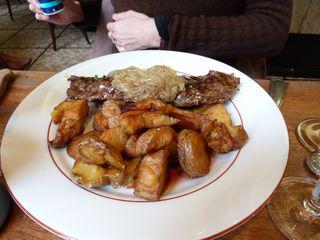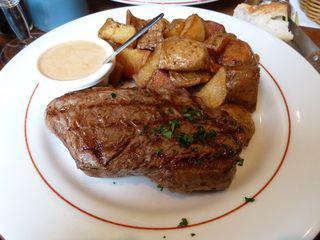 Madame ordered the bavette and I the rumsteak and both of us were very happy - she reveled in the potatoes, which of course, due to my faulty DNA, I'm unable to judge.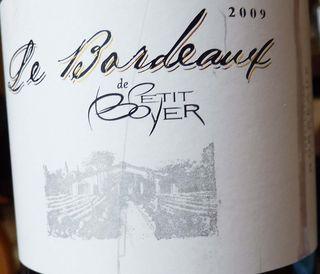 With a glass of Sauvignon to keep me occupied during the early wait, a bottle of quite drinkable Bordeaux, no bottled water (here, are you kidding?) or dessert, our bill was 59.20 E.
Go?  If you were staying nearby, as her uncle will soon, I'd say why not?