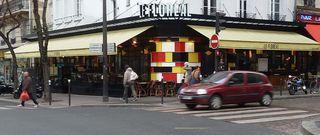 6.0 Le Floreal, 73, rue du Faubourg du Temple in the 10th (Metro: Goncourt), 01.40.18.46.79 (ignore the other numbers given), open 7/7, is a place subtitled by Pudlo as "Mes bobos chez les branchés."  Well, that's pretty much accurate.  It's been open since the summer of 2011, but I only got around to eating at it now because of various reasons, which now seem petty.  My eating partner, a sophistocated Brit, well aren't they all?, who is fazed by nothing, well aren't they all?, was awaiting me on my arrival 8 minutes late, with a Bloody Mary in hand.  OK good start.  They sat us at these lounge chairs in the First-Class area, which would have put my back out in 10-13 minutes, so I requested a switch to Economy with straight-backed chairs - ahhh, good.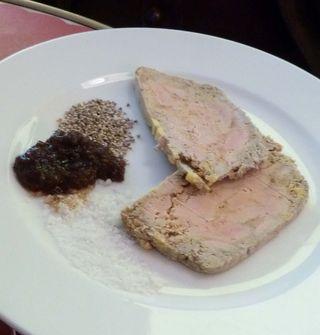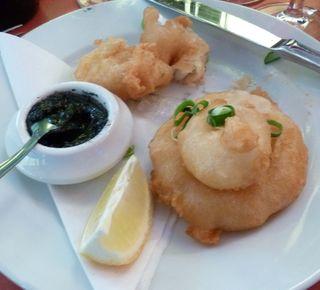 The menu is quite horrifying; burgers, salads and huge platters of bivalves; hummm; how to find a way out?  OK, he ordered the foie gras, which was quite nice, and I had the fried calamari, which unlike the American/Italian preparations, came out all plump, tempura-style, with a sauce that was totally French, aioli noir.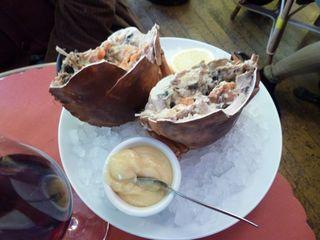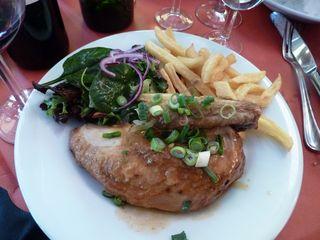 Then he had the giant crab with aioli and true to my great buddy Paga's claim, he spent more calories getting it out of the shell than he digested; me, I had 1/2 a roast chicken (fine) with frites (not disgraceful, just French) and a lovely salad.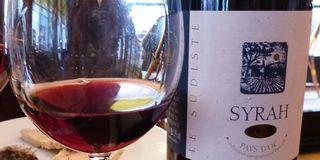 With a bottle and glass of Pays D'Oc Syrah, no bottled water or dessert and two coffees, our bill was 84.20 E.  PS the noise was at times annoying but on my handy-dandy decibel meter never exceeded 80.9.
Go?  Sunday, with the grandkids, why not; not bad chow, good vibes, cool place, neat nabe.