LUISAVIAROMA:

Little Black Handbag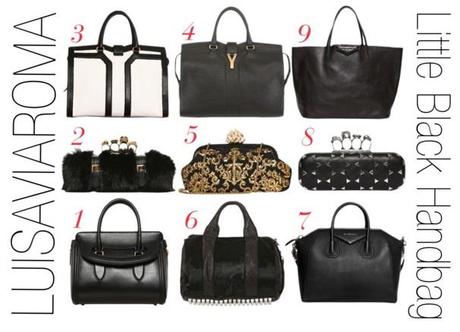 Handbags: if you're a woman and you don't have a closet overridden with them, then what are you doing with your life? They say money can't buy happiness, but money can buy handbags (and other fashionable items) and that's kind of the same thing, no?

Yesterday you saw my AW'12 picks from Luisa Via Roma, but I realised that I didn't actually include any handbags in that post, and just focused mainly on the clothes. Well, let me correct that now and bring you my fave selection of LBH - Little Black Handbags. When it comes to the perfect handbag for me, it has to be black. Black (not just in bags, but clothing as well) is versatile, sleek, sexy and just a little bit arrogant. It says

"I won't bother you, if you don't bother me."

- I read that quote once before and felt it was quite fitting: for me anyway. So when I had a little look at bags on LUISAVIAROMA.com for Fall 2012, I was immediately drawn to searching for the perfect LBH. 
As you can see, I've put together a selection of 9 bags: ranging from shoulder bags to evening clutches and shoppers. I hope you enjoy them just as much as I do!
1. ALEXANDER MCQUEEN: Small heroine brushed leather top handle 2. ALEXANDER MCQUEEN: Small knuckle box fur clutch 3. YSL: Medium cabas chyc bicoloured leather bag 4. YSL: Medium cabas chyc top handle bag 5. D&G: Miss dea embroidered suede clutch 6. ALEXANDER WANG: Rocco ponyskin bag 7. GIVENCHY: Medium antigona chic leather top handle 8. ALEXANDER MCQUEEN: Studded leather knucklebox clutch 9. GIVENCHY: Large antigona double face leather tote
Which bag is your favourite? What do you look for when searching for the perfect handbag?