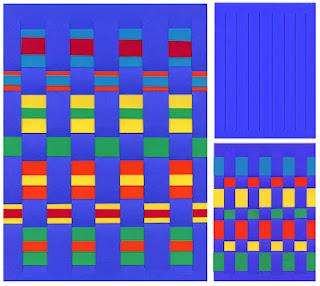 I've found the "over and under" concept of weaving is easiest to learn when using strips paper. Yarn gets tangled too easily and takes time to show patterned results.
1. This sample was made from Strathmore "Smooth Bright Construction Paper" tablet as it has sturdy paper in great colors. To create the "warp" paper, have an adult cut an even number of vertical cuts on one of the sheets with an exacto knife. (An even number will insure symmetry on the sides.)
2. Stack the sheets of paper needed for the strips and cut varying widths with a paper cutter. Three widths or more will offer lots of variety.
3. Students use the larger strips to weave into the "warp". They continue until the sheet is full.
4. Thinner strips are added on top of thick as desired. All the paper is taped down to secure in the back.