Lauren B jewelry prices are a topic of frequent discussion in their (amazeballs) Instagram account's comments section. Fans can't get enough of those sparkling diamonds set in beautiful micropave bands! The invisible gallery is a signature design of theirs that never fails to make me drool – so airy, so sparkly! Their oval diamond creations in particular make my heart go pitter patter, and I love seeing their new work – definitely a jeweler to watch.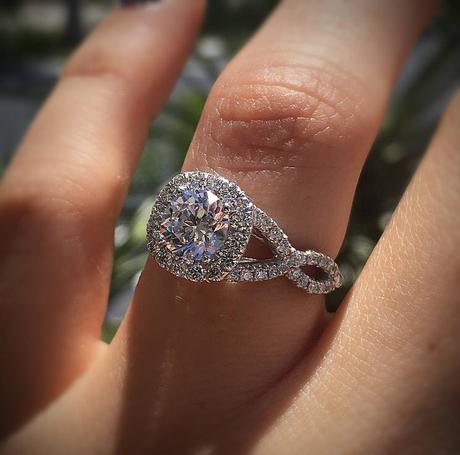 Shop this Tacori Petite Crescent Ribbon setting
And unlike so many Instagram "jewelers" they actually sell the gorgeous rings they show off! But once you move past tagging your bestie and or boyfriend (#HINTHINT!) the next question is: how much is this gonna cost me? Lauren B rings are available online and their site is pretty easy to explore, however the prices aren't posted. This drives many of their admirers nuts, but I can assure you – they have a good reason.
You already know where this is going, right? This is the part where I sit you down, pour you a glass of syrah, take your hand, look you in the eye and remind you firmly, but gently that I can't tell you how much a 2 carat diamond costs. Likewise, I can't tell you Lauren B jewelry prices – for the same reason. And it's likely the same reason they don't post them on their website.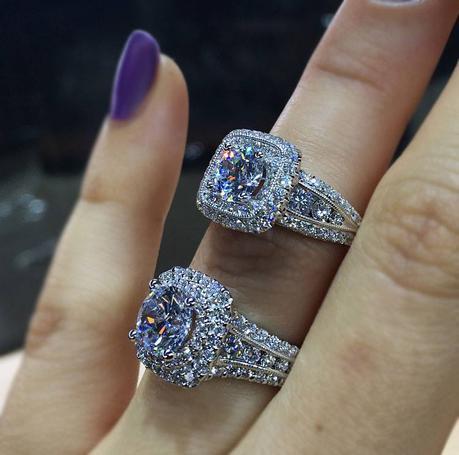 Shop Gabriel & Co. NY settings
Determining diamond price is complicated, it's a balance of economic factors, the need for the jeweler to turn a profit, and – most importantly – the diamond's own characteristics. Because it's so nuanced, most people don't see past a diamond's high price and don't really investigate the individual factors until it's time to start seriously shopping. Once you reach that point, it can be discouraging to fall in love with a ring on Instagram or Pinterest, only to click the link in bio and see a number way higher than you were anticipating. But that number doesn't tell the whole story.
These are FAQ's I see most often in my experience with Diamonds by Raymond Lee:
Is that price for the setting alone?
Is the standard metal white gold or platinum? Will it cost more or less to make it in the rose gold you have your heart set on?
How many carats is that diamond – wait, does that price even include the diamond?!
But there are SBAQ'S – Should Be Asked Questions – that will tell you even more about why an engagement ring costs what it does.
What are the cut and clarity grades for that diamond?
Can you make it with a smaller center diamond?
Can I keep the display Cubic Zirconia in it for now and add a diamond later?
Can I put in a small diamond now and upgrade later?
What kind of financing do you offer?
Most importantly: Can you re-create this ring to match my budget?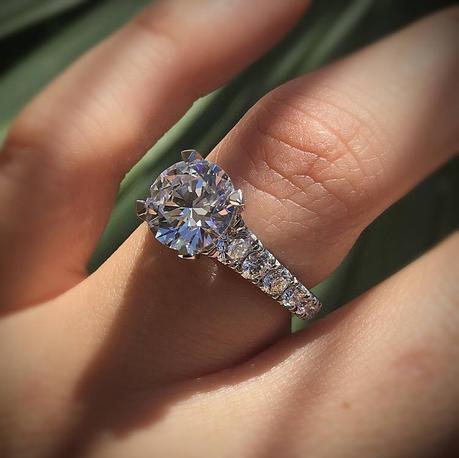 Shop this Tacori RoyalT setting
The answer to this question is almost always – we can try, or create something similar with the same look and feel. Our job as jewelers is to make dreams come true – and when it comes to Lauren B jewelry prices, just one look at their website (without pricing info) tells me they feel the same way.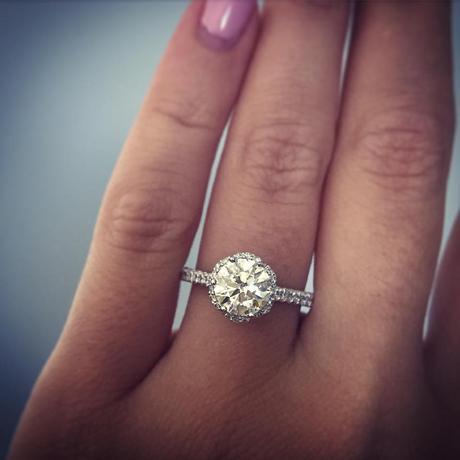 Shop this Tacori Crescent setting
Of course they want to show off their most beautiful diamonds and most complicated work (um and I hope they never stop because it really rounds out my eye candy indulgence)! But I don't blame them for not wanting to alienate fans who love the look of that 3 carat cushion cut but need to find something they love just as much for a lot less. That's where those inquiry forms come in – they can talk to a client one-on-one and figure out exactly what they're looking for. It's something we totally get, because we take a similar approach at DBRL.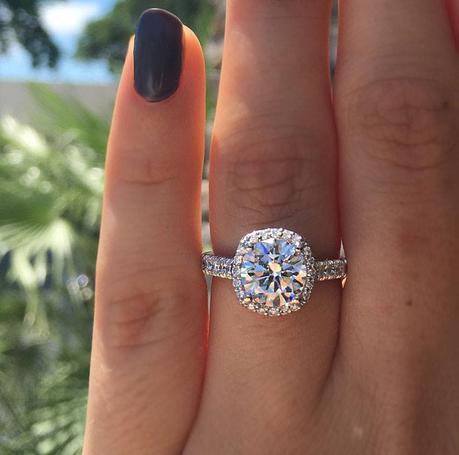 Shop this Tacori Petite Crescent setting
Though we always list prices for our settings (and for completed rings at Raymond Lee Jewelers) we encourage our online communities and future clientele to reach out to us and ask whatever question pops into their heads. Because the odds are good that we can meet your budget demands – whatever they may be. Whether that means finding a similar carat weight diamond with a stronger color grade, or by adding a halo to create the visual weight of a larger diamond. Whether it means swapping platinum for white gold, or showing you settings from some of our affordable designer lines. And whether it means you choose Diamonds by Raymond Lee to create your dream ring or not, it's our job pull out every stop and show you what we do best.