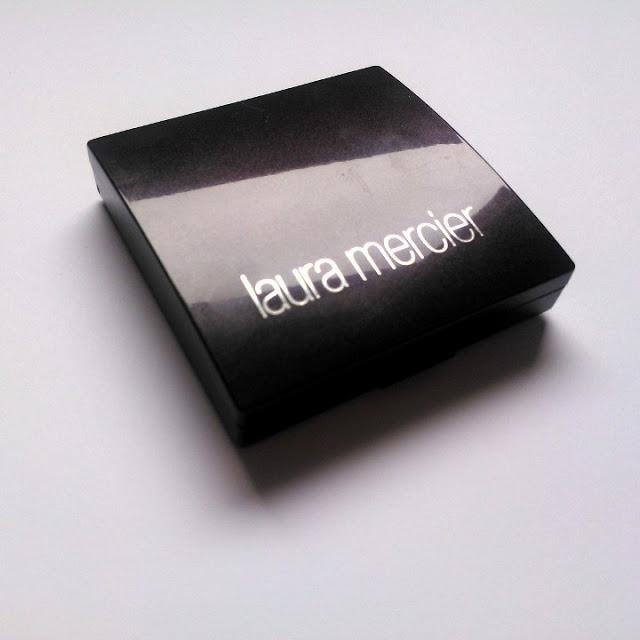 You know when you look at an item of makeup in your collection and you just think "Well daayumn aint you a pretty little thing!" in that fantastic redkneck accent you're perfecting? Well this Bronzing Duo by Laura Mercier has got me saying just that! Can I just apologize for the awful swatch on paper - my camera just wouldn't take a nice photo of it swatched on me!? 
I have the shade Coral Bronze which consists of an almost matte bronzer and a gorgeous coral blush with a very slight golden shimmer. The bronzer is absolutely beautiful. It creates a really glowing, sunkissed look without seeming too orange or too "dirty". Since there's not too much shimmer, you can just about get away with contouring, but I'd rather keep that to my Bourjois compact and put a light dusting of this over my cheeks, temples and down my nose for an easy, quick and flawless bronzed look. The blush is unlike any shade I have in my collection but is going to be PERFECT for summer. A true peachy coral shade, this looks lovely on the top of the cheeks and blends really nicely into the skin. Alternatively, a big brush to mix the two colours together looks really pretty as well! Even though this is a powder product, it never looks cakey or too much, it just blends flawlessly.
The packaging is SO luxurious, it feels really well made and is going to look b-e-a-uuuuutiful on display! Obviously, this is perfect for traveling too, but I'm too scared to get it dirty haha!
What do you think? Go have a look in Space NK or your nearest Laura Mercier counter, you won't be able to not buy it! 
You can find Hayley Loves on BLOGLOVIN' and TWITTER.