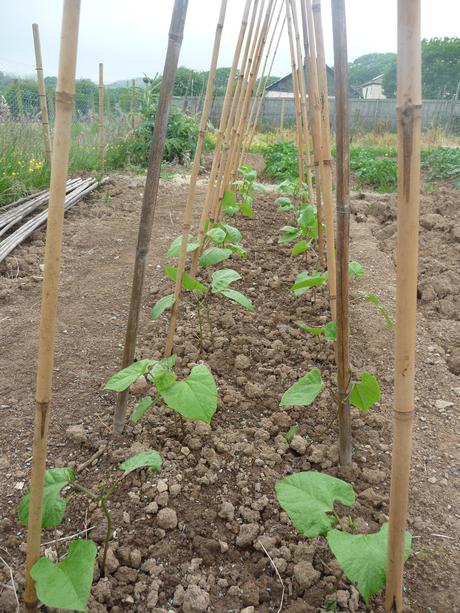 Runner beans just planted outI planted my runner beans out last week and they are already beginning to climb the bamboo canes. I was hoping for some rain to soften the ground before I planted them but it hasn't happened so there is plenty of watering to do!
I dug out the trench of soil and forked over the base before adding two bags of blended stable manure and a good dressing of pelleted chicken manure to ensure plenty of goodness and moisture in the soil. I then added four cans of water before replacing the soil and putting up the row of crossing bamboos. The whole operation took me a couple of hours in the hot weather but the plants are already establishing well and I have managed to keep the slugs and snails off them with organic slug bait!
The courgette plants went in a few weeks earlier on mounds of soil to which I added plenty of manure and they are starting to grow away. Six were planted and despite the use of slug bait, two were eaten off and had to be replaced. Plenty of courgettes are needed for our courgette and walnut chutney in the autumn!
The potatoes are looking very good and the early variety is in flower, so I will dig the first ones next week. I will wait until the flowers die off before I start digging – I am usually too impatient and the first few are a disappointment in size but always taste so good lightly boiled and with a little butter! Potatoes are another crop that could do with some rain to swell the tubers.
We are starting to harvest some of the salad crops now including Lamb's Lettuce, loose leaved lettuce, Coriander, Radish and Spring onions along with Rocket which is one of my favourites dressed with olive oil and balsamic vinegar. Salads are so easy to grow and ideal to harvest as needed although they will keep in the fridge for several days and still taste fresh.
The mice have eaten a row and a half of my peas and now the pigeons are attacking the leaves of what are left so I have put pea sticks in to stake the plants and stop the fat pigeons from landing near them and pecking at the leaves. Growing vegetables is not straightforward – two years ago the mice ate a whole row of broad beans but left the peas alone!
One crop that I have not grown for a while is Florence fennel. Fennel loves a hot dry summer and I have a hunch that after all the winter wet, we are going to get just that so I planted a row of seed a month ago and they are doing well. I will soon thin them to a few inches apart and hopefully the bulbous stems will start to swell and produce the sweetly flavoured vegetable that is always so expensive in the shops! Par boiled and finished in a frying pan with a little butter and wine vinegar the bulbs make a delicious summer side dish.
Once it has rained, I will continue to sow more crops and plant out my sprouting broccoli but for now, it's back to the watering and tackling the weeds in the front garden!