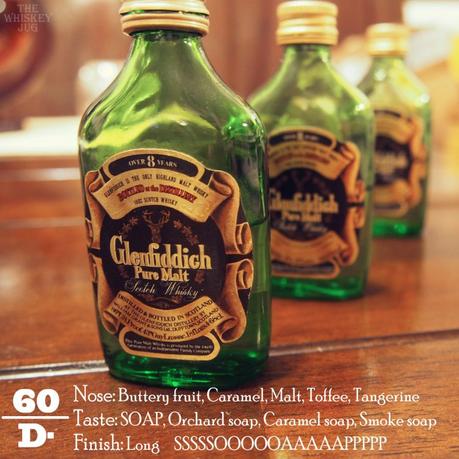 Founded in 1886 Glenfiddich by William Grant & Sons, who are still the current owners, started humbly by using stills from the original Cardhu distillery (Cardow). From there they've grown into a global powerhouse whose triangle shaped bottles are instantly recognized around the world.
It's interesting to see what they've become over the years and how they've grown and changed as they went along. Tasting this late 70s was a nice little snippet into the distillery as it was navigating the fairly early realms of single malts. I admittedly liked the early 1970s Glenfiddich a LOT more, but hey. They can't all be winners.
Late 1970s Glenfiddich Info
Distiller: Glenfiddich
Mashbill: 100% Malted Barley
Cask: ex-Bourbon
Age: 8 years
ABV: 43%
Price: NA – Auction, Specialty Store or Private Seller
Late 1970s Glenfiddich Review
EYE
Apple juice
NOSE
Rich and buttery, apple heavy, orchard fruit combined with layers of caramel, sticky malty sweetness, toffee, tangerine heavy citrus, minerality and a light touch smoke, damp earth, butterscotch and soap. This aroma is quite nice.
PALATE
SOAP… so much soap. If the aroma matched the palate this would be an immediate F. So. Damn. Soapy. Light bits orchard fruit, caramel, minerality and smoke barely escape the floral soapy clutches.
FINISH
Remember when I said those brave notes escaped the gravity of planet soap? Well it was just a false sense of security; the planet imploded, turned into a soapy black hole and sucked them back in. The soap is so strong on the finish that I was still tasting it between fists of popcorn while I was at the movies an hour later – that is not a joke.
BALANCE, BODY & FEEL
This whisky doesn't concern itself with trivial things like balance, it has a medium body and light feel that my mind wants to interpret as foamy due to the amount of soap that flooded my mouth.
OVERALL
Holy crap this late 1970s Glenfiddich is soapy. They must have gotten some awful ex-bourbon casks to age this thing in because it has harnessed all of the worst soapy nature of prohibition – 80s bourbons I've ever had. This is completely un-drinkable, the only saving grace is the great aroma it gives off. If it weren't for that it would be a flat out F, the aroma leaves it clinging to a D- by the barest of threads.
I wish I could say this soapy nature faded with time, but that's not the case. I left my glass 1/2 full when I left the house to go see Rogue One for the second time and when I got home it was still there and as strong as ever. It didn't even fade when I went back to finish the mini 2 weeks later. Despite having another Glenfiddich from around this same era that was great it does make me a bit gun shy about late 70s Glenfiddich. If I were to lay down some hefty dollars for something that tasted like this I would be beyond angry.
SCORE: 60/100 (D-)