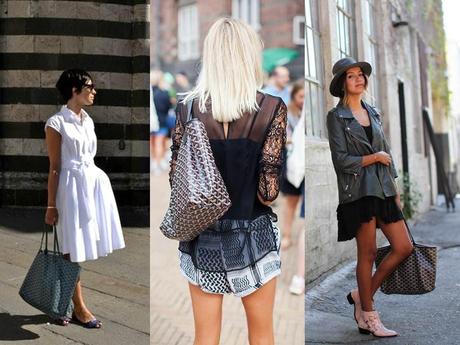 Caterina, picture  from Caroline's blog, Jules
Dreaming of a Goyard tote is probably something every fashion lover does at least once in a lifetime but because of the exclusivity of the product (only sold in a few places around the world, according to their website only 20 locations carry Goyard) few of us ultimately take the plunge of getting one. Well, that was until recently, because now I'm seeing Goyard totes everywhere (online I mean) and because I am a hopeless follower I want one too, badly.
I have my eye on a black large one (so predictable) but there is a variety of colors to choose from.The only thing discouraging me is the quality and customer service issues. Unfortunately, the rumors of unreliable quality and less than acceptable customer service turned out to be facts (read Caterina's experience here). Given the iconic status of the Goyard tote but with the possibility that it won't last a lifetime as expected, do you think I should give in ?
xx Marta