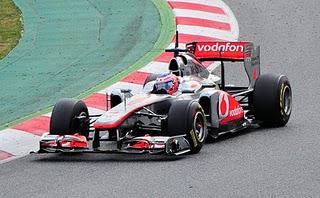 Jenson Button in the new McLaren MP4-26
The cancellation of the Grand Prix of Bahrain next weekend has brought about some changes regarding pre-season testing. Originally, the last pre-season tests had been planned to take place in Bahrain from 3-6 March. Due to the two additional weeks at disposition, teams had agreed to postpone the relocated final tests until 8-12 March. 
These tests are supposed to give the teams a possibility to sort out issues and improve the cars' performance on track as well as a last chance to draw comparisons to the competitors' speed. The previous pre-season tests in February showed that Red Bull and Ferrari seem to be on an equal level, whereas McLaren and Mercedes appear to be about one second off the pace.
Most teams will be testing from Tuesday to Friday with the exception of Ferrari, Mercedes, Williams and Hispania, they will be testing from Wednesday to Saturday. McLaren will ran on both Tuesday and Saturday, to compensate for that they will not be running on Thursday.
Since the new Pirelli tyres seem to play a greater than expected role in 2011, many teams will concentrate on tyre handling and durability as their main focus for these last testing days. Pirelli is said to bring a total of 1680 tyres to Barcelona, 35 for each team.
If you want to follow the pre-season testing in Barcelona, the best possibility (except maybe for actually being at the Barcelona race track) is the live text on the BBC Formula 1 website.
Below you find the time table from the previous winter tests at Barcelona from 18-21 February 2011.
Results from Pre-Season Testing at the Circuit de Catalunya from 18-21 February
This is the combined timetable with the best laps of all drivers throughout the 2011 pre-season testing in Barcelona from Friday, 18 to Monday, 21 February. The last column states on which day the time was set, Monday (last day) if empty.

1 Felipe Massa Brazilian Ferrari 1:22.625 +0.000
2 Nico Rosberg German Mercedes 1:23.168 +0.543 Sun
3 Sebastian Vettel German Red Bull 1:23.315 +0.690 Sat
4 Mark Webber Australian Red Bull 1:23.442 +0.817
5 Vitaly Petrov Russian Lotus Renault 1: 23.463 +0.838 Sun
6 Jaime Alguersuari Spanish Toro Rosso 1:23.519 +0.894 Sat
7 Sebastien Buemi Swiss Toro Rosso 1:23.550 +0.925
8 Nick Heidfeld German Sauber 1:23.657 +1.032
9 Lewis Hamilton British McLaren 1:23.858 +1.233 Sun
10 Fernando Alonso Spanish Ferrari 1:23.978 +1.353 Sat
11 Rubens Barrichello Brazilian Williams 1:24.008 +1.383 Sat
12 Pastor Maldonado Venezuelan Williams 1:24.057 +1.432
13 Adrian Sutil German Force India 1:24.177 +1.552
14 Kamui Kobayashi Japanese Sauber 1:24.243 +1.618 Sat
15 Sergio Perez Mexican Sauber 1:24.515 +1.890
16 Jenson Button British McLaren 1:24.923 +2.298 Sat
17 Paul di Resta Scottish Force India 1:25.194 +2.569 Sat
18 Jarno Trulli Italian Team Lotus 1:25.454 +2.829 Sun
19 Heikki Kovalainen Finnish Team Lotus 1:26.421 +3.796 Sat
20 Jerome D'Ambrosio Belgian Virgin 1:26.501 +3.876
21 Timo Glock German Virgin 1:26.598 +3.973 Sun
22 Vitantonio Liuzzi Italian Hispania 1:27.044 +4.419 Sat
23 Michael Schumacher German Mercedes 1:27.079 +4.454
24 Giorgio Mondini Swiss Hispania 1:28.178 +5.553 Sun
25 Daniel Ricciardo Australian Toro Rosso 1:28.329 +5.704 Sun
26 Narain Karthikeyan Indian Hispania 1:28.393 +5.768
27 Riccardo Teixeira Portuguese Team Lotus 1:31.584 +8.959 Sat