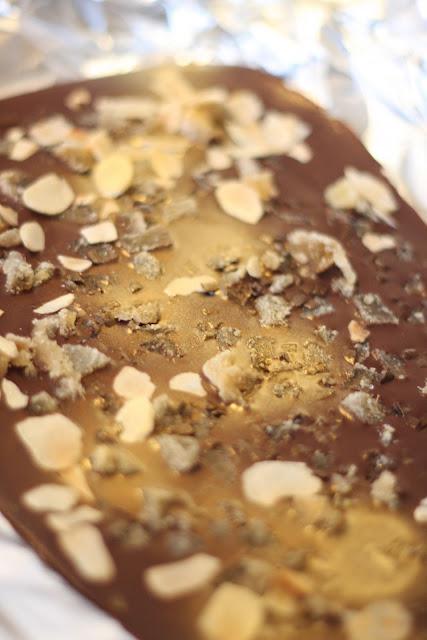 Got someone you haven't found a present for yet? Is there someone who you don't want to spend too much money on but you do want to show them they are special to you? Need extra stocking fillers but want less sugar-filled chocolate for the kids? I have found the perfect gift.
Chocolate bark.  It looks really beautiful and flashy but it's so easy, I made five Christmas gifts this morning. And I don't know many people who don't like chocolate for Christmas, you've got a pretty safe option with this one. And I want to share it with you, so you can avoid the Christmas fear.
Ingredients:
200g - 400g chocolate to make 2 - 4 bars or 6 boxes of smaller chocolates chunks
Dried fruit like cranberries or crystallised ginger
Almond flakes, walnuts or hazelnuts look great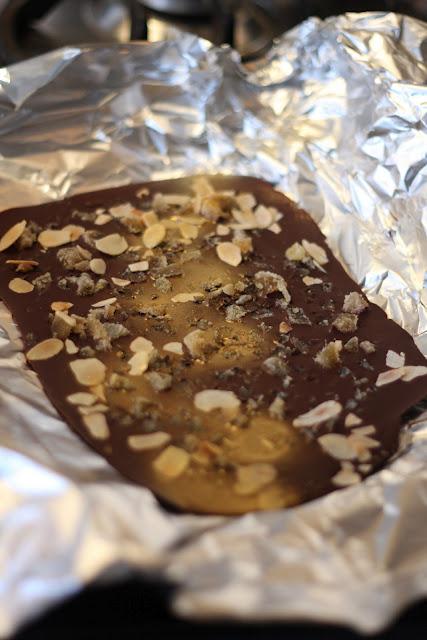 Line a baking sheet with foil.
Put a heatproof bowl over a pan of simmering water.
Put two-thirds of the chocolate in the bowl, stir until melted
Take off the heat, add the remaining chocolate until melted
If needed, put the pan back on the heat so the chocolate is pouring consistency
Melting the chocolate like this 'tempers' it so that it will stay glossy when it sets. Neat, eh?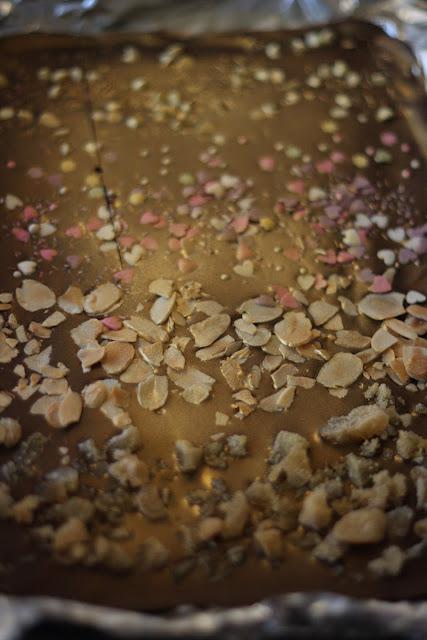 Pour the chocolate onto the foil lined baking tray, spread it with a spatula to the desire thickness
Sprinkle the fruit, nuts, sprinkles, marshmallows (whatever you like) on top
Leave to dry in a coldish place or the fridge.  Our kitchen worked fine because it's so cold in there at the moment!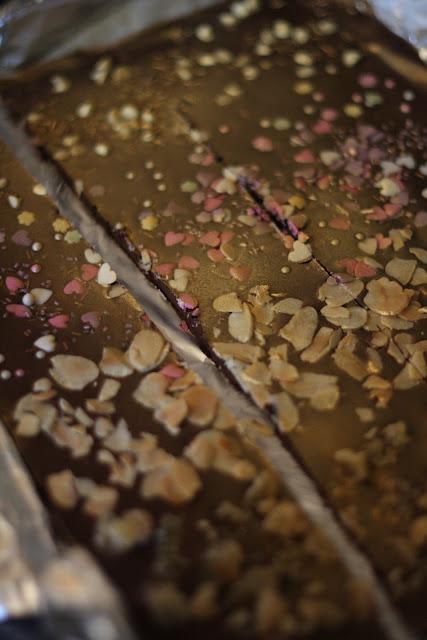 Peel off the foil and leave as a fabulous big chocolate bar or break it up in nice irregular chunks.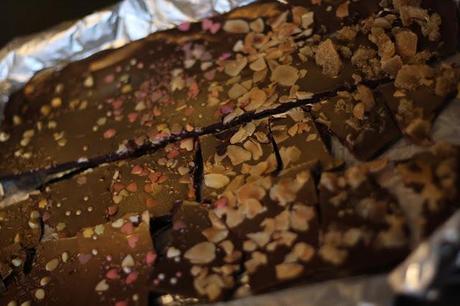 And voila! Fantastic. Enjoy and try not to eat it all before you give it away, obvs.
I'm bound to say that this recipe (if melting chocolate and then letting it harden is considered a recipe) came from my mother's sacred ring binder of recipes, recipes which were mostly cut out of the Guardian and Observer.
So thank you to the anonymous Guardian author of said recipe (sorry, I think my mother must have chopped your name off in recipe-excitement-haste).
**end copyright paranoia**