While this evening means only one thing to me and my several thousand dozen Twitter followers, it means something entirely different to one lucky contestant. That's right, weeks of dealing with Man Scarves, Nick V's eyebrows, the drinking word "Staaahp" and its ensuing reminder(s) that there aren't enough #DateNightHair commercials to use as wine intermissions….it was all worth it friends. Tonight, Andi will decide to whom she'll give her final rose, and we can all expect an epic limo meltdown from the rejected dude. Then at long last hopefully they'll freakin' finally announce Farmer Chris as The Bachelor. Not to mention we'll be treated to one last evening of Andi's impeccably selected ensembles, sending us in droves to Posessionista and Shopbop alike.
It seems like just yesterday we were watching Craig get schwasted and kicked off – wait, what? Oh I still need to technically work for another few hours before opening my 17 bottles of wine and overheating my husband's laptop while debating whether those Nick videos are real?! (No link, they're spoilers. You can google as necessary.) Ok, I get it, I shall, in fact, use what remains of my ability to resist complete Bachelorette mode by sharing some fabulous news!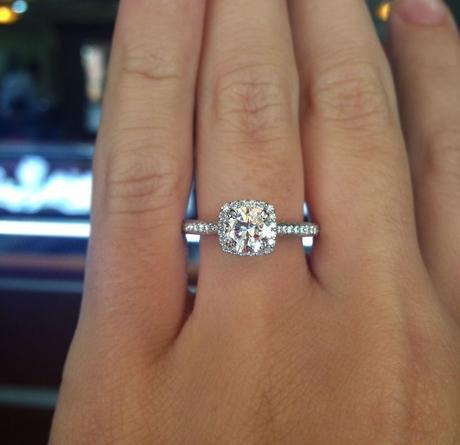 Psh, take that Neil Lane. Clickitty click here to reach the entry form!
Tonight, the sweepstakes that RLJ has been running for the past few weeks ends at midnight! So tomorrow I'll be choosing (aka hitting a generate winner button on Rafflecopter) the luckiest entrant in all the land to win a gorgeous 18 karat white gold round brilliant diamond halo ring! Said lucky duck will take home a lovely .71 carat E colored, SI3 diamond in a setting with an additional .23 carats total of angelic accent diamonds. It's a stunner, no doubt, and the winner will be announced as soon as they officially claim their prize! So, hurry scurry, you still have another 6+ hours to enter to win, which is super easy and therefore leaves you plenty of time for… stuff. Like getting the wine/champagne/Moscow Mule ingredients of your choice, putting on your fanciest sweatpants, grabbing your iPad and getting ready to tweet up a storm with me @Bling_Blog while we take this crazy helicopter ride all the way to The Bachelorette finale. Good luck to Josh, Nick, and all the OTHER hopeful winners of an engagement ring tonight!