Hello everyone,
Hope the week has gone well for you. Not for me at all as my phone does not work due to battery issues and the company has been giving me tough time just for a replacement battery can you beat that????  I still see no hope until mid week of the coming one. I miss social media like Instagram, Snapchat and my phone obviously, I mean it has been almost 10 days now and in the times we are, can you live without your phone???  Somehow this year has turned out to be worst for me and my family. I recently had a painful root canal done on my tooth paid 7k to fix it. Sounds too much ranting I know but this is what has been up with me lately. Not having a phone and staying away from social media has given me time to catch up with my life and plan new things but it can also get lonely for someone who is single like me and leads to unnecessary thoughts. Thankfully I have my computer to catch up with my blogging to keep me busy.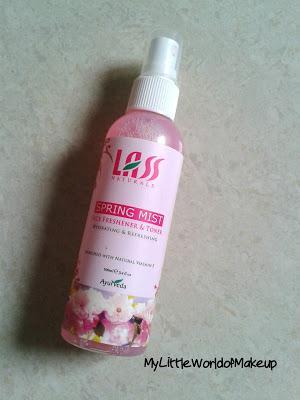 Lass Naturals Spring Mist Face Freshner & Toner Review
So anyways I am going to review Lass Naturals Spring Mist Face Freshner & Toner on the blog today. This brand is not new to my blog, you can check my other reviews HERE. Recently there has been an increasing no of brands in the market and each of them come up with a mist but not all that I have tried have worked well for me.If you want to know what I think of this one and my experience using it, please keep on reading....
Price: Rs.195/- for 100 ml. Available at a discounted price online HERE
Ingredients:Rose Water (Rosa Damascena), Lavender Water (Lavandula Angustifolia), Jasmine Flower Water (Jasminum Officinale), Chamomile Flower Water (Chamomilla Recutita), Veg. Glycerin, Aloe Vera (Aloe Barbadensis), Panthenol, Glycolic Acid [Fruit Derived], Natural Vitamin E (Tocopherol), Wheat- Germ Ext. (Triticum Vulgare), Potassium Sorbate.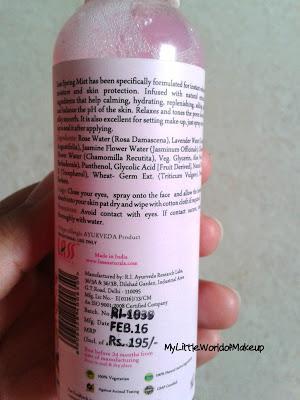 Lass Naturals Spring Mist Face Freshner & Toner Review
Shelf life
: 2 years
How to use:
Close your eyes, spray onto the face and allow the freshness to absorb into your skin pat dry and wipe with cotton cloth if required.
Product Description:
Lass Spring Mist has been specifically formulated for instant refreshment, moisture and skin protection. Infused with natural extracts and ingredients that help calming, hydrating, replenishing, adding radiance and balance the pH of the skin. Relaxes and tones the pores leaving skin silky smooth. It is also excellent for setting make-up, just spray over make-up to seal it after applying.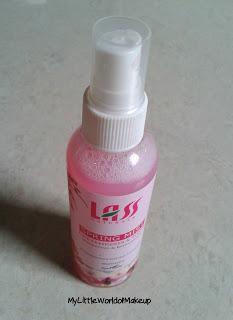 Lass Naturals Spring Mist Face Freshner & Toner Review
The facial mist comes in a transparent plastic spray bottle type of packaging. There is a sticker stuck on it which has all the necessary information you would need like Ingredients, about the product etc. It is a spritz bottle and ohh how I love them it makes life so easy. The bottle is perfect to carry around while traveling.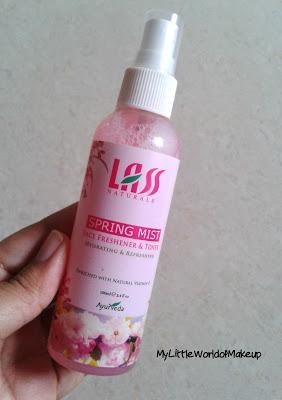 Lass Naturals Spring Mist Face Freshner & Toner Review
The mist in pink in color and smells floral and you can easily tell that from the description. A toner is generally used after cleansing. If you have any knowledge about this, you would know what I am talking about. The face mist instantly refreshes your face on spraying and should be wiped off after sometime. I also use it when I use any foundation or BB cream to blend it well and it does a great job. I used my Ponds BB cream along with it and it worked wonders. Since it does contain glycerine and Vitamin E it does a great job of locking in the make up but do not compare it to an actual setting spray.Nonetheless it does a decent job. I just love it and could not find any cons to it. A must try in my opinion.
The Good:
Easily available 
Inexpensive
Cleanses the pores well
Hydrating & Refreshing
Works as a setting mist post make up
Convenient spritz bottle
Travel friendly
The not so Good:
Can't think of any
MLWM Rating: 5/5
Lass Naturals Spring Mist Face Freshner & Toner is one of the best toner I have tried. It cleanses the pores and skin well leaving it hydrating and refreshed. A must try in my opinion.
Have you tried anything from Lass Naturals before??What do you think of this product?? Do comment below and let me know.
Have an enjoyable weekend 

P.S: PR Sample** Unbiased Review