Skin Resurfacing and Laser Treatments
We often hear the terms "laser treatments" and "skin resurfacing" used interchangeably.   Although some lasers do have the capability of resurfacing the skin, not all do.  There are many different types of lasers, many specializing in, and providing completely different results. If you select the wrong type of laser treatment for your skin, you will not get the results you seek, and you may suffer permanent damage.  I encourage you to review the New Year New You Skin Care Advice post before making any treatment decisions.
This post is not a complete listing of every laser treatment technology available for skin care.  Nor is it to be considered professional advice.  It is simply an introduction to several different treatments/technologies that are available in the world of aesthetics.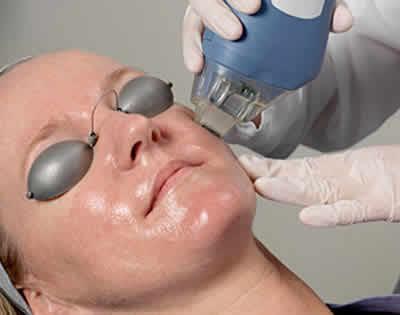 Fully Ablative Laser Treatments
Fully ablative lasers are considered to be the big guns in laser aesthetics.  They commonly go by the names CO2, or Erbium:YAG lasers.  Designed to address deep wrinkling, age spots, uneven skin tone/texture, these lasers are the most invasive, and require a long recovery time, up to three weeks.
CO2 Laser: The CO2 laser is a carbon dioxide laser. It removes the layers of skin by vaporization. In turn creating the space for the dermal layers to rebuild with new skin and collagen.
Erbium:YAG Laser: Er:YAG laser resurfacing ablates the surface skin, and causes injury to the dermal layers via extreme heat. This damage forces the production of new collagen.
You can expect to pay anywhere from $2500 to $5,000 for these treatments.
Note: I have never had a fully ablative laser treatment, but if I were to do it, I would only have it performed by a Medical Doctor, who has performed a bare minimum of 100 treatment with the specific laser being used.  Pretty stringent requirements, but you only have one face. 
Fractional Ablative Laser Treatments
Laser treatments utilize light energy to penetrate the skin deeply, creating microscopic holes in the dermal layers, thus forcing the rapid development of new collagen. The difference between this, and other laser-based treatments is that as the Fractional CO2 laser resurfaces the skin, it does so without damaging the top layer of skin.  This reduces recovery time (about 4-5 days), and provides a beautiful result.
Like the fully ablative laser treatments, fractional lasers treat wrinkles, age spots, surface texture and uneven skin tone.  The difference (largely) is the intensity, and the recovery time.  The following are some "brand" names that you may be familiar with.
Fraxel Repair
Lumenis Total Fx
Pixel CO2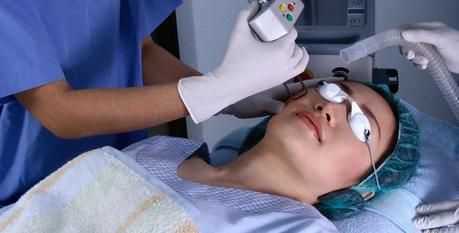 Fractional Non-Ablative Lasers
These lasers are the "lightest weight" of the skin resurfacing types of lasers.  They work on the same skin issues (wrinkling, age spots, uneveness).  They have almost no down time at all, usually 1-2 days, but they require several treatments, usually 4-6.
Brand names in this class of laser would be the Affirm Laser, and the Fraxel Restore.
Fractional non-ablative laser treatments cost around $500 to $1000 per treatment.
Laser hair removal
Laser treatments to remove hair may be the most common of aesthetic laser procedures, and misunderstood.
Laser hair removal is not a permanent solution–it is only temporary.
Tweet this skin care tip
Currently, the only permanent solution for hair removal is electrolysis.  Laser hair removal works for both men and women who want to reduce the growth of facial, and body hair.  However, it is not always successful for those with naturally blonde hair, or gray hair.  This type of treatment requires multiple treatments to be effective.
When selecting someone to perform laser hair removal, be very careful.  Although this laser treatment is less invasive than the resurfacing treatments, it is still a laser, and the risk of burning is present. State regulations regarding who can perform the treatments vary greatly, check with yours.  If your state lets almost anyone perform laser hair removal, I would request (at a minimum) a registered nurse or higher, who has had at least two years of experience.  That's just me.
Laser vein treatment
Lasers can do a beautiful job of treating varicose veins and spider veins (broken capillaries).  This treatment can be successful immediately, however larger veins may require repeated treatments, and some may never go away.
Before considering any type of laser treatment for your veins, I recommend that you go see your doctor to make sure you are a suitable candidate for the treatment.
Possible side effects of laser vein treatment include:
bruising
inflammation
redness
swelling
hyperpigmentation
Laser tattoo removal
As you might guess, laser treatments to remove tattoos is one of the fastest growing segments of the laser market.  The types of devices being used essentially use different wavelengths of light to breakup the embedded pigment.  The body then takes over, and the immune system rejects the small particles.  The process takes a very long time, it's painful, infection is common, and it is not always successful. Check out this laser treatment video for tattoo removal
Again, I would recommend that you find the most skilled doctor, or practitioner to perform this laser treatment.
As mentioned earlier, this post is only meant to introduce you to some of the most common types of laser treatments being used in aesthetics today.  Be looking for more in upcoming posts.
A really important note for all types of laser treatments
As with any laser treatment, people with darker complexions should be careful, as unwanted pigment loss is a common side effect.
Have you ever tried any type of laser treatment? What were your results?
Sources:
WebMD. WebMD, 2012 http://www.webmd.com/healthy-beauty/guide/laser-resurfacing
Real Self. 2012. http://www.realself.com/
PlasticSurgery.org. American Society of Plastic Surgeons, 2012
http://www.plasticsurgery.org/Cosmetic-Procedures/Skin-Rejuvenation-and-Resurfacing.html
http://www.advancemedicalsystems.com/pixel-co2/fractionalco2-skinrejuvenation-resurfacing.html
http://www.webmd.com/skin-problems-and-treatments/laser-tattoo-removal
http://www.youtube.com/watch?v=aRgLUoJdcOU from happymmm on YouTube: http://www.youtube.com/user/happymmm?feature=watch