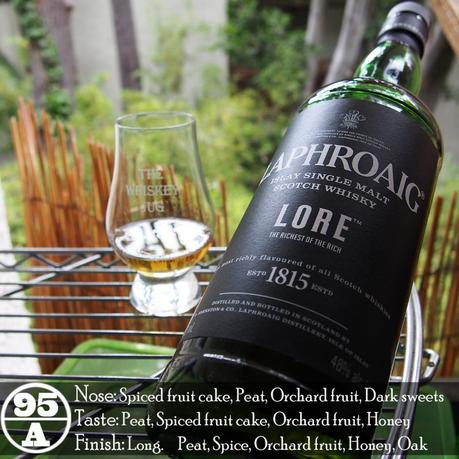 Laphroaig Lore is yet another NAS whisky being trotted out and dropped in the laps of the whisky drinking public and this one, by the way, isn't cheap. At a whopping $125 this whiskey had better deliver on Distillery Manager John Campbell's promise:
"Laphroaig Lore is the story of Laphroaig itself. It's a massive whisky, as bold as it is deep, and one that I sincerely hope does justice to the many generations of Laphroaig distillery managers. It's our story, bottled, the richest of the rich."
To create the Laphroaig Lore, John Campbell carefully blended together Laphroaig stored in a variety of barrels ranging from first fill bourbon to quarter casks and Oloroso hogsheads. Some of the whisky will likely be young, but some of the whisky was distilled back in 1993 making at least a small portion of this 22-23 years old depending on when it when into the barrel.
Laphroaig isn't disclosing all of the components, but so long as a whisky delivers the goods I don't care if it carries a number on it or not. The number on the image above already gave away how much I enjoyed it, but let's dig in to the Laphroaig Lore and see exactly what John Campbell thinks the story of his distillery is.
Laphroaig Lore Info
Region: Islay, Scotland
Distiller: Laphroaig
Mashbill: 100% Malted Barley
Cask: ex-Bourbon, Quarter Casks and ex-Oloroso Hogsheads
Age: NAS
ABV: 48%
Non-Chill Filtered | Natural Color
Price: $125*
Laphroaig Lore Review
EYE
Golden hay
NOSE
Fresh, crisp, dense and olfactory satisfyingly sublime it unfolds with heavy notes of spiced fruit cake, peat, apple heavy orchard fruit, caramel heavy dark sweets, candied citrus peels, honey and malt. Light notes of oak, vanilla, graham, dried strawberries, salted butter, iodine and oh man it just keeps going on. Every sniff is a new layer… I think I'm in love.
PALATE
Darker, heavier and oilier than the nose, but every bit as balanced and dynamic with its delivery of smoky peat, spiced fruit cake, orchard fruit, honey, smoked meat, dried dark fruit, malt, cocoa, saline, iodine and dark sweets. Hints and bits of graham cracker, char, oak and alkaline minerality dance about and like the nose it goes on and on. Every sip has something new to offer… I'm definitely in love.
FINISH
Long doesn't even describe it. I poured an ounce before sitting down, greedily downed it before finishing the first paragraph above, and it's still going with waves of peat, spice, orchard fruit, honey, dried dark fruit and oak.
BALANCE, BODY & FEEL
Pristine balance, bold full body and a round oily feel. I hate using this word, but its mouthfeel is incredible.
OVERALL
Laphroaig Lore is a gorgeous whisky, I even like it more than the boisterous Laphroaig 32. There is depth for days in this whisky and every time I go back to it I'm finding new and interesting aromas and flavors floating about. It's a big bold complex whisky, but it carries an amazing sense of balance – like a bulldozer balanced on a razor blade. A big smoky spiced fruit cake bulldozer balanced perfectly on an orchard fruit razor.
Another way to put it is like this: I have a not-insignificant selection of whisky in my house and ever since I opened this bottle of Laphroaig Lore it's all I want to drink. The only other whiskies that have captivated me like that recently were the Kilchoman 2008 Vintage and the Russell's Reserve 98. I was ready to accept that this would be a middling NAS release that tasted like Laphroaig, but wasn't anything special. Sometimes it's good to be wrong because this is NAS done right.
SCORE: 95/100 (A)
*Disclosure: This sample of Laphroaig Lore was graciously sent to me by the company for the purposes of this review. The views, opinions, and tasting notes are 100% my own.