What better way to end a week of scotch reviews than with the Laphroaig 25 Cask Strength 2019 Edition? I mean we could end on something like the Laphroaig 32 or the first release of the Laphroaig 30, but those aren't in the budget till I win the lottery. So this sample of Laphroaig 25 will have to do for now (I know… I know, tough life, etc.).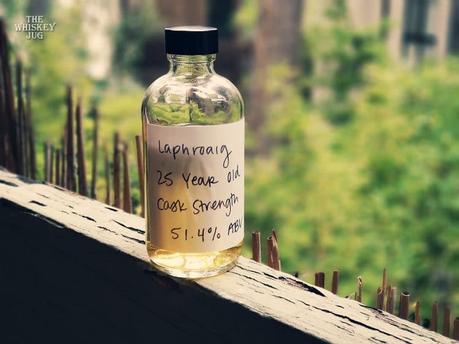 I really enjoy these older Laphroaigs, the 2016 Laphroaig 25 was pretty good, the 2017 was delightful, the 2018 was great and this one… well, it's my favorite yet. Doesn't mean I think it's a flawless whisky, but this one has me hoping this year's bonus at work is really nice because I'd love to pick up something special for myself.
Laphroaig 25 Cask Strength 2019 Edition Review: Details and Tasting Notes
This uncommonly exquisite 25 year old liquid is a non-chill filtered marriage of sherried, oaky flavours from second fill European Oak Oloroso sherry casks with sweet vanilla notes from American white oak bourbon barrels, bottled at casks strength. Laphroiag 25 Year Old is one of the most unique of all malt whiskies. The exceptional character of this expression makes this a whisky truly worth savouring.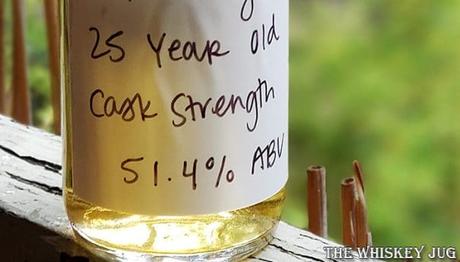 Details (price, mash bill, cask type, ABV, etc.)
Region: Islay, Scotland
Distiller: Laphroaig
Mash Bill: 100% Malted Barley
Cask: ex-Bourbon, ex-Sherry
Age: 25 years
ABV: 51.4%
Cask Strength | Non-Chill Filtered | Natural Color
Batch: 2019
Price: $500*
Tasting Notes
EYE
Straw
NOSE
Smoke, pear, honey, graham, malt, plastic, herbal spice, strawberry taffy and a touch vegetal.
PALATE
Vanilla cream, orchard fruit, smoke, honey graham, herbal spice, strawberry taffy, a bit of saline and plastic.
FINISH
Long -> Smoke, vanilla taffy, honey and Cheerios.
BALANCE, BODY & FEEL
Great balance, full round body and a warm oily feel.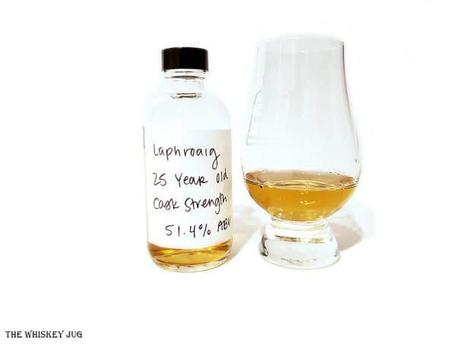 Laphroaig 25 Cask Strength 2019 Edition Review: Overall and Score
It's good, but I'm sure you already assumed that. Aroma is warm, smoky and fruity and slowly turns buttery as it opens up; Palate gains a buttery aspect as it opens but remains distinctly fruity with a smoke kicker; Finish kicks up the sweetness a tad more and the smoke lingers long after everything else has dissipated.
Not a crisp whisky, but far from a flabby overdone whisky, it sits in that warm buttery middle ground. With a bit of water the fruity richness kicks up a couple of notches as does the smoke. Which is a bit surprising.
Compared to the peat levels in something like the old Laphroaig 18, this Laphroaig 25 Cask Strength 2019 Edition is an Octomore. Usually Islay whiskies lose their peaty smokiness over the years, but this seems to have gained some, coming through heavy and bold.
SCORE: 4.5/5
*Disclosure: The sample for this scotch review was graciously sent to me by the company with no strings attached. The views, opinions, and tasting notes are 100% my own.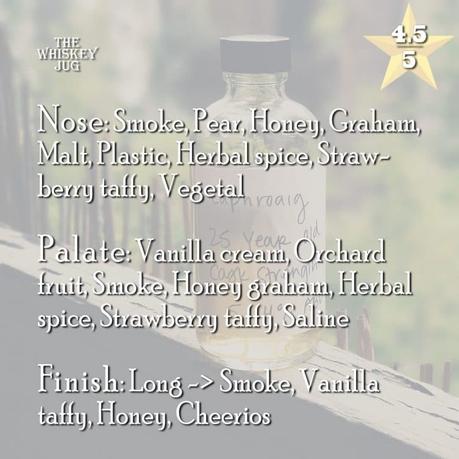 Laphroaig 25 Cask Strength 2019 Edition Review
$500
Overall
4.6
Nose

(4.5)

Palate

(5)

Finish

(4.5)

BBF

(4.5)
Sending
User Review
0

(

0

votes)
Comments Rating
0

(

0

reviews)

Laphroaig 25 Cask Strength 2019 Edition Review Summary
A beautiful fruity whisky balanced by a heavy smoke and malt essence with some coastal hints. Grows buttery as it opens and a splash of water propels the fruit to new heights on the back of more smoke. A level of smoke that's almost shocking for a whisky this age. Most lose their punch over time where this seems to have gained.
'''