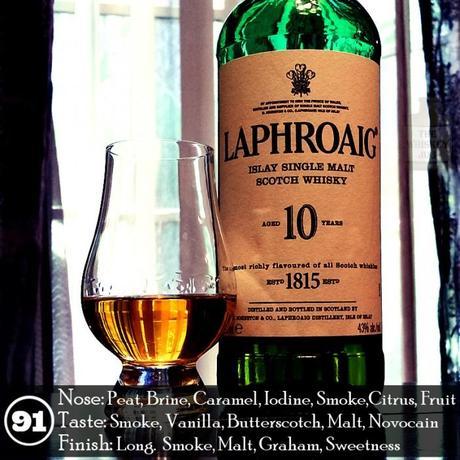 When the flagship product tastes this good, you know you're dealing with a quality brand. The distillery got it's start in 1815 by Donald and Alexander Johnston and was run by the family till 1954 (139 years) when the last member of the family died without an heir. This lead to it brand changing hands several times over the years and is Currently owned by Suntory, who now owns Beam. Beam has owned Laphroaig since 2005 when it was called Fortune Brands. Though through all of this one thing has remained the same and that is quality.
In addition to being almost 200 years old (I'm expecting big things from them next year) It's also the only whisky to carry the Royal Warrant of the Prince of Whales. A Royal Warrant means that they supply a good or service to a royal court or a certain royal personage and has no significance beyond lending prestige and quality, via-association, to the brand. They received this honor after the prince visited his favorite distillery in 1994 and they've included it on their packaging ever since. Basically the royal stamp of approval because they make tasty whisky.
Laphroaig 10 Review
ABV: 43%
Age: 10 years
Price: $43
Distiller: D. Johnston & Co.
EYE
Light golden straw
NOSE
Warm peat comes out first followed by some nice salty briny notes and accompanied with some caramel, iodine, smoke and char. These big heavy oily notes get cut with hints of citrus, light fruit, malt, honey and a slightly vegetal underpinning. A wonderfully complex nose with layer after layer of enticing aromas.
TASTE
That campfire smokiness comes tearing across the palate like a bat out of hell with vanilla, butterscotch, malt, Novocain and graham in the sidecar. A mild peat and citrus bring up the rear along with some notes of cocoa, fruit and honey. It's a fantastically deep and rich flavor that's a bit like eating a s'more, campfire and all.
BALANCE, BODY & FEEL
Very well balanced with a medium body and a light smooth texture that makes it incredibly easy to sip.
FINISH
Smoke, malt, graham, an ambiguous sugary sweetness and a medicinal note play out with a hint of wood on a long and pleasant finish.
OVERALL
I love this whisky. I'm a big fan of Islay whisky in general and Laphroaig is no exception. They aren't as heavy, oily and brooding as a Lagavulin nor are they as light and crisp as Ardbeg; they inhabit that pleasant middle ground where everything comes together in wonderful harmony. Definitely among my favorite sipping whiskies with a great depth to both the aroma and flavor.
SCORE: 91/100