When I first tried it about six weeks ago, Lao Dong Bei immediately took its place among my top three favorite restaurants in Flushing. We were so enthusiastic that the chef came out to chat with us, and we learned a couple of things: that he is the former chef of Fu Run, and that he is from Harbin, one of the northernmost cities in China, quite near Siberia. Ever since I moved to New York City... um... the first time, I discovered that the then-famous Harbin Inn on the Upper West Side had recently closed, and I, geek that I am, had wanted to try Harbin-style food ever since (not that the Harbin Inn necessarily served any of it - I haven't been able to find that out). And sure enough, the fare here tends to be hearty and warming. LDB is the only culinary representative of Heilongjiang province in NYC that I know of (there may well be others - the more I find out about Flushing, the more I realize there is to learn). Lao Dong Bei is also one of the few Chinese restaurants in Flushing whose "English" name is, in fact, the same as the Chinese name: lǎo dōng běi fēng wèi (老东北風味), or "old Dongbei (Manchurian) flavor".
The percentage of dishes I've tried here that I would gladly order again is extraordinarily high. Tonight's meal, however, was the first for which I actually remembered to bring my camera... I was also solo, so I could only order a couple of things (I'll add other standout dishes later).  The meal started with a delightful little free dish of pickled radishes (luó bo - 蘿卜).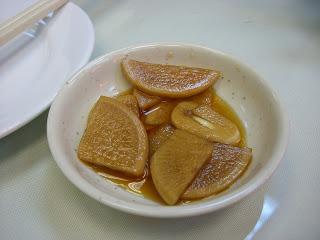 Pickled in vinegar, soy sauce, garlic and hot pepper, I can't remember ever enjoying a radish so much in my entire life.
The weather having just turned colder, I was craving something really warming. I certainly got it! The "Baby Cabbage with Meat Ball Soup" (xiǎo bái cài wán zǐ tāng - 小白菜丸子湯) is possibly the perfect winter soup: warming, satisfying, but not heavy in the least.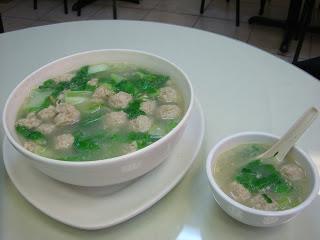 That large bowl is not just some meatballs floating in broth - it's practically solid with meatballs and cabbage. The pork meatballs are actually somewhat delicate, and the broth is enlivened by some minced scallion and ginger shreds. A bargain at $7.50 - it can easily feed 4.
I think "Beer Duck" (pí jiǔ yā - 啤酒鴨) is a truly great dish.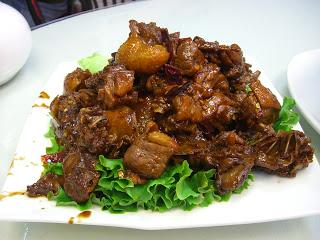 Chunks of duck (on the bone, making it a bit difficult to eat for the uninitiated) braised in beer, star anise, ginger, and more dried hot pepper than you think at first - I noticed my lips were tingling after eating three or four pieces!  It's a warming dish in every conceivable way.
The chef also has his famous "Muslim Lamb Chops" on the menu (here called "Lamb Chop in Xinjiang Style" - xīn jiāng yáng pái - 新疆羊排). They are every bit as spectacular as they were at Fu Run.
I don't miss Fu Run one little bit.
Lao Dong Bei (老东北風味)
44-09 Kissena Blvd., Flushing, NY 11355
718-539-4100
(7 train to Main St.-Flushing, south on Main St. to Kissena, veer left, then 6 more blocks)