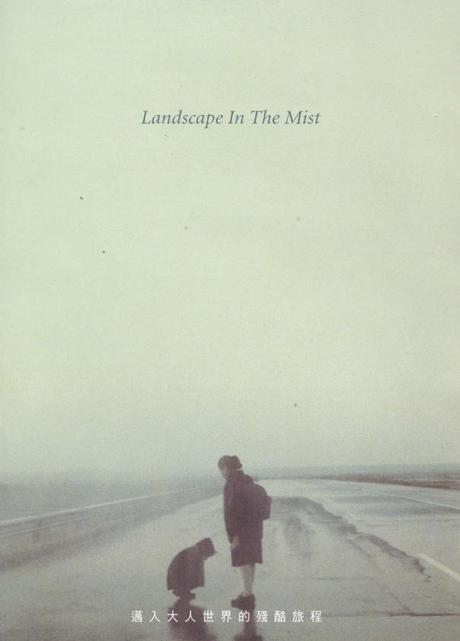 Landscape in the Mist (1988)
Director: Theo Angelopoulos
Cast: Tania Palaiologou, Michalis Zeke, Stratos Tzortzoglou
Runtime: 127 minutes
FilmScore: 9/10
In Short: Subtle, beautiful, haunting, depressing, transcendant; my introduction to Angelopoulos
Theodoros Angelopoulos was a great man. Until recently, I had only heard whispers of his names, and even less of his films. Then in January of this year, he died suddenly, and among foreign film fans their was an outcry of mourning and sadness. This great man, hailing from Greece, had died, and I realized how little I had heard or seen of him. "And you call yourself a foreign film buff…" a voice inside my head mocked hoarsely. Seeing his 1988 film Landscape in the Mist very recently, I realized I had waited far too long to delve into this auteur's work, and that I was going to tremendously enjoy the films of his I had acquired.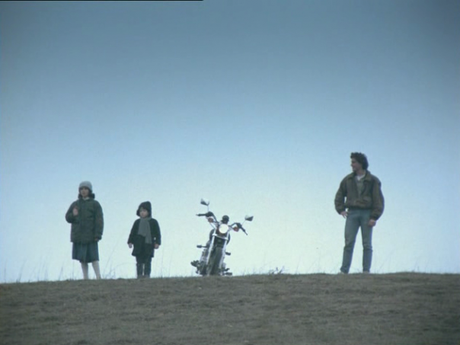 The film is the wondrous and bleak story of Alexandros and Voula, two siblings aged five and fourteen, who abandon their unseen mother in search of their father, whom they believe to be located in Germany (though we learn early on that their mother slept around and the two children likely have different fathers). As the film opens, they attempt and fail to board a train. Trying again they succeed, and meet their uncle, whom they decide to abandon as well. Lost and alone, they encounter Orestes, a young actor traveling in a van whom they ride with across the country, as far as they can go, their desperate journey disappearing into the fog.
The plot of this film, which at times subsides for a while to simply allow the viewer to soak in the imagery, is not exactly creative, but Angelopoulos takes his characters and the viewers on a journey unlike what anyone expected through his use of stunning imagery, dulled and effective color palettes (particularly the hazy grey-blue which inhabits almost every single shot in some small or large way), and sweeping long takes, which aren't as lengthy as those of, say, Bela Tarr, but are equally as stylish, slow-moving and sublime. The film is packed with staggering imagery, but for me two scenes, neither directly related to the story, stand out as particularly impressive. The first sees the two children observe a horse being cruelly and painfully dragged through the snow by a rope attached to a carriage. It becomes stuck in the snow and jerks about on its side. Voula approaches the creature while Alexandros weeps, and she stares at it as it slowly dies and a party in the background celebrates a marriage. Landscape in the Mist is admittedly a dark film, but no image in the movie is as horrific as this.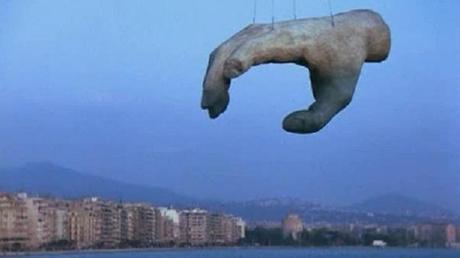 The second powerful moment I was referring to occurs much later in the film, and is already one of my absolute favorite movie images. I don't give such an honor to just any image, but the 'Hand of God' scene in this film is certainly worthy. Orestes observes something bobbing in the sea; it slowly rises and we see it is attached to a helicopter which is pulling it out of the water. We then notice it's bigger than we thought. It's a huge hand, perhaps the dismembered limb of a giant statue, and the children and Orestes watch in awe as the helicopter flies away with it dangling below. It is a silent, startling, wonderful moment.
Landscape in the Mist succeeds due to many things, but nothing for me worked as well as the images, colours and cinematography. The film is simply gorgeous to look at for every frame, and while some of its content is disturbing, the majority, whether steeped in sadness or delight, is absolutely wondrous and spellbinding. Angelopoulos proves, with this film made in the central stage of his career, that he is an absolute genius and a man born to stand behind a camera and film what passes, colouring each image with a vibrant life and consciousness that truly great directors achieve in their own unique style. Angelopoulos's filmmaking preferences are ones I admire and share. His images speak for themselves, and often dialog is not required. However, as an off-camera rape scene in this movie proves, not everything needs to be shown and Angelopoulos is a master of subtlety. Landscape in the Mist, as I will note in the future after having devoured much of this director's catalogue, was the film that started me off with Theo Angelopoulos, and I already feel tremendously sad about his death, and purely enamoured with the task of exploring his work further.