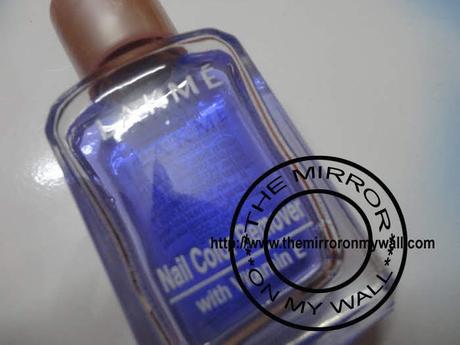 Lakme Nail Color Remover
Hi Everyone,
I love makeup and first thing that I started applying was nail color. When I was kid I used to apply nail color on my toes as it wasn't allowed in school. Now also I always apply it on my toes more than my fingers. I have lots of glittery nail paints and they become like rock after drying. Not every nail paint remover is capable of removing these. I always buy Lakme Nail Color Remover today I will share my experience with this product.
 Price:-
INR 90
Quantity:-
27 ml
About the product:-
Easy and effective nail color remover enriched with vitamin e to prevent excessive dryness around the nails. This nail polish remover easily removes even old and difficult nail polishes without leaving your nails dry or dull. Acetone-free and it also soothes and hydrates nail show to use dab onto cotton wool to wipe off nail color thoroughly yet gently.
Ingredients:-
Nothing mentioned.
My opinion on the product:-
The product comes in transparent glass bottle with screw open cap. At the top it has a stopper made of plastic and has a small hole to control the flow of the liquid. It is travel friendly and does not waste any product. The polish removing liquid itself is in lavender color and has nice mild fragrance. The cap shuts nicely which secures the liquid as it evaporates.
I have been using this for many years now and can vouch for it and it is capable to remove any nail paint. It is tough on nail paints but gentle on skin. In a single wipe it removes nail paints and it is recommended that you use different cotton for each nails. It claims to be acetone free and does not leave my nails dry.
What I Liked:-
Nice packaging
Travel friendly
Acetone free
Removes nail paint in single swipe
Gentle on skin
Doesn't dry out my nails
What I didn't Liked:-
 Will I repurchase and recommend:-
Yes, of course I love this remover and would recommend this to everyone.
 Rating:-
4.5/5
VN:F [1.9.22_1171]Rate this Product :VN:F [1.9.22_1171]