For all of the female users of iPhone 5 who'd like to dress up their precious Apple device in trendy colors, Piel Frama, a Spanish manufacturer offers an exquisite collection of iPhone 5 cases of an outstanding quality and design that will make you stand out wherever you are. Today, MyTrendyPhone UK recommends beautiful Piel Frama Magnetic case for iPhone 5 aimed for all the ladies who love pink!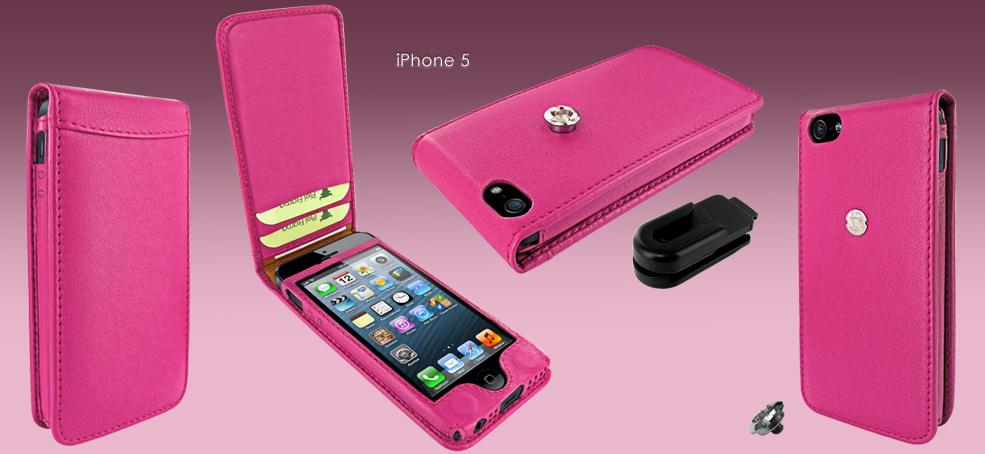 Piel Frama Magnetic Pink Leather Case for iPhone 5
Piel Frama is a company with a long tradition in producing luxurious accessories made of a premium quality leather. With an emphasis on quality and attention to details, their cases for iPhone 5 will provide you with a protection in a unique design. Like all Piel Frama cases, this iPhone 5 flip case is hand-made according to the highest standards, which makes it one of a kind.
Constructed to match the exact measurements of the iPhone 5, this case will fit perfectly while leaving free access to all ports and buttons so your device will be fully operable while resting in Piel Frama flip case. Thanks to the magnetic closure system you can be certain that your iPhone remains in one place. The interior is padded with a soft leather lining while the foamy material that fills in the interior of the case brings the protection to a higher level during the falls or sudden shocks. In addition, this pinkish case for iPhone 5 will provide you with some more convenient features, such as the internal slots for credit cards and 2 nano SIM departments. But that's not all- the case has an integrated removable belt clip allowing to carry the iPhone on your belt or handbag.

Wide Selection of iPhone 5 Flip cases by Piel Frama Made of Genuine Leather
The Piel Frama Magnetic case for iPhone 5 has all it takes to make your smartphone protected, functional and absolutely fashionable. Apart from Pink, you can opt out of other lovely colors such as Black, tan, Red, Blue, Green, Orange and White.