10/14/2011 – by Cynthia Wright
Buddy Piedmont, an up and coming, rapper from Atlanta brings  a sense of intellectualism to Southern rap, that hasn't been witnessed in years. Painting pictures with words, Piedmont focuses on capturing the harmony in music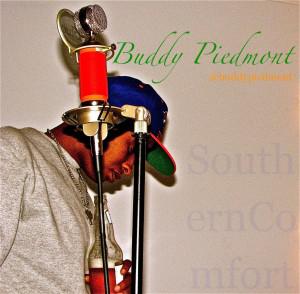 Buddy Piedmont
that encompasses our lives. As a trans artist hailing from below the Mason-Dixon line, his music reflects a love of metaphors and the English language. In the second part of our LGBT rapper series, we sit down with Piedmont to discuss his musical style, what it's like to be out in the music industry while living in the South and what projects are in the works.
1. My first question always is, when did you realize you were LGBT?
Ive known since i was very young. My first crush was a girl named Tiffany in the 2nd grade and I've been hooked ever since.
2. Who or what inspired your rap name?
Buddy is a nickname. Piedmont is me repping for my hometown ATL.
3. How would you classify your brand of hip-hop?
Intellectual Southern Hip Hop.
4. How has your music been accepted in the South?
I've been accepted by fellow Artists from everywhere and I think that the biggest goal is just representing the South in a more intelligent light. I'm tryna bring back the Dungeon Family era.
5. Who currently inspires you musically?
Kanye West, Kid Cudi, Tupac always, Wale, Prince, I'm into songwriters now Sean Garrett, Verse Simmonds, Esther Dean.
6. How has identifying as trans shaped your music?
It doesn't my identification as trans is personal more than something acknowledged or referenced in my music. I'm pre-op so to the straight world I'm a female MC. I think I'm more shaped by my Southern Culture than my gender identification.
7. Have other trans artists reached out to you? If so, for what reasons. If not, is that something you are open to?
I've had the honor of working with an amazing transman producer Maalik Prodigy aka Haze da Producer.
8. Out of all your songs, which means the most to you and why?
"Beautiful Day" Its just a positive uplifting song. Me saying that in spite of all the bullshit, everyday is a beautiful day. Cant nobody hold me down.
9. As a LGBT in a predominately hetero male field, have you ever been treated harshly or have you been mostly embraced by other rappers in the game?
I actually get more love and respect from heterosexual male artists then i do within the LGBT community. I think that's just because live artistry amongst our community is still so fresh.
10. What are you currently working on? And, how can people find you?
Southern Comfort-Mixtape dropping December 2011.
www.reverbnation.com/buddypiedmont
www.twitter.com/buddypiedmont