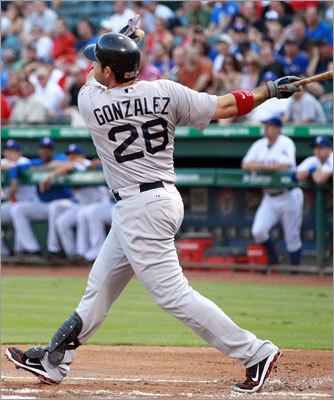 Adrian Gonzalez busted out of his home run drought last night in the 104 degree heat in Arlington, blasting two shots against his former team in the Red Sox' 11-5 win, their first against Texas this season.

With John Lackey on the mound, the Red Sox needed to score early and often, and sure did that. Jacoby Ellsbury returned from his three-day hiatus by opening the game with a single, stole second, and scored on Gonzo's blast into the top deck in right field.

The Sox added two in the second and third innings, but a Lackey meltdown looked like it was in full bloom in the third, as he allowed three runs. But he settled down and pitched into the seventh, allowing four runs.

Every Red Sox regular had at least one hit, and the Sox put the game away with four runs in the eighth. Lackey is now 12-9, and his ERA is now finally below 6.00, at 5.98.

The Red Sox are now 4-2 on this road trip, and can get a winning record if they spilt the final two games. Not bad for two places (KC and Texas) that are normally tough places for them to win.

New York's loss to Oakland puts the Red Sox in a tie with the Yankees for first, but New York is percentage points ahead, as the Red Sox have played two more games.