Hello Fashionista's ! I am hoping your work week is going smoothly , and that you are enjoying the beautiful weather that has come upon us. I am continuing the Spring Trend Watch with our next installment …Lace. Yes lace has made a real comeback on the runway's this year. If it left at all. The sheer , flowing , see through  sexy ensemble is available from any of your favorite designers. They dedicated  their spin on the sexy material for your viewing pleasure. Let's take a look at a few examples…..
If you really know me , you know that I love the oddest of things I can seem to find the beauty in everything . So when I saw this little cute dress by Erdem I fell in love instantly .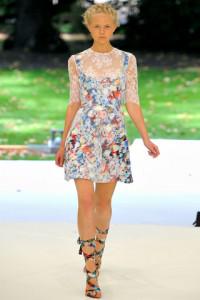 very cute and sexy all at the same time. I love it .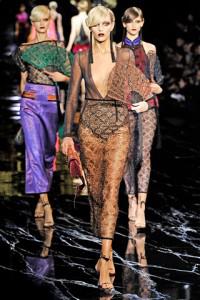 Now of course we had to include Louis Vuitton's spin on this emerging trend. They amplified the look with sheer's and nude colors. Simply DOPE!!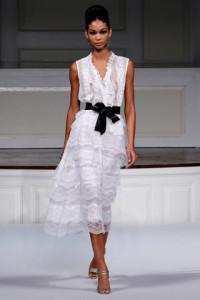 For a more clean and classic look , Oscar de la Renta took this lace dress to another level with the all white lace dress with a simple black satin bow around the waist. Simple and very chic Lace dress and not to mention  Chanel Iman working the runway. I fell in love with this look.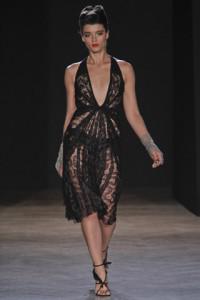 One of my favorite designers in the world created this lace treat that you see before you. Zac Posen came with a fresh spin on the Lace trend and brought if from day to-night. This sexy party dress is perfect for the Fashionista in the go. Look at the shoes!!! Perfection.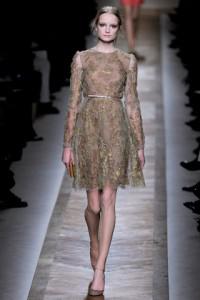 I just had to let you guys see this Valentino sheer party dress. I love the entire look and versatility of this dress. You can really flip this look to your advantage. Keep in mind you can find this trend within any of your favorite designers . Anywhere and everywhere  , enjoy yet another Spring Trend for 2011, I have more to come Fashionista's we have only begun.
As always…………Stay Fly!!!