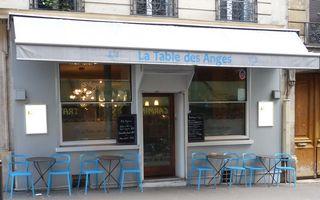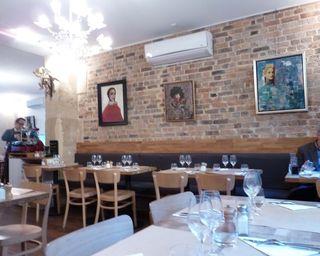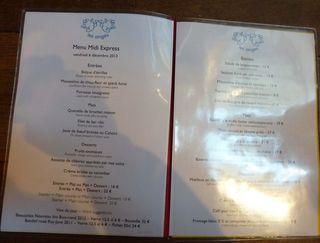 5.8 La Table des Anges, 66, rue des Martyrs in the 9th (Metro: Pigalle downhill, St Georges uphill), closed Sundays and Mondays, 01.55.32.24.89, is a place that's been on my list for my famous dissident-agitator friend who dislikes leaving the 9th (except for Stephane Jego) and is Parnassien-approved.  Minimalist outside, brick/stone/crazy paintings inside and a "menu" at 20 E for three courses that is damn appealing.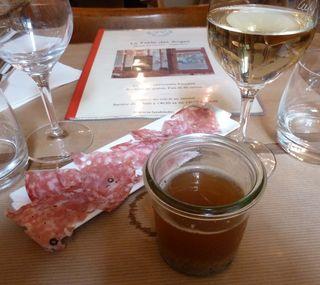 I arrived a few minutes before my celebrity-date and within seconds was served a glass of very nice Macon, slices of very peppery-spicy charcuterie and a jar of beef boullion with ? barley at the bottom which was very peppery-spicy.  This is not a French guy cooking, no, something is different.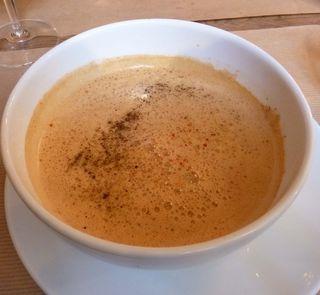 My friend and I wrestled over what to have, but I had long ago settled on my choices.  For her a mousseline of cauliflower - BORING, EH? UNH UNH - on top of the smoked peppery-spicy speck with peppery-spicy nuts on top it was primo; and my bisque of hairy crabs was as good as it gets.  Several times, the three wait-guys came over during the meal, and spoke to us in English - OK, we're speaking English, even if that's neither of our first languages (Chinese her, German/Yiddish me) but there was something about that that pricked my curiosity.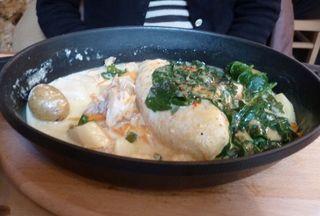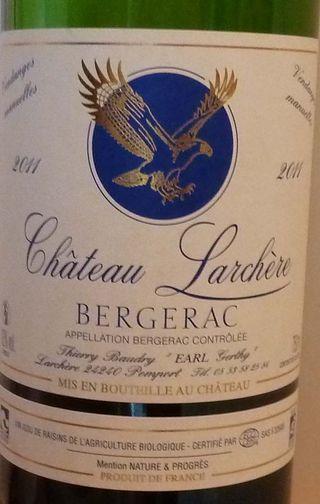 Both of then had the quenelles de brochet with a ton of greens and veggies and mushrooms, all of which she loved and ate and most of which I did, but it was not the classic dish and my stick-in-the-mud traditionalist bent caused me to rebel.  But the Bergerac was quite nice - and we two reminiced on how horrible the wines of the South-west were eons ago and how nice they are today.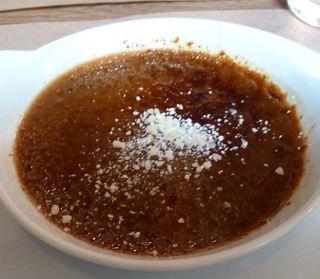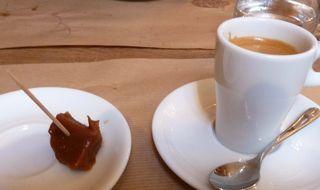 Now she, because she finished her meal, didn't get dessert and I, who didn't, did.  Wait a  minute, that's not how it''s supposed to work - our mom's said the opposite, but that's long ago and far away.  The creme brulee with carabar was extraordinary, really beyond the speed of sound.  But then, with our OK coffee we got house-made caramels - Oh beam me up.
Our bill, with a bottle and glass of wine, no bottled water and five courses and three add-on's each, was 75 E.
Go back?  You can bet your life on it. 
Oh, by the way, about all that English, as I'm coming up from the bathroom, the chef, on the landing descending, says "Sorry" in real, not school English.  My garrulous friend, exiting, says to one of the upstairs guys, the equivalent of "who was that masked man?"  Ans. The chef, apparently one Yan Duranceau, who passed through the Plaza Athénée, Fouquet's, Taillevent, Grand Véfour, Closerie des Lilas, Steak & Lobster, and the Comte de Gascogne, is half-American (Louisiana).