At 1pm our bus would be leaving Copacabana for the three-hour journey to the highest capital City in the world; La Paz. Upon boarding the bus we discovered that there was no option to use air-conditioning as, quite simply, there was no conditioning of the air. However, the bus wasn't terrible and wasn't particularly uncomfortable, plus it would only be for a few hours so no one was that put out or disappointed.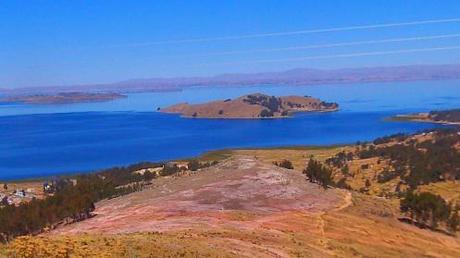 As the journey got under way the first thing that struck us were the views. This journey takes you on a mini tour of the Bolivian side of Lake Titicaca and it really was spectacular; you got a true impression of just how huge this lake was, the life it sustained through the villages we passed and the wildlife sustained by the vast lake. Try not to fall asleep on this part of the journey as it is stunning and worth a few pictures through the coach windows!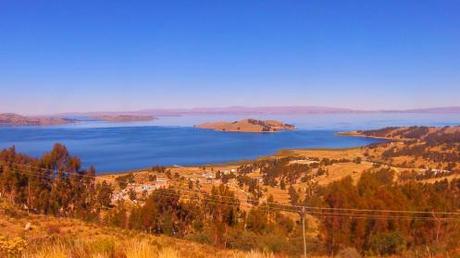 A little further on and the coach, in fact all the coaches bound for La Paz, pulled over and asked the passengers to disembark. We were a little confused by this until we saw a coach seemingly driving across the water! Was this some magic vehicle we were witnessing? Turned out, it wasn't. Part of the journey involved us crossing the lake and the way the coaches and buses would do this was to take a very rickety, old looking, wooden 'ferry' while the passengers would be transferred across in small boats. It was actually a very novel experience and it broke the journey up nicely.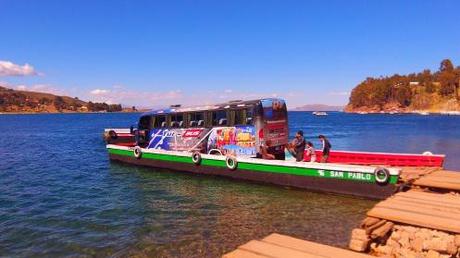 After the incident with the water we were back on our respective buses and heading for La Paz. This part of the journey still held views worthy of a resistance to sleep but as we got closer to La Paz and the buildings started to become more frequent and denser in number we knew that we were entering a suburb of the Bolivian capital; a rather large suburb at that.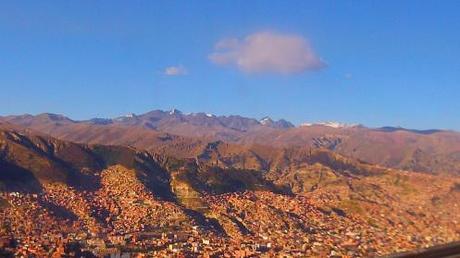 Still further we ventured and as we were getting closer to the center of La Paz you could really appreciate the wonderful backdrop of the mountains providing the focus of the canvas and the houses seemingly climbing to the sides of the various hills, mountains and rocky outcrops. As a visual spectacle, La Paz, from a distance, looked stunning. As the coach got closer to the City Centre however, and in turn we were able to study the buildings, streets and businesses in clearer detail, La Paz took on a slightly different impression and it seemed as if the City was a little dirty, most definitely full to overflowing with traffic and it had quite an aggressive air to it, in terms of how busy and self-contained people seemed to be. The taxi ride from the Bus Station to the hostel was stressful, not because of the driver, he was fine, but the traffic and the aggression needed to actually progress anyway in the City was palpable.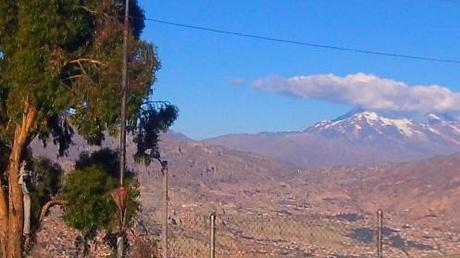 The hostel I would be staying in was 'Pirwa Hostel', just out of the center and so with some light relief from the business of the day-to-day and the noise. The hostel was clean, great beds in the dorms and the staff, although freezing cold – literally, not metaphorically – were friendly and for the most part; helpful. After the long journey, a bite to eat and testing the sleeping possibility of the beds was in order before meeting up with friends in the morning to go and buy our tickets for the World Cup qualifier between Chile and Bolivia – my first taste of South American football.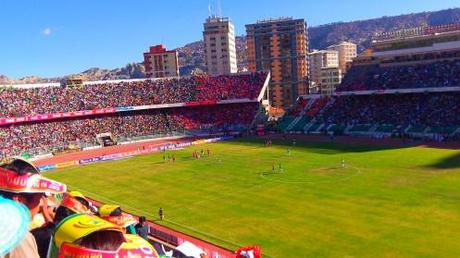 South American football, or 'soccer' for a certain International contingent who might be reading this, is often regarded as the most beautiful, passionate, entertaining, awe-inspiring football in the world (I wonder if the Spanish are disagreeing right now?) And when it comes to big games, something like a World Cup Qualifier is most definitely considered a big game. La Paz, being the highest City in the world has a reputation as being a bit of a fortress for the Bolivian National side as many teams who visit them simply can't cope with the altitude; the lack of oxygen in the air, the extra time it takes to recover and the headache that can accompany many people, irrespective of your level of fitness. So, for our first experience of South America football we would be honorary Bolivians for the day during the Bolivia versus Chile International qualifier!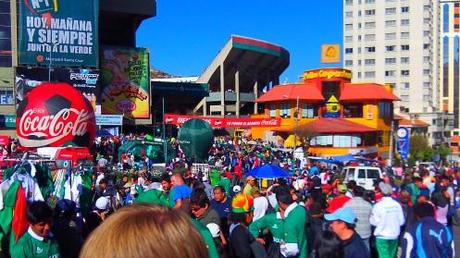 The morning of the game we took a taxi to the stadium where there were many people queuing to purchase their tickets for that afternoon. It got us thinking how in the UK, for an International match of such importance you are pretty much completely unable to simply turn up on the morning of a match and buy your tickets, unless they are through a tout of course! So, waiting in line and marvelling at the atmosphere already building before the afternoon kick-off we were eventually herded to the ticket gate and paid our 100 Bolivianos each (about £10) for the slightly better seats, and by 'slightly better' we were sure it just meant we were only likely to be hit with plastic things, not glass or metal.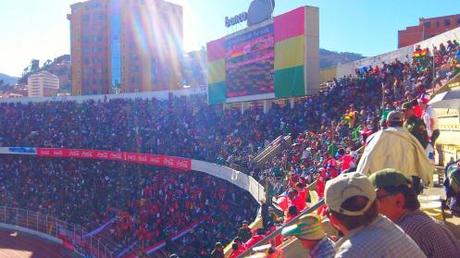 With some time to kill we made our way to a highly cultural Bolivian center to watch some other International team called 'Inglatera' play in a wonderfully traditional place called 'Wild Rovers' – an Irish bar/hostel/travel agency. The food took an entirety to arrive, but was pretty decent when it did. With food in our stomachs we were back in a taxi heading to the stadium once more and we were met with a wonderful atmosphere – this place was buzzing. The guys I would b watching the match with decided to go one further than just 'wear' Bolivia in their hearts; they paid the scandalous fee of £3 for a national Bolivian shirt and then it was forward, onward to take our seats for this high-altitude, high-octane, high-emotion world cup qualifier.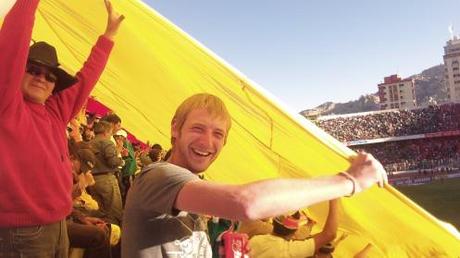 The game didn't disappoint, with Bolivia having much of the play but unfortunately losing against the run of play. Being an impartial spectator it has to be said that the Chilean fans were relentless in their support of their country with the band constantly playing and in high spirits which did, in turn, start to effectively bode the Bolivian supporters into a chorus of singing and chanting themselves. At one point, as rightly or wrongly expected by most of the 'gringo' spectators, there was some trouble between the Chilean and Bolivian fans; nothing major but we did bear witness to the Bolivian Police moving in to put a stop to it pretty quickly. Let's just say you would not like to get stuck in the middle of that!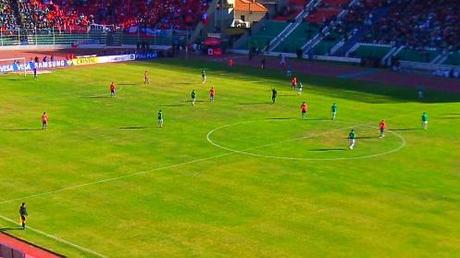 One thing to note is the level of service once you're actually in the stand. There were numerous people working in the stand; selling drinks, hats, ice-creams and other confectionaries and to see how they traverse and negotiate the rows of spectators to make their sales was particularly entertaining and impressive!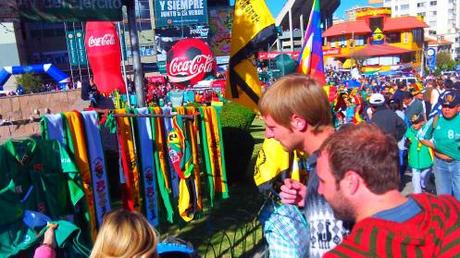 One thing we certainly weren't prepared for is the heat! When you speak with people who are making their way in the opposite direction to you and therefore pass on their rich knowledge they have gained through their experiences, many will tell you how cold Bolivia is, and sometimes, they're right, it is…but don't underestimate just how hot the sun is and especially at altitude. Quite frankly, thank God there were these mobile, clambering vendors in the ground for people to buy cheap paper-hats from as even the lightest of protection is essential and does help.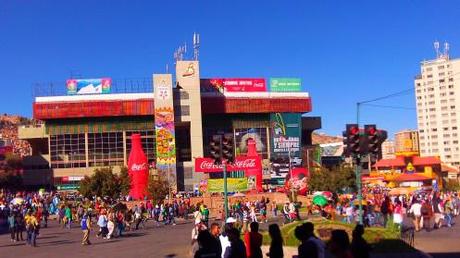 With the match finishing 2-0 to Chile there was a slightly sour feeling in the atmosphere but looking beyond that it was an amazing experience, as much as anything it was the sense of passion the crowd had for their nations and the literal closeness of the crowd. I know it may not seem to make a lot of sense to say this, but football, certainly at Premiership level in the UK has lost some of its edge and I am not referring to mindless hooliganism or organised fighting that still associates itself with football, I mean the curtain of commercial and corporate anti-personalisation that has infected the game. I'm sure there are, but it was hard to see any corporate boxes or corporate 'entertaining suites' in the Bolivian National stadium in La Paz and if there were, the presence was miniscule. This was about two groups of national fans desperately willing their nation's players to do the best it can and that sort of support was infectious and pretty inspirational!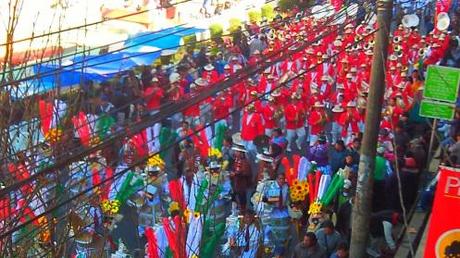 My alarm clock today was a rather loud marching band with a fantastic horn section. After hitting 'snooze' I was awoken once more by a slight variant on said marching band but with the same flare and panache. Realising this time that my phone doesn't even have a marching band alarm tone, I got up for breakfast, walked to the terraced balcony of the hostel and was greeted by a huge procession of dancers and marching bands making their way down the main road; the fenced off and 'grandstand-lined' main road! I had never seen anything like this with men and women alike dressed up in colourful, vibrant costumes and all dancing in unison, with choreography in celebration of, so I am told, a Saint of Bolivia. (I do apologise; I am not sure which one!) The precession went on from 8am through the day and eventually died down, in a slurry of drink, fun, festivities and merriment at aroun10pm. Still, it provided a wonderful soundtrack to us visiting 'Barro-Biking' to book our downhill mountain biking tour of the world's most dangerous road the following day.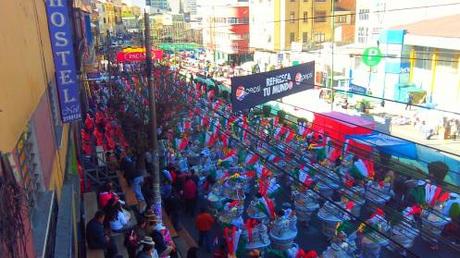 It is worth noting that there are so many companies that offer this mountain-biking option so it is worth shopping-around, however, be mindful that when you are considering mountain-biking down the world's most dangerous road, safety and reputation precedes cost! With a little reseach, we found that Barro Biking had a great reputation, always had two guides, good, well-maintained bikes and were most definitely reliable! So, after talking through some considerations like the size of bike, t-shirt size (essential. well, not at all), helmet size and what we would need for the day, we paid our money and were booked in to begin our adventure the following day.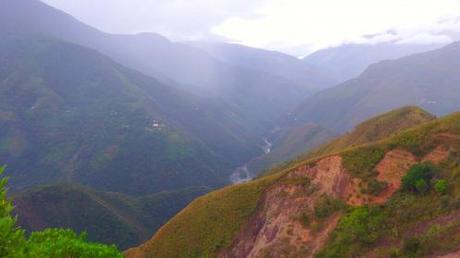 At 8am the Barro Biking minibus arrived at my hostel to pick me up and start the journey to 'the world's most dangerous road': 'Yungas Road'. There would be a group of approximately twelve people embarking on this journey and after being driven to approximately 4,700 meters above sea level we were introduced to our safety gear, our wet weather gear, our helmets and our tour guides for this journey.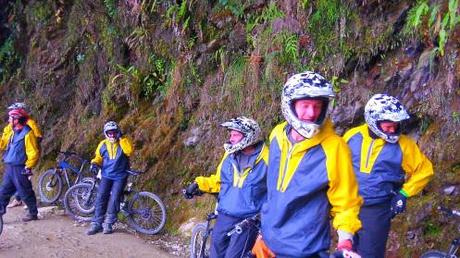 After approximately thirty minutes of briefing and riding around, remembering how to ride these things called bikes, we were off and hitting the lovely roads of the road that is not the most dangerous road, it is a fantastically tarmacked, barrier-ed, wide, winding road! Still, great way for people to find their feet once more and remember what it is to ride a bike downhill.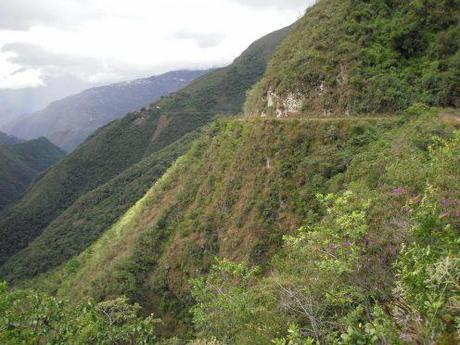 After a relatively short burst downhill we had our first photo-stop, actually it is worth noting now that the skill of the guides as riders is immense and at several points, when going full-speed downhill, and over rough terrain (that comes in a bit) they were riding one-handed with their cameras braced for some action footage, quite amazing! This photo-stop, looking back, was a little on the crazy side as in pairs we were encouraged to clamber to the edge of this rather large rock with a small drop of just 600m below us while we had our photo taken. Without much thought from anyone (I guess we were still feeling a little brave than usual from the initial downhill burst) we all scrambled to the edge as requested for our photos and after the re-capturing of breath, we were off again.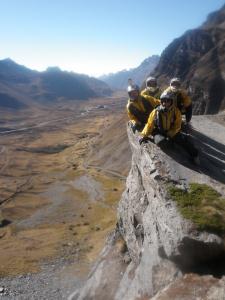 I very rarely openly talk about anything I am good at, this might be due to the fact it might be quite a limited, succinct, short topic, but for this I have to say; I had a natural affinity for going downhill! This next stage saw me come into my own and I was on the back wheel of the guide all the way, all the way that is until he decided to start pedalling too and assume the streamline position of putting his nose on the frame of the bike, effectively removing him from my sight that little fella!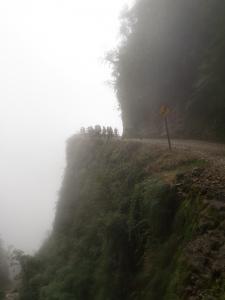 I really did find this whole experience thrilling right from the outset and at this point, we hadn't even got to the actual section of the dangerous road! One very slight gripe was that we were told this whole 'trek' was downhill. Normally, I would have, and don't have, any problem with going uphill, no problem at all but unfortunately having injured myself about the knee-area; being my actual knee I had injured, pedalling wasn't top of my list of things to be doing to aid any sort of (hopeful) recovery! The point of my mentioning this is that, indeed, there was an uphill section about to inflict its worst on us.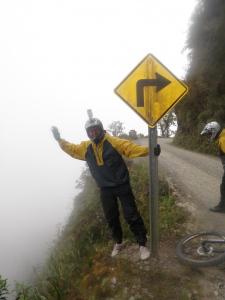 This is where I can safely say that I am definitely made for downhill and most definitely not made for uphill (irrespective of the knee!) Alost everyone in our group had to stop and walk their bikes for at least part of the uphill section. It was not the physical exertion or the physical fitness that was in question; it was the inability to breathe! At this altitude (we were still well over three thousand meters) the oxygen is so hard to get in to your system, it feels like you are never going to recover from the shortness of breath.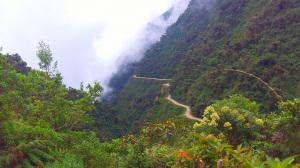 About twenty minutes of uphill riding/walking we were back on the bikes and coasting to our next resting station. This time we were able to take on some water and have some energy food before turning off the new road and on to the old road, the truly dangerous section of the ride. This was easily the highlight of the day, which is saying something as we had been having an amazing time already (minus the uphill section of course) but this was what we had come for (well, most of us as we had had a couple of people in the group who weren't enjoying the experience and chose to use the minibus as their means of descent). The road was not tarmacked but gravel, in its original form. The vast majority of the road was only wide enough for one lorry to fit with only occasional passing points that were just about wide enough for two cars, and I mean just about wide enough.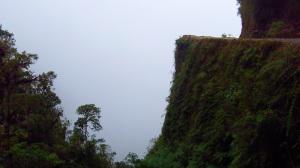 The road, pretty much, descends the entire time and at a pretty steep angle so on a bike you can get some really decent speed up and fuel your adrenalin thirst. On a personal note, I absolutely relished this and found myself being competitive with the guide – probably a pretty stupid thing to do, but the fire of adrenalin was coursing round my system and it was thrilling, absorbing and extreme! For approximately forty-five minutes we were on the section of the road that offers this thrill but combined with stunning scenery and backdrops which we were given ample opportunity to appreciate with regular breaks on the journey.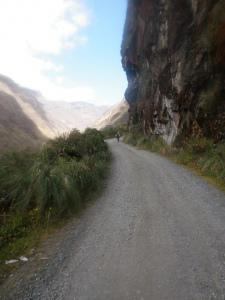 I know I have mentioned it earlier in this post, but I feel I need to mention again, just how skilled the guides are as they hurtle downhill at speed…one-handed as they are taking pictures and filming you as they go! At the end of the experience we made our way to a hotel where a buffet dinner was provided as well as showers, a towel and if you fancied it; a swimming pool for a dip in the water. After we had all got changed, eaten, shared some tales of our travels it was time to get back in the minibus and head back to our respective hostels. The following day we would be able to visit the offices of Barro Biking to pick up our CD of the pictures and videos of the experience. It was commendable how professional this organisation was and for more than half the price of some of the other 'high-end' companies, you really can't go wrong…unless you do decide to go too fast round a corner, in which case, you will go as wrong as wrong can get!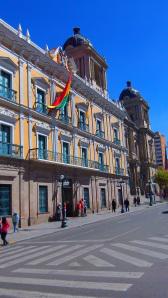 One more day in La Paz before I had booked a bus to move on to Sucre and it was time to go out and see a bit more of what the City had to offer. Maybe I am serving a slight injustice here, but in all honesty; there wasn't a great deal to see. The City is definitely a hub of activity and intrigue at night but as far as sites of historic or cultural interest – I didn't find that many when you consider how big the city is!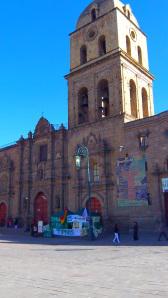 Alonzo De Mendoza Square is arguably the most significant, historically, and is home to San Francisco Church. The square is quite small but is a hive of activity from tourists to locals and there is a good atmosphere about the place. Quite close to Alonzo De Mendoza square is another plaza, slightly smaller still and named 'San Pedro Square'. More so than this offering of four sides at right angles to each other is a particularly famous prison called, well, charmingly; Sand Pedro Prison. This prison was made famous by a book written about one of its inmates and called 'Marching Powder'. Until relatively recently you were able to pay the guards and several of the inmates to gain entry for a tour! I have friends who have done this, several years ago and confirmed that it is indeed one of the most intimidating things to do in La Paz. There are rumours that it still can be done, but we didn't venture into the world of corruption and bribery for this 'privilege'. I must ask my friends if I can interview them about it as it is a good story!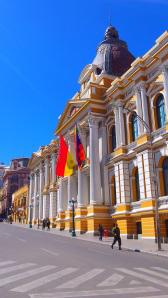 On from the square and the prison and my next stop was the Metropolitan Cathedral. I have to say, this was an impressive building, inside and out and well worth the walk to see it. It is particularly impressive when you take into account the views that are offered in the backgrounds; the cathedral being the focal point in a dominating landscape of a sprawling City and imposing mountains – rather impressive. I am sure there is more to see in La Paz and there are many different tours, walking and by bus, that you can take to see even more, but with that ever-present, imposing companion of time on my shoulders, I had to get back to the hostel as I have one more sleep before moving on to Sucre.