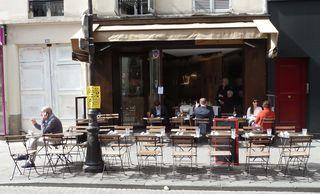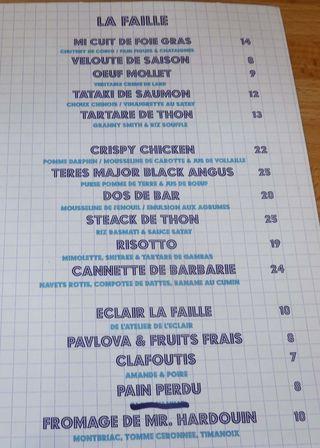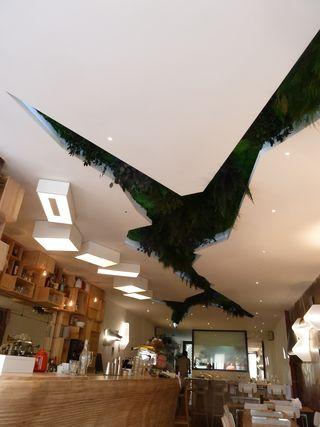 La Faille in the 2nd was a place Colette had marked down as a "to-do" on her quarterly visit and I approached it again with great anticipation - it was sunny, about 70° F., and the window/front was wide open - heaven!  The menu looked familiar bit not too much so and the upside down plants on the ceiling loked like an eagle in flight.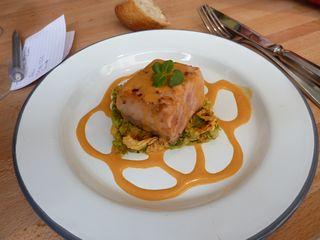 For some strange reason, I was the only person who had a first, but what a first, a tataki of salmon that was a big chunk of fish on top of chopped Chinese cabbage and a very spicy almost (sorry folks) like a Thousand Island aka Russian, dressing.  Very, supremely, terrific.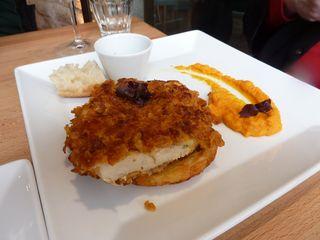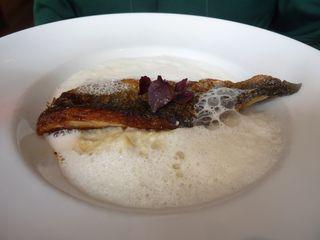 OK, so now the two ladies had (I swear to Zeus) "Crispy Chicken," which was just that and very good indeed; it had a great coating of what I thought was panko and parmesan and a slice of bar with a fennel-flavored mousseline (which Colette deemed nano-flavored) and a citrus sauce.  I thought they were both great - Colette demurred.  I had the Barbarie cannette, under-cooked perfectly, sliced and presented with roasted and marinated turnips and supposedly a compote of dates and banana with cumin - well, we all know my unami buds are gone - so....  I thought it was quite, quite good.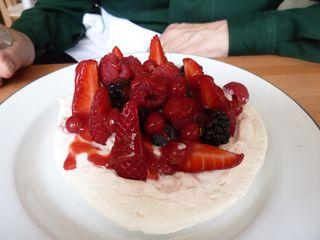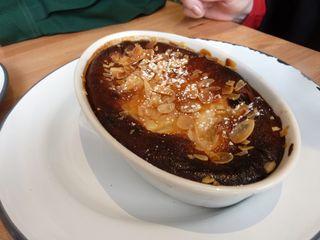 Finally, the ladies ordered a Pavlova with fruit, which truly was loaded with more berries than cream, and a clafoutis with almond and pear, whichI helped them finish.
The bill, with two bottles of Navarra, no bottled water, GREAT BREAD, and 3 coffees and whoops, a Calva, was 139 E, so 92.66 E a couple.
Go?  Boy!