I am back with another review of hair care products and this time it is the newly launched L'Oreal Professionel Liss Unlimited Shampoo and Smoothing Masque with Keratinoil complex. My hair has always loved L'Oreal Professionel products and the Mythic Oil range till date remains my absolute favorite. But it has met a very worthy competitor in the Liss Unlimited range.
Liss Unlimited has replaced the erstwhile Liss Ultime range and includes a shampoo, masque and serum. The range is specifically targeted towards smoothing rebellious hair and treating frizz. The range includes a shampoo, masque and serum and the active ingredients are Pro-Keratin, Kukui and Evening Primrose oils. I have tried the shampoo and masque and this post is all about them.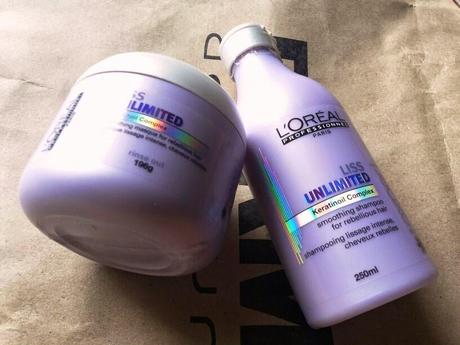 L'Oreal Professionel Liss Unlimited Smoothing Shampoo and Masque
Liss Unlimited Shampoo (Rs 525) -
Enriched with Pro-Keratin and Kukui and Evening Primrose Oils, this new shampoo purifies the hair and scalp and provides an anti-frizz effect.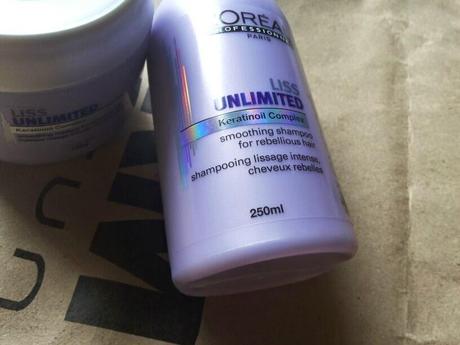 I've always loved the smell of L'Oreal Professionel range shampoos and I also love that it stays on my hair for a long time after rinsing off. The shampoo has a refreshing flowery smell that is not overwhelming. The consistency is slightly thick and creamy but it does not lather a lot. Usually when shampoos don't lather, we tend to go overboard and apply much more. I made that mistake too and ended up with flat and greasy hair. Next time, I applied a coin size amount, mixed it with water and applied to the scalp and hair and it was perfectly fine.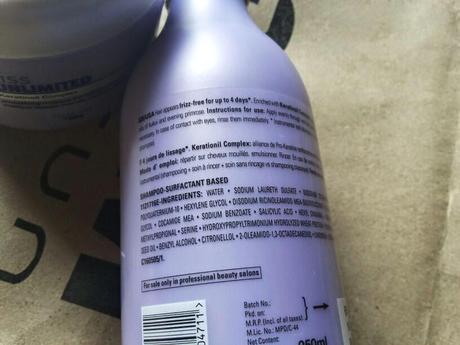 I don't have rebellious hair or a frizz problem but I do have a dry hair problem specially at the ends and this shampoo has definitely helped to moisturize my hair and make it look healthy. Don't think this will work very well on oily hair though because it is too rich and will probably end up moisturising the hair too much making it heavy and greasy. If you have dry hair, this can be a good option for you.
Liss Unlimited Masque (Rs 625) -
The replenishing formula, enriched with Pro-Keratin and Kukui and Evening Primrose Oils provides an anti-frizz effect.
The Liss Unlimited range does not include a conditioner and the masque takes on the dual role of conditioning and nourishing. It is said to intensely nourish, repair and smooth frizzy unmanageable hair leaving you with luscious locks.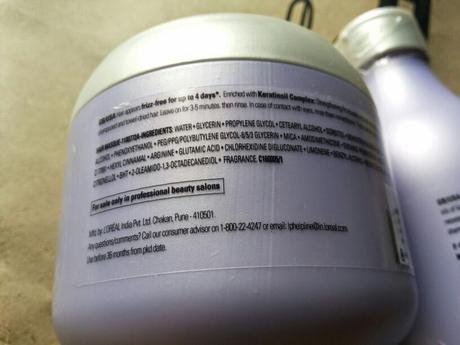 The smell of the masque is the same as the shampoo and the consistency slightly thicker than the usual conditioner. The masque is not intended to be used on the scalp so make sure to only apply it from the middle to the ends and don't use a lot. Keep it on for 10 mins and rinse off to get really soft and smooth hair. The shampoo and masque used together is pure bliss for dry hair. It can be used on oily hair as well just make sure to not apply it to the scalp.
L'Oreal's Liss Unlimited range is a very good option for those with dry and frizzy hair and both the products are working very well for me. To get maximum benefit, you should use both but if you want to get just one, I would highly recommend the masque. Since these are professional products, the price is higher than drugstore shampoos and hair masks. They are available in salons and also online stores like Flipkart and Purplle.
P.S - PR Samples. Honest review