There has been a sudden boom in the launch of kajals and for a kajal loving person these are definitely happy times. The one that I'm reviewing today is a new L'oreal Paris launch said to be the queen of kajals!. L'Oreal Paris Kajal Magique is enriched with vitamin E, cocoa butter, olive oil esters (
Had no clue about esters. Googled and found out that these are chemical compounds and formed by condensing an acid with an alcohol. Where is the acid in olive oil??)
and Vitamin C Derivative and it claims to be smudge proof for 12 hours, waterproof, non-transferable and suitable for contact lens wearers.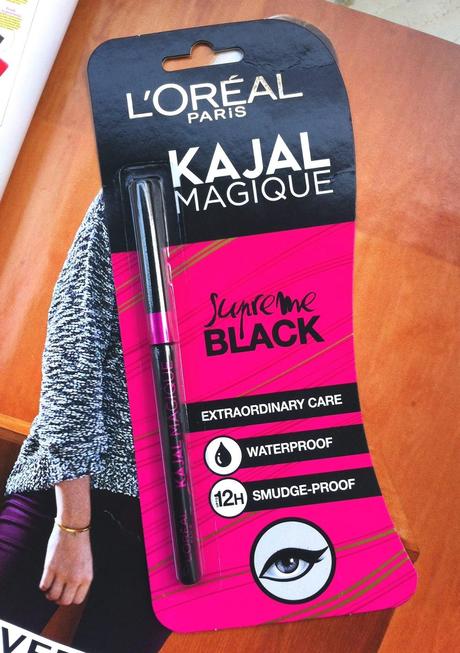 L'Oreal Paris Kajal Magique
The packaging I love and its my favorite of all the kajals in the market now. Main reason is that it's hot pink and blank, my favorite color combination (
that will be pout pretty's new color combo when I shift to a .com soon :D
). The pencil is a retractable one so no 'jhamela' with sharpening and no wastage of product. Texture of the kajal is soft and creamy so it is very easy to apply. Glides on the lids and no tugging and pulling. The problem that I have is with the pigmentation. I had expected this to be a pitch black one but it's pretty much the same as the Colossal Kajal. On the lids, it takes a couple of swipes for the color to show up well but on the waterline, I'm quite disappointed with the performance. I have to swipe at least four times to get the desired color.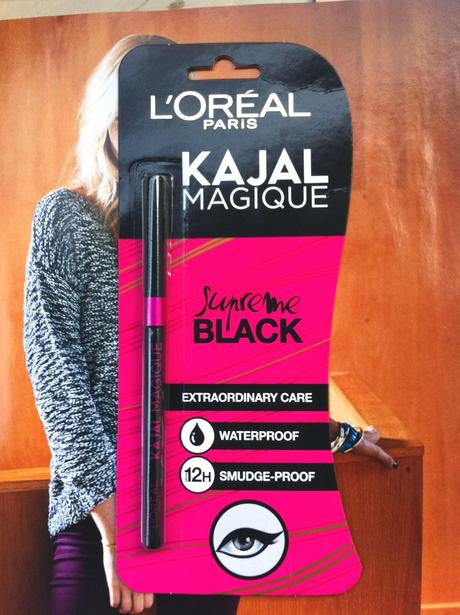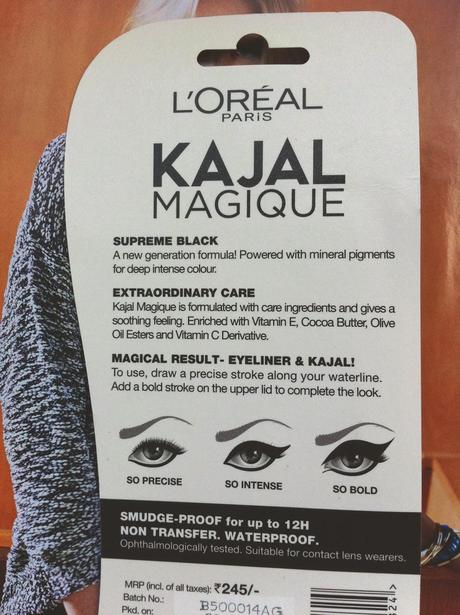 In terms of staying power, on my lids I have tested the kajal for 10 hours and it did not smudge or fade away. On the waterline, it smudged after 5 hours and I was left with mild raccoon eyes which i certainly did not like. I had no problem removing the kajal with my trusted Johnson's baby oil but I should add that I did try and check if it fades away on coming in contact with water and it did not. So kudos for that.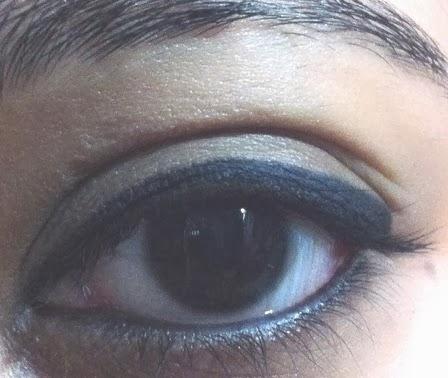 L'Oreal Paris Kajal Magique on my lids
L'Oreal's Kajal Magique has a lot of good features. It has a soft and creamy texture, does not irritate eyes and waterline, is smudge proof and waterproof and lasts for nearly 10 hours. What I don't like is the fact that it is not the 'blackest black' and is priced at Rs 245. It is the most expensive kajal in the market right now and I wish they kept it below the Rs 200 mark. 
If you are looking for an intense black color, L'Oreal Paris Kajal Magique  might not be your cup of tea (
or coffee).
If texture and staying power is more important to you, then this is worth a try. 
Have you tried L'Oreal Paris Kajal Magique?Do you like it?
P.S - PR sample. Honest review