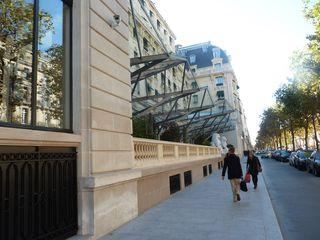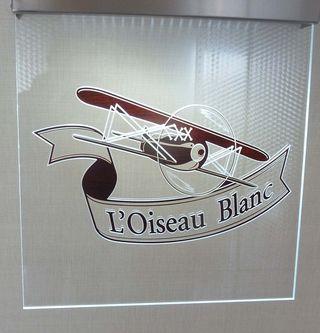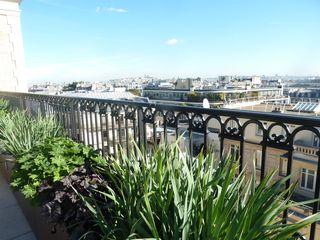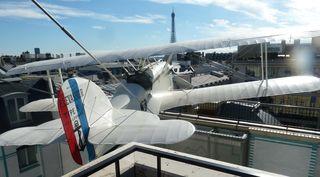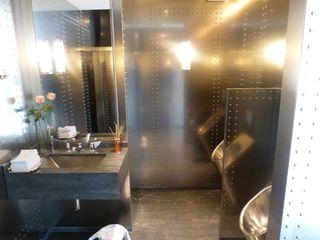 1.0 L'Oiseau Blanc in the Peninsula Hotel (rooms from $1490) in the 16th (19, ave Kleber, Metro: Kleber, 01.58.12.67.30,  open 7/7, 2 courses = 57 E, 3 = 69, 4 = 99, coffee 8 E) opened August 1st and the first date I could book lunch was today 2 months later, and they kept leaving the most annoying telephone messages asking me to reconfirm as if it were the Elysee Palace.  The view is stunning, Sacre Coeur and all that, as well as a replica of L'Oiseau Blanc (that disappeared in 1927 2 weeks before Lindy did it in the opposite direction but no mention of that here of course) facing the Eiffel Tower and we chose to sit outside in perfect sunny cloudless weather – but the chairs were most uncomfortable and the bees, to which Colette is allergic, all over her.  The menu is a forced choice 2-2-1 one, so we sucked it up and ordered.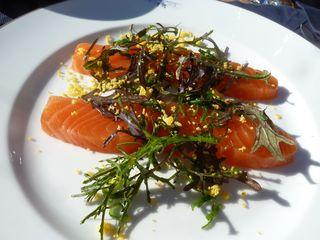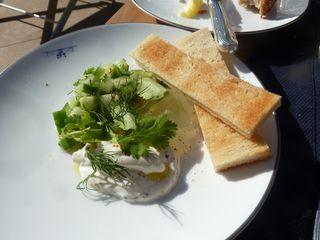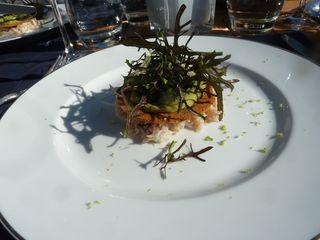 The firsts were "salads" of pieces of salmon and cooked leeks and King crab with sliced raw mushrooms of Paris in a tasteless jelly.  Not a great start.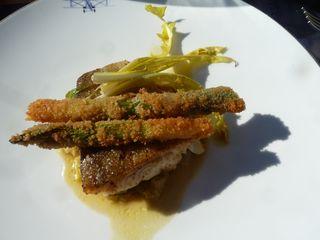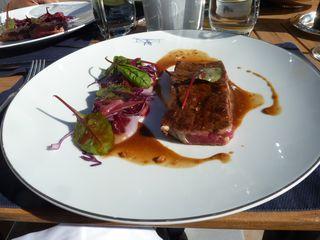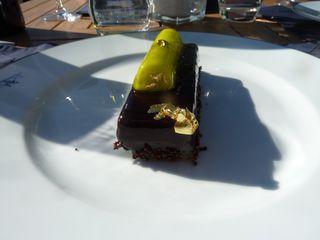 Then Colette had pollack with an unexciting side-dish and our guest who is well-known to the house and I had some of the best faux filet I've ever had with forgettable sides.  Dessert was another forgettable dish – a chocolate concoction with more jellied stuff on top.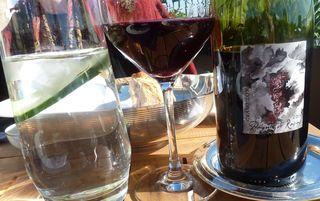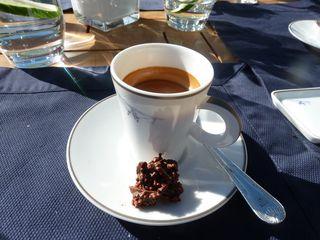 Our bill with mediocre bread rolls, nifty mignardises, three coffees, no bottled water (although the tap water had huge slices of flavorful cucumber in it that I loved but our pal indicated was standard spa fare) and 1.5 bottles of wine amounted to 264 E, thus 176 E a couple.  Decibels = 70 dB.
Go?  Our friend indicated the Peninsula had recently finally hired a top chef to oversee its 3 or 4 eating venues and I certainly wish him well, but until Aunt Tillie dies and leaves me her fortune, I will not be returning.