Iwas really excited when I found out that Christie's in Paris will be holding alarge sale of items dealing with the Orient-Express. As you know, I have a softspot for the train and have written about my private tour of the train here andits history in the spring 2011 issue of Modern magazine.
Nowit is possible to own a piece of this incredible train which has such afascinating and rich history (not many know that on November 11, 1918 MarshallFoch received Germany's surrender while sitting in one of the Orient Expresscars and in June 22, 1940, Hitler pulled the same train out of the museum to receiveFrance's surrender)!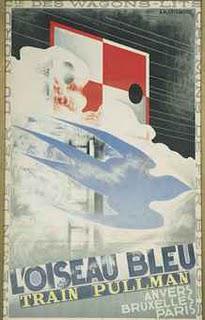 OnSeptember 27th 269 lot will make up the sale called "L'âge d'ordu rail - Souvenirs de la Compagnie Internationale des Wagons-lits". Agood portion of the sale consists of posters commemorating the various voyagesand cars of the Orient Express by such giants such as Cassandre, GuyGeorget, and Joseph Daviel de la Neziere, whose poster "Simplon-Orient-Express,Alep" (1927) is illustrated in my article and part of this sale. Afavorite of mine is Cassandra's 1929 poster for L'Oiseau Bleu (lot 117 (€2,500– €3,500) is a beauty and a tribute to the Ibis, a kitchen car decoratedwith marquetry medallions of Greek dancing girls. Its blue interior inspired Serge Diaghilev tocommission the ballet Le Train Bleu.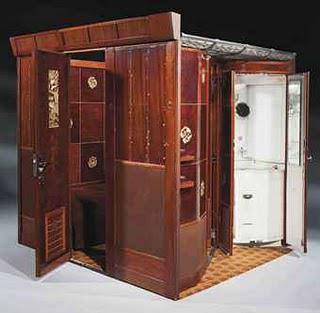 Someof the best craftsmen of the 1920's worked on the interiors of the train whichcan now be part of any interior. The sale features an important collection of architecturalfittings from the train such as original Morison African mahogany marquetrypanels, sold in singles or a set of seven (lot 166, €8,000 - €12,000), as wellas

René

Prou's doors and toilets from his Luxemodel cabins (lot 214 and 215, €1,500-€2,500 and €7,000-€10,000). Most impressiveis an entire Prou single compartment made of African and Cuban mahoganywith a decorative floral inlay (lots 211 €12,000-€18,000).

Prou wasresponsible for the design of four-hundred train compartments for the CompagnieWagons-Lits from 1926-1929. The ones being offered by Christie's are from 1929. Thecompartments included a seating area with a divan with crème colored upholsterydecorated with geometric patterns, considered very chic for the period, and asleeping area with a pull down bed bunk and a mahogany night table.

 

They also had a personal washbasin in thecorner of cabin which was hidden behind bowed lacquered doors. Some sleepingcars had extra large lavatories with a large sink and a marble counter-top.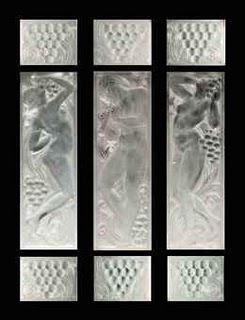 The otherartists that left a large imprint on the design of the train was René Lalique.The glass artisan's molded glass panels, Figurines et Raisins, from the Cote d'AzurPullman Express

(lot 143, €40,000-€60,000) – are identicalto the ones in the collection of the Virginia Museum of Fine Art. These

moldedclear-glass panels of "Bacchanalian maidens", or nude neo-classical figuresholding grapes, with smaller molded glass panels of grapes and vines, were setinto mahogany.

The sale also includes furniture, silver-plated dinner anddessert services, and models of the trains and compartments.




The cover of the lavishly illustrated catalogue features aclose-up shot of the

blue train with the affronted lions brass crest- becauseeven if one has never seen the exterior of this famous train, we can allrecognize its famous medallion.
It would be interesting to find out who is selling all of these itemsand who will be buying them. Will the current owners of the

VeniceSimplon- Orient-Express purchase cabins and add some additional trains or will museumsaround the world try to capture a piece of history for themselves? Or perhaps itwill be people who want a little piece of Orient-Express's mystery and romancefor their own homes? Whatever the case may be- these are souvenirs worth buying. 


For more information on the sale visit Christies.com