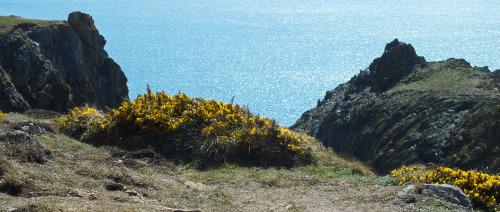 A beautiful blue sea at Kynance
I haven't been in Cornwall much over the last couple of weeks, but before I went 'up country' I enjoyed a glorious sunny day on the Lizard. It really was a beautiful day, with clear blue skies, flowers finally daring to poke their heads out and plenty of people out on the cliffs making the most of the warmth.
I parked in the National Trust car park at Kynance Cove, but rather than setting off down to the beach, I headed south along the coastal path, with two aims, to find Land Quillwort, and to see some Choughs.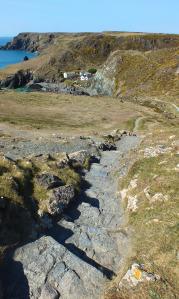 On the coastal path near Kynance
Now, if there's one thing I should know from past experience, it is that if I set off to find something in particular, I will NOT find it. True to form, I didn't…Even more frustratingly, I had had described to me roughly where the Land Quillwort would be found, but either it had upped roots and moved (not likely) or I just didn't have my eye in properly. Those of you in the know will be well aware that this plant is one of the Lizard specialities, so I'll be off on another, and hopefully more successful, hunt soon.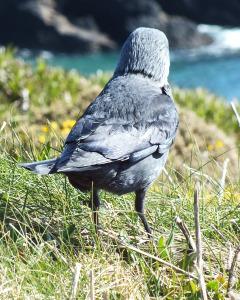 If you imagine a red beak and photoshop in some red legs, this could be a Chough…maybe?
As for the Choughs, well I had a great chat with the knowledgeable volunteers at the Chough watch point at Lizard Point, who hadn't seen them much round there on the day, but knew they had been feeding on some fields near to the Lloyds Signal Station within the last hour. Off I trotted – no Choughs. I did see two black dots in the distance flying back the other way – it was probably them!
To make matters worse, almost everyone I passed on the walk said: 'Have you seen the seal? It's a really big one, really obvious – you can't miss it…'. If only noone had said anything, then I'd definitely have seen it!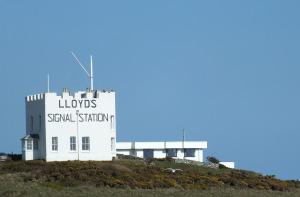 The sky really was this blue
Now, all of this not quite seeing things made me a bit grumpy, which is why, for me at least, it's always a good idea to set off and 'see what I can see', rather than having anything in particular to search for. Because, of course, I did see some lovely things on a beautiful day along the coast.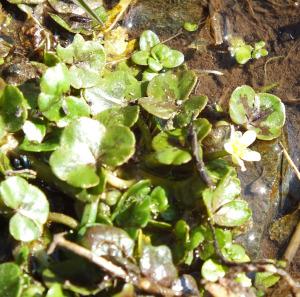 Round-leaved Water Crowfoot – one small flower left…
For example, I found this delicate Water Crowfoot – not the rarer Three-lobed Crowfoot that is another Lizard delight – but what I think is Round-leaved Crowfoot (the Water Crowfoots can be hard for a non-expert like me to distinguish). At first glance, this plant doesn't look like much, and is found in boggy wet places – but in the early spring its pretty small white flowers appear.
To make up for the lack of Choughs, a Kestrel posed for me on a nearby rock, the soft pink displays of Common Centaury and rich yellow Gorse brightened the cliffs and, round by Lizard Point, the tasty smell of Three-cornered Garlic filled the air before the plants themselves came into view.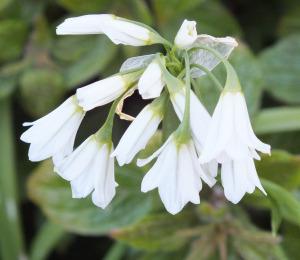 Three-cornered Garlic
I'm hoping for some more bright days soon, so I can enjoy exploring – but without an aim in mind this time!