One of my favorite things to do, whenever and wherever I am, is to sit and watch. Rather than seeking out the world, I like to let the world seek out me, or let it pass on by. One of my favorite places to do this is at a beach café. It doesn't even need to be summer – indeed, preferably it's one of the cooler, less populated seasons.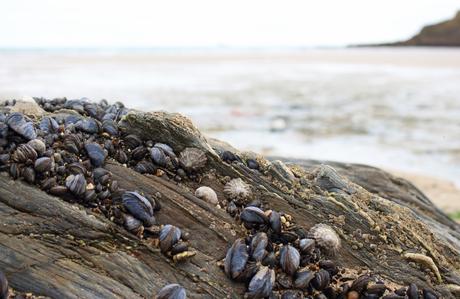 I like to write down my observations when I'm out and about, doing my sitting and watching. I was going through my notebook recently, and came across some scribbles from a visit to Maenporth Beach. I'd even drawn a couple of sketches and, together with the words, I was reminded vividly of a lovely couple of hours I'd spent there last year.
Maenporth Beach nestles close to Falmouth on Cornwall's south coast. Read the publicity material, and you will find that it is sandy, offering sunbathing, rock pooling and boating trips. There are views across the broad sweep of Falmouth Bay. There is, of course, also a beach café. Busy as hell in the summer, I was however there in early April, with no sign of sunbathers or rock-poolers.
After parking right next to the beach, I sniffed expectantly, but for some reason there was no strong smell of salt or seaweed. There was hardly any breeze, either – maybe the lack of sea-scent was linked to this – and I was doubly disappointed. Feeling cooped up back at home, I had left the house and my desk in search of a bit of bracing air and shoreline smells.
Ah well, there was still the café, with its quirky name: Life's a Beach. As I approached, heart and taste buds set on a cappuccino, I noticed a black-and-white sheepdog sitting outside, proudly wearing a luminous yellow dog-coat. The dog did not register my presence at all. Its eyes were resolutely fixed on a grizzled man in waterproofs (definitely a local, you could tell not just by the accent, but also the look and self-confidence) standing chatting to a couple of visitors. Standing waiting to be served by the young man behind the bar, I saw the reason for the dog's unwavering gaze: the dirty tennis ball clamped in its mouth. Please throw my ball, please throw my ball – I could almost read the dog's thoughts.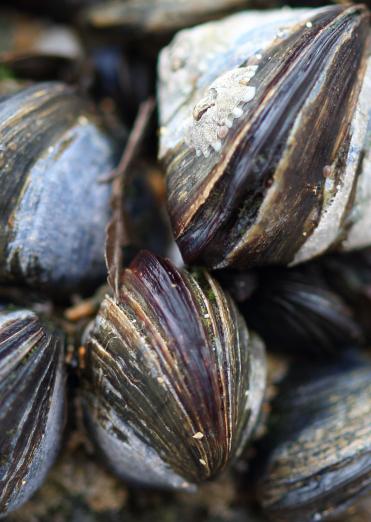 Cappuccino successfully bought, I perched at a table outside. The tide was out, and the sand glistened in the bleak sunlight. Ripples and rivulets meandered across the beach, capturing sparkles and forming patterns of incredible intricacy, temporary details to be lost with the water's return. The sky was a fresh blue but somehow the beach beneath was gray and beige, and the sea beyond was dark. Now at last I began to smell and taste the sea as salt on my lips and sour seaweed scents mingled with the smoky flavor of the cappuccino. Distant gulls bobbing on the water were silent, but behind me in shrubs I could hear small birds singing – a robin, a blackbird, perhaps a wren. Beneath everything there was the muffled rush of the waves, breaking up into smaller cadences, crescendos and decrescendos.
Two horses and their riders – one older lady, one younger – burst on to the scene, trotting up and down at the tide's edge, waves lapping at hooves, until they disappeared just as suddenly. A few minutes later and they were back, this time the horses being led without saddles. The riding ladies let the horses loose, and I watched amused as the animals, rather than charging away, rolled and rolled in the sand, all legs and hooves thrashing in uncoordinated abandon.
It was almost time to leave. I had come with no mind or need for company. I wanted to sit and reflect and be 'in the now'. But company I got. The luminous sheep dog gave up on the waterproof man and joined me instead. Now I could see the black writing on the yellow dog-jacket: Beach Dog. Well, there's an occupation that must be fun for your average canine. Being a sucker for a pair of soft brown eyes, I threw the tennis ball several times, grimacing slightly at the saliva-fuzzy feel.
As I left, returning to my car and the journey home, I could feel the dog's entreating eyes boring into my back. Please throw my ball. Don't worry, friend, I thought. This is a place where every visitor has time to throw balls for endearing sheepdogs.