Finding flattering kurtis for short women can be a pain! Most ethnic kurtis are designed to suit taller body types. However, having a short height does not necessarily have to be a bane. Here are a few kurti styling tips that make short women look taller.
Wear dark colours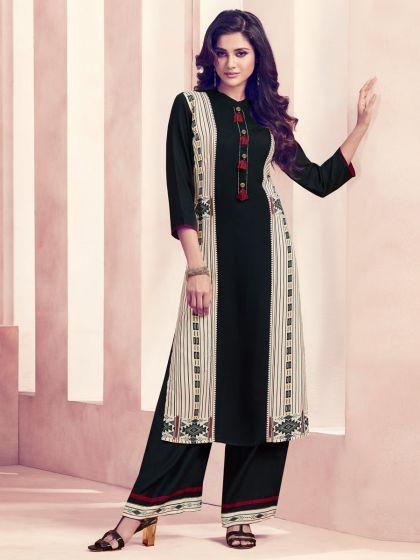 Get this
Wearing darker shades is a smart way of giving an illusion of height to short women. Dark and solid colours like black, navy blue, maroon, dark gray etc make petite women look tall. Longer kurtis in solid, monochromatic colours provides a tall and full appearance to short women.
Avoid loud prints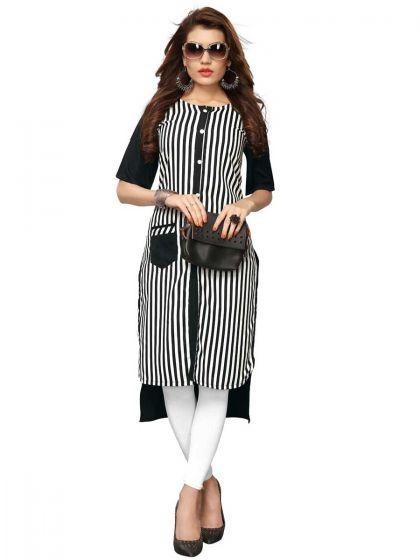 Buy this
An important styling tip to make short women look taller is to avoid loud and big prints. Loud prints focus attention on the petite frame of short women. Kurtis with vertical stripes, on the other hand, elongate the frame and make short women look taller. If opting for prints, then short women should go for small and dainty prints. Kurtis designed with small prints gives an appearance of height to short women.
Wear slim palazzo pants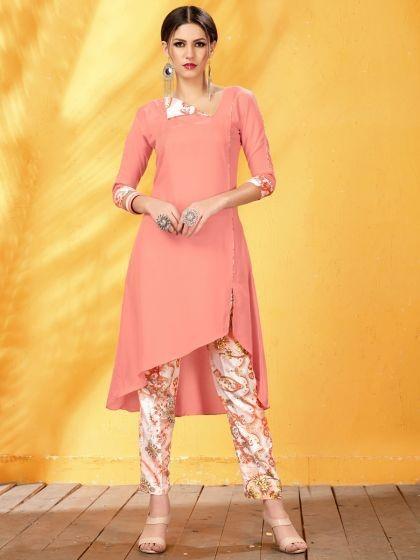 Check this
A great kurti styling tip to make short women look taller is to pair kurtis with slim palazzos and pants. Slim palazzos, as well as other slim pants, create a straight line for the silhouette, giving a taller look to an otherwise petite frame. Long kurtis paired with medium flare palazzos or slim pants will create an elongated illusion, making short women look tall. Moreover, palazzos paired with kurtis are the "in" thing this season. Take a cue from Deepika Padukone in Piku and pair a long kurti with slim palazzos and minimalistic accessories for an effective formal look.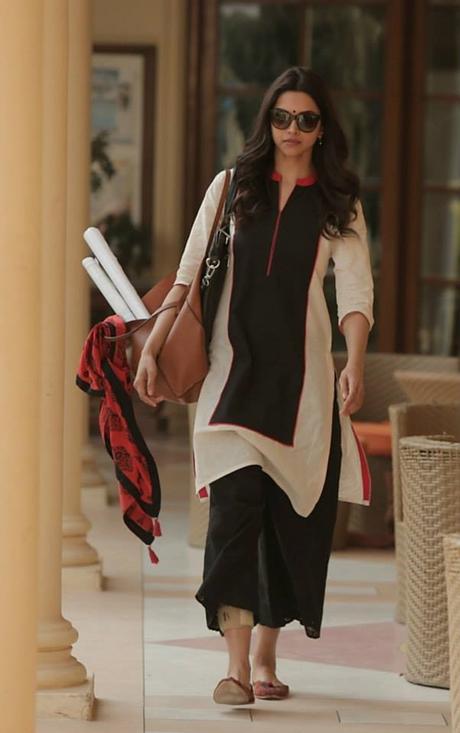 Source: speakingchic.com
Wear long straight kurtis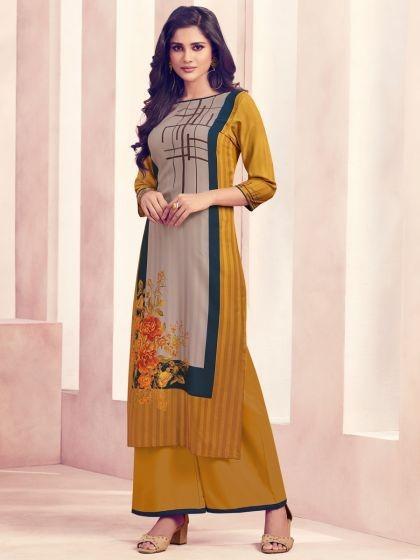 Get it here
Short kurtis, that end at the knee, should be avoided by petite women as they make short women look even shorter. Short women should opt for longer kurtis, which go beyond the knee and up to the ankle. Long straight kurtis, in solid colours and with minimalistic prints, lengthen the frame of short women, making them look taller. Pair long kurtis with pants of the same colour, to give a linear and continuous effect and thereby a taller appearance.
Pair with medium flare long skirts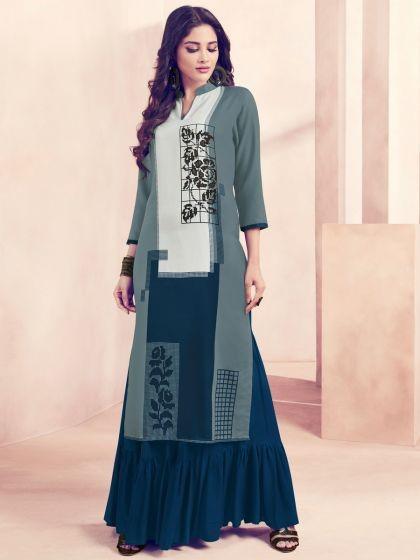 Check this out
Skirts may be an unconventional choice for short women but pairing long skirts with long kurtis is an effective way to look tall. Pairing long straight kurtis with medium flare skirts that end at the ankle give an illusion of height. At the same time, pairing a kurti with a skirt also looks super trendy and is very comfortable.
Summer is here and the temperatures are soaring. Here are some tips to rock the salwar look this summer:
How to Rock The Salwar Look This Summer
Deep neck designs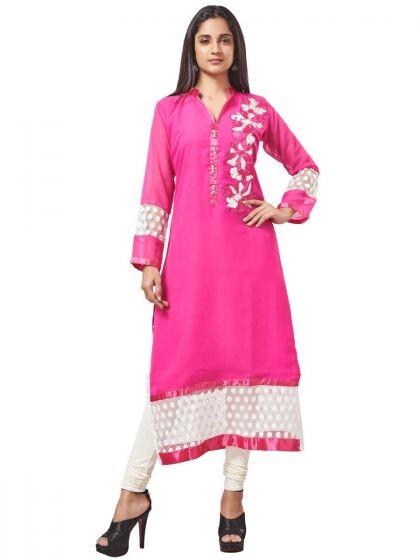 Get this
An important part of selecting a kurti which makes short women look tall is to focus on the neck design. High necks and collared necklines shorten the neck area, making petite women look short. Short women should opt for kurtis with deep neck designs. The V-neck and sweetheart neck designs are very good options for women with short stature. Deep neck designs make the neck look long and slender, thus being a good choice for short women.
Sleeve Design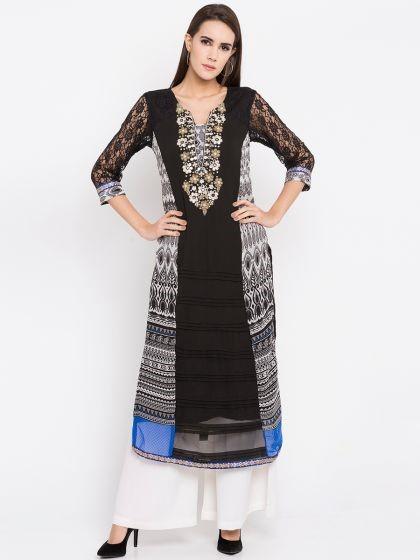 Buy this
Simple sleeve designs are a must in order to make short women look tall. Petite women should avoid heavily decorated and puffed up sleeves, as these types of sleeves bring unwanted attention to the upper body. Rather, short women should experiment with lace sleeves and sleeves with simple embroidery work as these make the arms look slimmer and longer.
Front-Slit Kurtis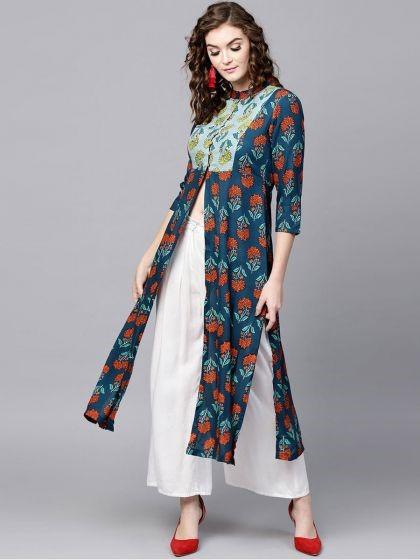 Check this
Front-slit kurtis are the latest rage in women's ethnic fashion. These types of kurtis are especially effective for short women as the front-slit elongates the legs and makes them look longer and slimmer, thus making petite women look tall.
Wear heels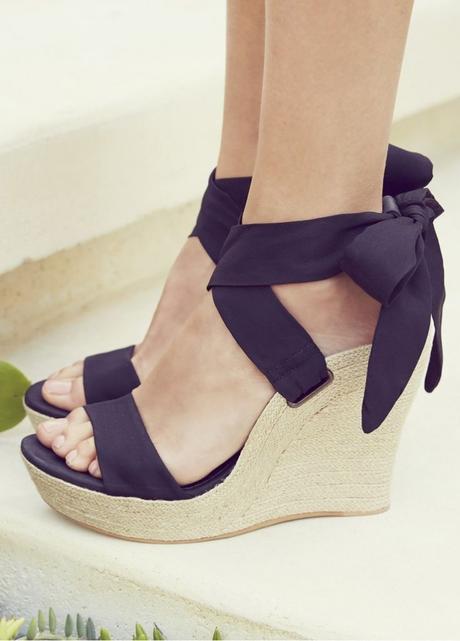 Source: i.pinimg.com
Heels are one of the most obvious ways for short women to look tall. Wearing heels does not necessarily mean that one needs to be uncomfortable and in pain. Wedges and platforms with a few inches are a great alternative to the uncomfortable stilettos. They are comfortable and can easily make petite women look tall. Moreover, wedges look fabulous with a long straight kurti and is the magic formula to look tall and stately.
Minimalistic accessories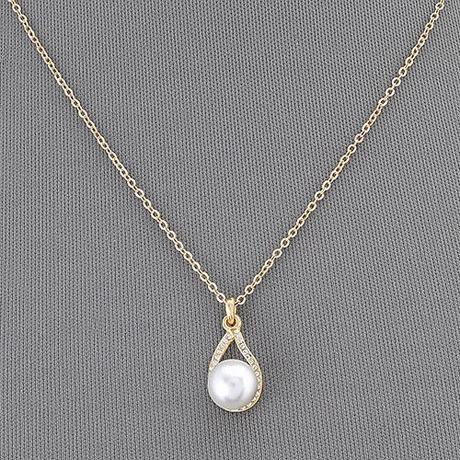 Source: i.ebayimg.com
For petite women, less is more! Heavy jewelry like big necklaces, chokers, huge earrings etc should be strictly avoided by short women. The best kurti styling tip with respect to accessories in order to make short women look taller is to stick to sleek and classy designs. Simple pendants, small earrings, jhumkis and chunky bangles are perfect options for short women to dress up kurtis.
Good things come in small packages! Having a short stature can actually be a blessing. Incorporate these amazing kurti styling tips into your wardrobe, that will make short women look taller, and look fabulous!