Kumon, after-school math and reading enrichment program, invites Facebook fans to nominate their child's favorite schoolteacher. Three exceptional schoolteachers will each win $1,500 to spend on their classrooms. While only one entry per person is allowed, so pick your children carefully.
"Teachers work tirelessly to develop innovative ways to inspire young minds," said Kumon education specialist Dr. Mary Mokris. "Kumon wants to help families show appreciation for their children's schoolteacher by awarding exceptional educators."
To participate, visit the Kumon Facebook page, click on the contest tab and nominate a teacher by submitting a short essay, fewer than 200 words explaining why the teacher deserves to win $1,500. Once again, Kumon will accept entries until November 8. One entry per person is allowed.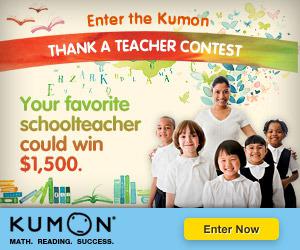 About Kumon Math and Reading Centers
Kumon is an after-school math and reading enrichment program that unlocks the potential of children so they can achieve more on their own. Founded in Japan in 1958, the learning method uses an individualized approach that helps children develop a solid command of math and reading skills.
Through daily practice and mastery of materials, students increase confidence, improve concentration and develop better study skills. Kumon has 26,000 centers in 46 countries and more than 4 million students studying worldwide. The company's North American headquarters is in Teaneck, N.J.