Sebastian Vettel on Pole Position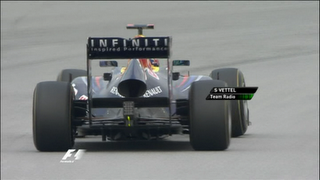 Most of Vettel's opponents are expected to get a similar
perspective of the German's car during the race.
The Red Bull and McLaren drivers had a close battle for pole position. The Austrian team, which in contrast to Melbourne were using KERS, got the better end.
Sebastian Vettel was the last of the four frontrunners to come over the line after the chequered flag had already come out. The German set the fastest time of the whole weekend, 0.104 seconds in front of Lewis Hamilton. Mark Webber was already 0.309 seconds adrift of his teammate, but the Australian managed to stay in front of Jenson Button by 21 thousands of a second.
Fifth placed Alonso lost almost a second to Vettel. Ferrari's team principal Stefano Domenicali said already before the start of the qualifying that the team had been unable to set their car up properly and that all they could do was limiting the damage.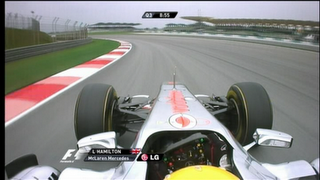 Lewis Hamilton is the closest challenger for Vettel in Malaysia
Lotus Renault presented themselves strongly with both drivers in the top ten. Nick Heidfeld managed sixth and Vitaly Petrox eighth position on the starting grid. This result is even more remarkable for the French team since they could barely run their cars on Friday due to suspension related problems.
Mercedes again did not get both drivers into the top ten. Michael Schumacher lost 0.647 seconds to his teammate Nico Rosberg in the second part of qualifying and has to cope with eleventh position, the same he already started from two weeks ago in Melbourne.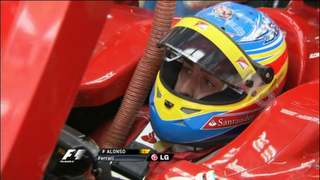 Ferrari and Alonso are not where they were expected to be
after their strong performance throughout winter testing.
Owing to his position the seven time world champion is the first driver on the grid, however, who can start on new tyres and who can also choose between the compounds. That could turn out to be a crucial advantage, since the prime tyre is expected to last considerably longer. Given a good start the German could well be in for a surprising finish.
Hispania Racing was able to undercut the 107 percent  rule (1:43.516) easily. So both Vitantonio Liuzzi and Narain Karthikeyan are qualified for the race on Sunday.
There is a chance of rain for Sunday's race. Unless that happens, the podium seems to be set for Red Bull and McLaren, too big is their advantage in dry conditions compared to the rest of the field. A great battle between these two teams can be expected, though.
Final results of qualifying

  Pos. Driver Nat. Team Q1 Q2 Q3 Gap
  1 Sebastian Vettel German Red Bull 1:37.468 1:35.934 1:34.870  
  2 Lewis Hamilton British McLaren 1:36.861 1:35.852 1:34.974 +0.104
  3 Mark Webber Australian Red Bull 1:37.924 1:36.080 1:35.179 +0.309
  4 Jenson Button British McLaren 1:37.033 1:35.569 1:35.200 +0.330
  5 Fernando Alonso Spanish Ferrari 1:36.897 1:36.320 1:35.802 +0.932
  6 Nick Heidfeld German Lotus Renault 1:37.224 1:36.811 1:36.124 +1.254
  7 Felipe Massa Brazilian Ferrari 1:36.744 1:36.557 1:36.251 +1.381
  8 Vitaly Petrov Russian Lotus Renault 1:37.210 1:36.642 1:36.324 +1.454
  9 Nico Rosberg German Mercedes 1:37.316 1:36.388 1:36.809 +1.939
  10 Kamui Kobayashi Japanese Sauber 1:36.994 1:36.691 1:36.820 +1.950
  11 Michael Schumacher German Mercedes 1:36.904 1:37.035   +1.466
  12 Sebastien Buemi Swiss Toro Rosso 1:37.693 1:37.160   +1.591
  13 Jaime Alguersuari Spanish Toro Rosso 1:37.677 1:37.347   +1.778
  14 Paul di Resta Scottish Force India 1:38.045 1:37.370   +1.801
  15 Rubens Barrichello Brazilian Williams 1:38.136 1:37.496   +1.927
  16 Sergio Perez Mexican Sauber 1:37.759 1:37.528   +1.959
  17 Adrian Sutil German Force India 1:37.693 1:37.593   +2.024
  18 Pastor Maldonado Venezuelan Williams 1:38.276     +1.532
  19 Heikki Kovalainen Finnish Team Lotus 1:38.645     +1.901
  20 Jarno Trulli Indian Team Lotus 1:38.791     +2.047
  21 Timo Glock German Virgin 1:40.648     +3.904
  22 Jerome D'Ambrosio Belgian Virgin 1:41.001     +4.257
  23 Vitantonio Liuzzi Italian Hispania 1:41.549     +4.805
  24 Narain Karthikeyan Indian Hispania 1:42.574     +5.830